Pupils from Year 6 at Greenslade Primary School in London wrote poems and drew postcards of Manod, inspired by 'Framed'. Listen to an extract from the book that inspired them. 
Framed: Describing Manod
Transcript
Writer Frank Cottrell Boyce reads from his novel 'Framed' 
Frank Cottrell Boyce:
Dr Ramaman said he was sad to be leaving Manod. He said he loved the people but that 'there was really nothing there for us now'. Nothing here? There's everything here!
There's an off-licence (open from 6.30pm), a Spar (only one unaccompanied child allowed in at any one time), unisex hairdressing at Curl Up N Dye, Mr Elsie's chemist's shop, and Mr Davis's butcher's shop, which has 'Always meat to please you; always pleased to meet you' written over the door. This isn't strictly true, as he's never pleased to meet you…
Oh, and there's a shop called Save-A-Packet ('where you save money because we don't have packets'). …
And there's Waterloo Park. That's a fantastic park that used to have a boating lake, a water feature and an indoor pavilion in case it rains. The pavilion was like a wooden house which had two ping-pong tables in it and, of course, a snooker table. Manod used to be globally famous for snooker tables.
The quarry at the top of Manod Mountain used to produce the smoothest slate in Wales. It's closed now, but when it was open all the best snooker tables in the world were made of Manod slate.
The children's work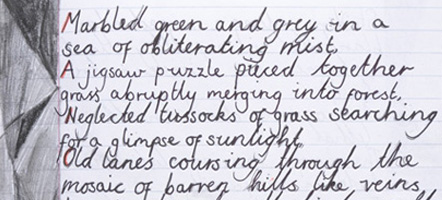 Framed: Slate poem
This atmospheric poem, by a Year 6 pupil at Greenslade Primary School, was inspired by the Manod slate industry – 1 min
Transcript
A Year 6 pupil from Bannockburn Primary School reads a poem inspired by the novel 'Framed'
Bannockburn Primary School pupil:
Marbled green and grey in a sea
of obliterating mist. 
A jigsaw puzzle pieced together
grass abruptly merging into forest.
Neglected tussocks of grass searching
for a glimpse of sunlight.
Old lanes coursing through the mosaic of barren hills like veins
bringing life to all the limbs of the countryside.
Depths of icy black lakes reflecting
the foreboding dismal atmosphere
that is a grey sky.
Thick clouds of doom ready to drop
its miserable contents like a stone.
Swirling clouds trying to mimic
the innocence of lambs with
their fluffy exteriors.
It begins with a dark and streaked
pock-marked rock with a killer history.
Striding along a ragged edge
blanketed in a filthy duvet that
welcomes the sinister intrusive dust,
A shower of dust in the cabin – lethal.
The gap of a missing relative worming a hole in my family.
Empress Duchess and Countess murdered
with their pretty names.
Slate killed my Grandpa.
And the grey sky of Manod reflects my mood,
I walk away, a tear in my eye
And as the sky clears, so does my heart.