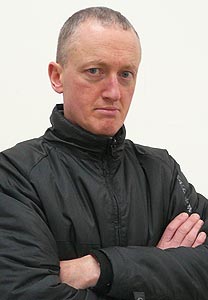 Associate Artist 2010 - 2012
Michael Landy was the National Gallery's eighth associate artist.
Landy is best known for his monumental installation 'Break Down' (2001). In this work he systematically destroyed all of his possessions in a former department store. He also reproduced his parents' home inside Tate Britain as part of 'Semi-Detached' (2004).
Michael Landy: Saints Alive
Landy's residency at the Gallery culminated in the 2013 exhibition, 'Saints Alive'. Read about the exhibition.  
About Michael Landy
Born in London in 1963, Landy studied at Goldsmiths alongside Damien Hirst and Sarah Lucas. His work varies from epic performances to meticulous drawings and collages.

Projects have included 'Art Bin' (2010), installed at the South London Gallery where artists were invited to throw their failed works into a huge skip, which occupied the entire Gallery space. For 'Michael Landy: Art World Portraits' (2011), a small selection of Landy's portrait drawings were displayed at the National Portrait Gallery.

'Acts of Kindness' (2010–11), commissioned by Art on the Underground, saw Landy ask members of the public who had witnessed or taken part in acts of kindness while travelling on the London Underground, to write about them. A selection of these is published on the Transport for London website: art.tfl.gov.uk/actsofkindness [External link].
Associate artist scheme
The Rootstein Hopkins Foundation Associate Artist Scheme enables leading contemporary artists to work with the National Gallery Collection, demonstrating the continuing inspiration of the Old Master tradition.
The artist is given a studio for a period of two years, producing work that in some way connects to the National Gallery Collection.