George Shaw was the Gallery's ninth Rootstein Hopkins Associate Artist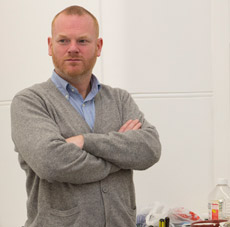 Shaw, who was nominated for the Turner Prize in 2011, is known for his highly detailed approach and suburban subject matter. His favoured medium is Humbrol enamel paints, more usually used to paint model trains and aeroplanes. This gives his work a unique appearance.
Born in Coventry in 1966, Shaw studied at Sheffield Polytechnic and Royal College of Art, London. Shaw's previous exhibitions have included 'What I did this Summer' (2003–2004) 'Woodsman' (2009) and most recently 'Neither My Arse Nor My Elbow' (2013) at the Douglas Hyde Gallery, Dublin.
Shaw remembers visiting the National Gallery in his youth, arriving early so that other visitors would not dilute the experience. Armed with a sketchbook he would sometimes stop and doodle in front of a work in the collection.
On accepting the National Gallery's invitation, Shaw said:
'When I was offered the chance to be the Associate Artist at the National Gallery I couldn't believe my luck. I first thought how excited I would have been as a teenager to have been given the chance – and how I probably would have wasted it anyway! I still have my Thames and Hudson book on the National Gallery (345 illustrations 75 in colour!) that my mum gave me for a birthday present in the early eighties.'
'As a painter you cannot escape the bullying hands and eyes of the great painters. Titian is not a teacher in the way that other painters can be but a mirror in which your own cowardice, hesitation and embarrassment are reflected back. You can't learn anything from him and yet I always feel I'm on the edge of knowing just a little more. 'The Death of Actaeon' has hypnotized me since I was a teenager.'
George Shaw: My Back to Nature
Shaw's residency at the Gallery culminated in the 2016 exhibition, 'My Back to Nature'. Read about the exhibition. 
About George Shaw

Shaw was born in 1966 in Coventry. He studied Fine Art at Sheffield Polytechnic from 1986-89 and gained an MA in painting from the Royal College of Art in London in 1998.
Solo exhibitions have included 'Looking for Baz. Shaz. Gaz and Daz', Void, Derry (2010); 'Woodsman', Wilkinson Gallery, London (2009); 'The End of the World', Galerie Hussenot, Paris (2008); 'A Day for a Small Poet', Clough Hanson Gallery, Rhodes College, Memphis, USA (2007) 'Poets Day', Centre d 'Art Contemporain, Geneva (2006); 'Ash Wednesday', Wilkinson Gallery, London (2005), 'What I did this Summer', Ikon Gallery, Birmingham (2003).
He has participated in group shows in London at White Cube, Tate Britain, Whitechapel Gallery, Institute of Contemporary Arts (ICA) and the Jerwood Gallery. Internationally he has exhibited at Barbara Gladstone Gallery, New York, Michael Kohn Gallery, Los Angeles, City Art Gallery, Prague, Ex-Teresa Arte Actual, Mexico and Fabian Walter Galerie, Basel.
About the Associate Artist scheme

The Rootstein Hopkins Foundation Associate Artist Scheme enables leading contemporary artists to work with a collection of paintings that were made before 1900.
The appointment is by invitation and is for a period of two years. The artist is given a studio in which to make new work that in some way connects to the National Gallery Collection. It is designed to demonstrate the continuing inspiration of the Old Master tradition on today's artists.