Reunited for the first time in more than four hundred years, Titian's complete 'poesie' will go display at the Gallery in March 2020 for Titian: Love, Desire, Death
Titian's 'poesie' are a series of mythological paintings commissioned by Prince Philip of Spain. They are a collective masterpiece. They have not been seen together since the late 16th century.
An historic loan
This first is only made possible following a landmark decision from the Wallace Collection to lend works on a temporary basis - the first time in its 119-year history. 
On 18 November 2019 the Wallace Collection announced that Titian's 'Perseus and Andromeda' will be loaned to the Gallery - their first loan.
'Perseus and Andromeda' will be shown alongside the other paintings in the series including the 'Death of Actaeon' (about 1559–75, the National Gallery), which was originally conceived as part of the series, but substantially painted later and never delivered.
What is the 'poesie'?
Titian called the paintings 'poesie' because he considered them to be visual equivalents of poetry. They show subjects from Classical myths and legends mainly taken from the Roman poet Ovid's 'Metamorphoses'. Painted for Philip of Habsburg, King of Spain from 1556, Titian was probably in his 70s when he completed the commission which marked the high point of his career.
The paintings in the series are:
'Danaë' (about 1551–3, The Wellington Collection, Apsley House)
'Venus and Adonis' (1554, Prado, Madrid);
'Diana and Actaeon' (1556–9) and,
'Diana and Callisto', (1556–9) which we jointly own with the National Galleries of Scotland
'Rape of Europa' (1559–62) from the Isabella Stewart Gardner Museum, Boston
'Perseus and Andromeda' (probably 1554–6), The Wallace Collection, London
'Death of Actaeon' (about 1559-75), the National Gallery, London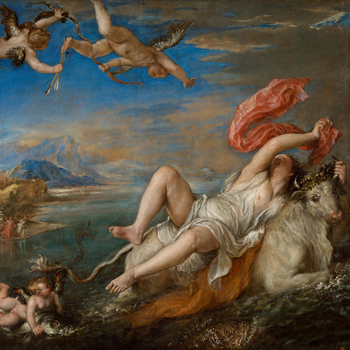 Everyone wanted paintings by Titian; we find out what made him so special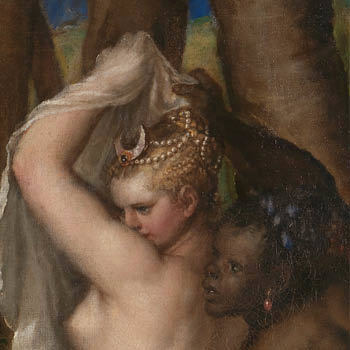 The most ambitious and magnificent works of his career