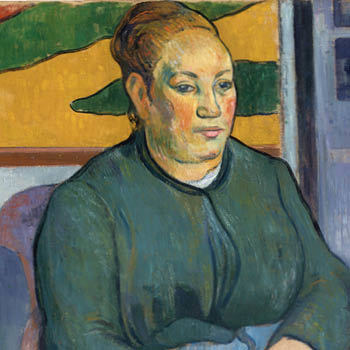 What you need to know about Gauguin's portraits
We answer some questions about Gauguin's portraits and self portraits
Why are Gauguin's portraits so important?
Gauguin gives us something new; he innovates, experimenting with colour, likeness, and composition. He isn't interested in the social status of his subjects, and he often even projects himself onto the portrait, expressing an emotional, subjective response. His original colour choices, distortion of form, and use of symbols was revolutionary.
Why did he paint so many self portraits?
Gauguin's self portraits are very revealing both stylistically and also in the purpose they served. Throughout his life, Gauguin was preoccupied by his self-image. His constant reinvention; his self-mythologisation, are all reflected in the self portraits. His letters and diaries reveal his self-absorbed theorising about mankind, art, and civilisation. Gauguin used his self portraits as a way to strengthen relationships, exchanging or giving them to fellow artists and contacts, or to ingratiate himself with new acquaintances. Also, the cheapest model for the artist is of course himself and Gauguin painted himself repeatedly.
Portrait of the Artist with the Idol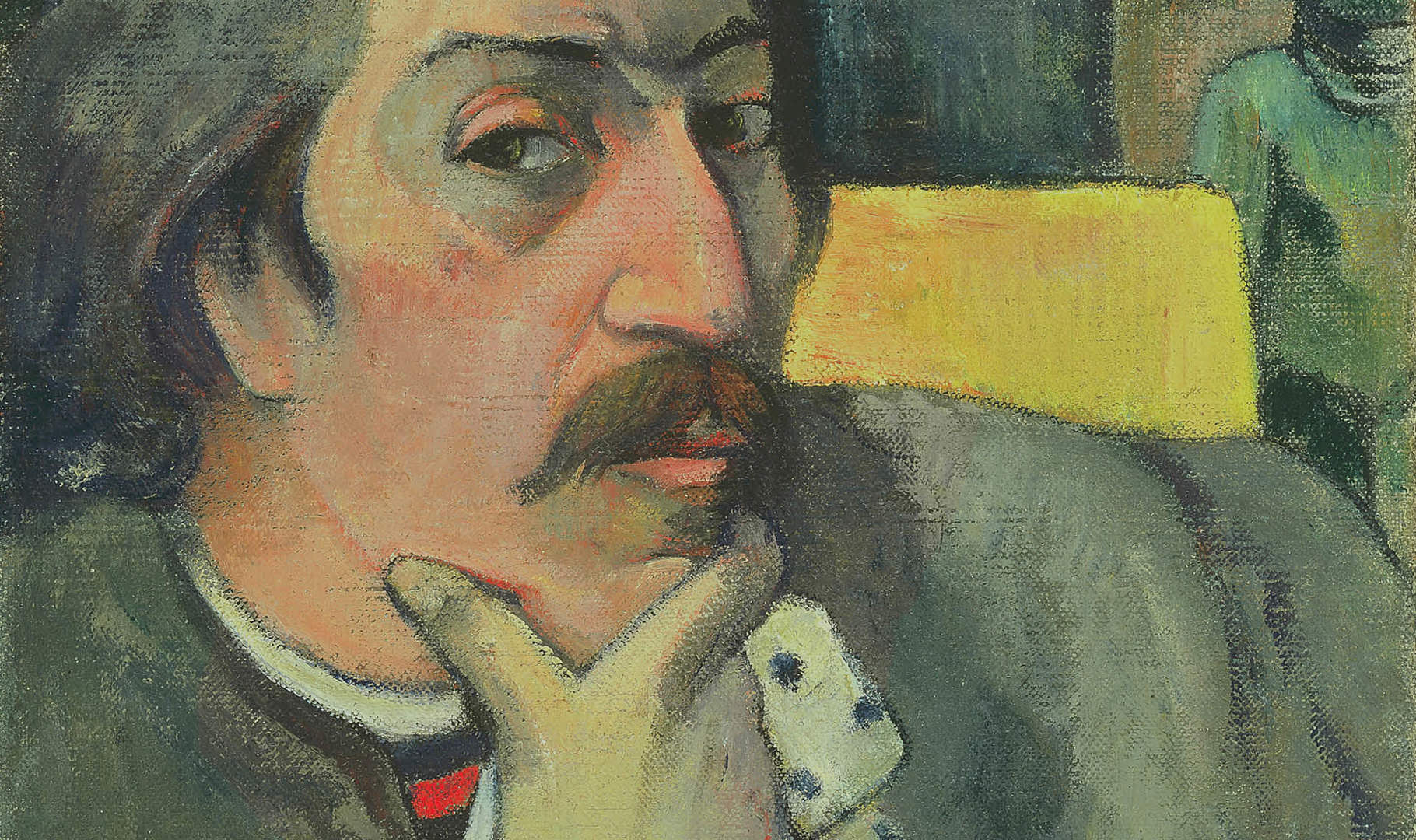 Why did he paint himself as Christ sometimes?
Gauguin's not the only artist to paint himself as Christ. Others did this before him, including Durer. In paintings such as 'Christ in the Garden of Olives', 1898, we know it's Gauguin; we recognise his hooded eyes and hocked nose. By painting his own features, he draws a comparison between Christ's suffering and his own struggle / 'martyrdom' for art. He finds a parallel between Christ's anguish and his own feelings of being misunderstood.
Christ in the Garden of Olives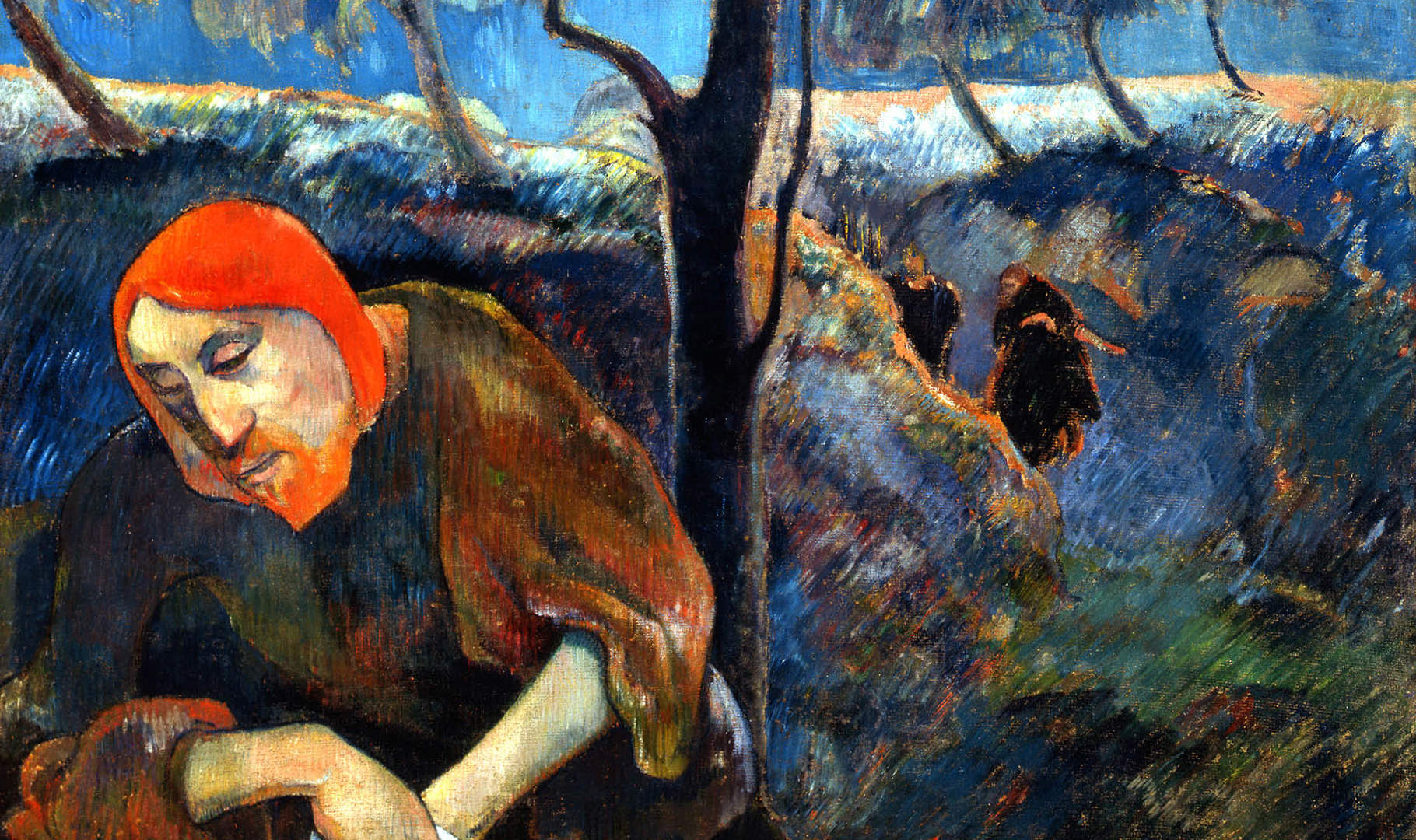 Who were Gauguin's sitters?
Gauguin painted artists including Charles Laval, Vincent van Gogh, Meijer de Haan, Louis Roy, writer and composer William Molard. He almost always painted people he knew and he would not have received any income from these portraits as they were not commissioned. (He only ever received one commission which was rejected). His pottery and wooden sculptures were all images of people he knew. Painting friends also meant that he was free to experiment with composition and colour, not being bound by a patron's brief.
Still Life with Profile of Laval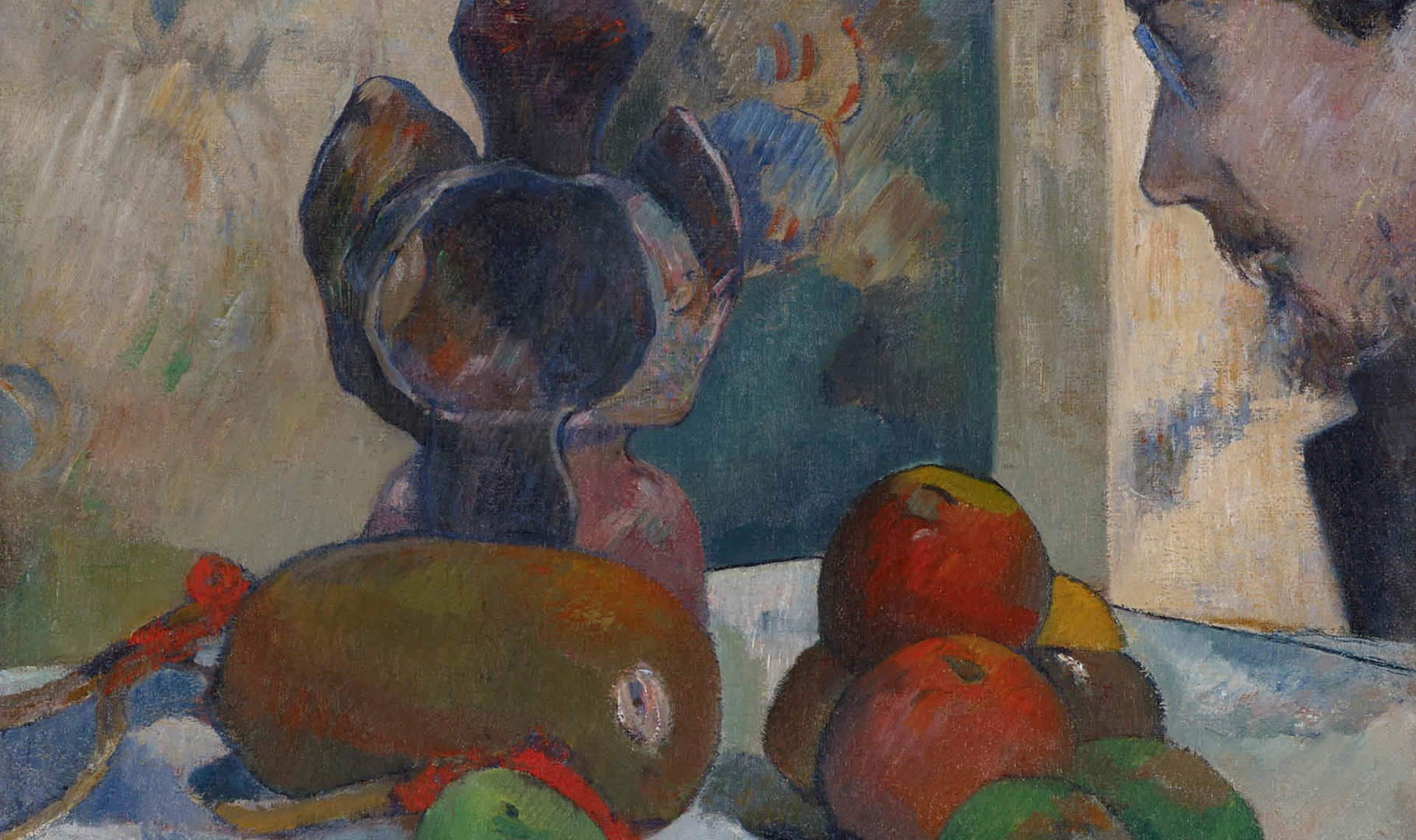 Are all the works in the show portraits?
Gauguin stands out for his use of symbols to create atmosphere, reveal meaning, and evoke individuals in his paintings. His 'Still Life with 'Hope'' of 1901 is a work painted in Tahiti. Gauguin asked friends to send him sunflower seeds which he grew, cut, and painted. Sunflowers, inextricably associated with Van Gogh, immediately recall the time Gauguin spent in Arles. Here, a decade after the disastrous period the two artists painted together, Gauguin in Tahiti is thinking back to Van Gogh and the vases of bright yellow flowers he painted to decorate Gauguin's room.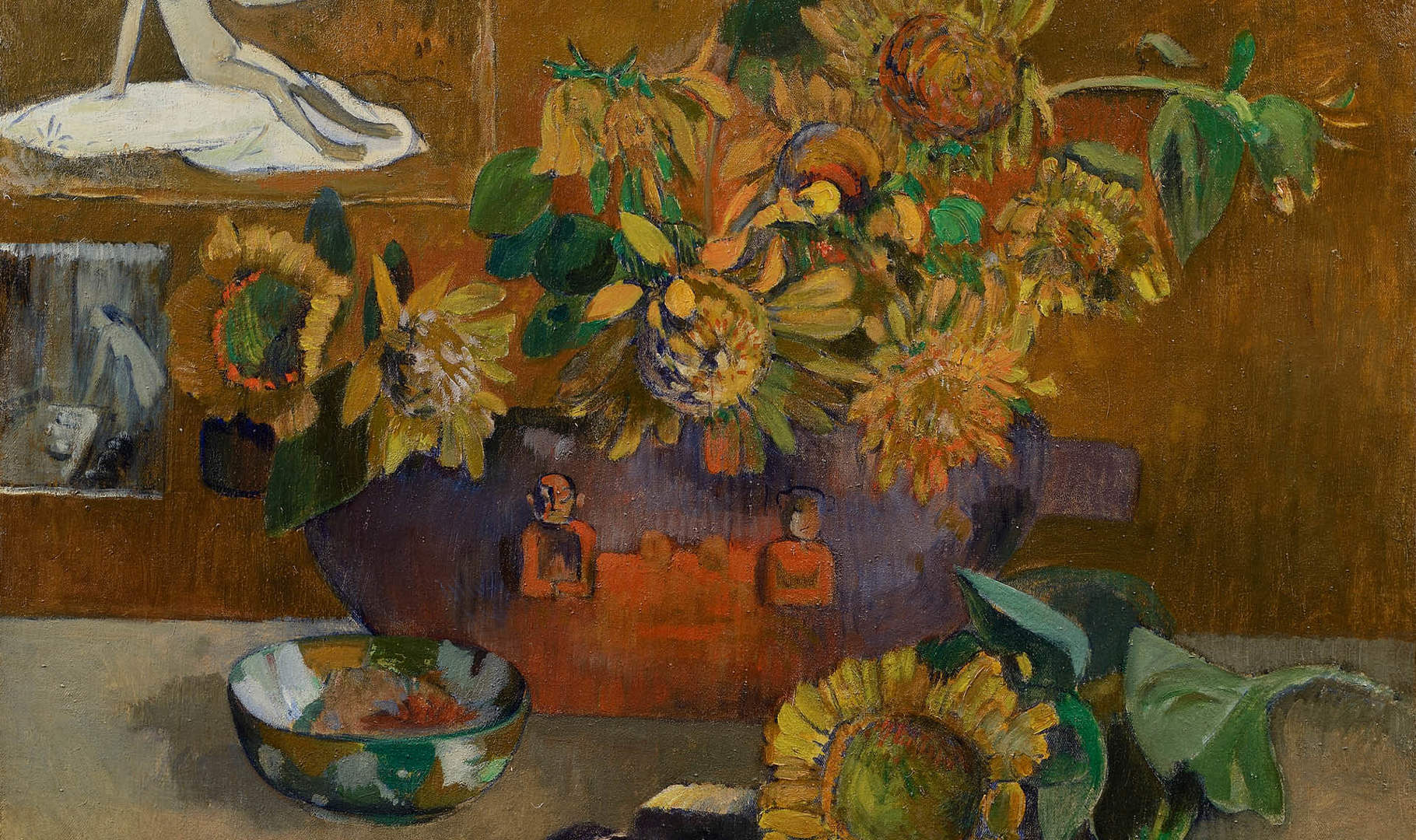 Another intriguing work is 'Still Life with Apples, a Pear, and a Ceramic Portrait Jug' of 1889.  The composition includes the ceramic, 'Jug in the Form of a Head, Self-portrait' (1889). Despite its title of still life, it also includes a portrait - Gauguin's profile on the front of the jug. Gauguin inserts himself into the picture via his own ceramic 'portrait'.
Still Life with Apples, a Pear, and a Ceramic Portrait Jug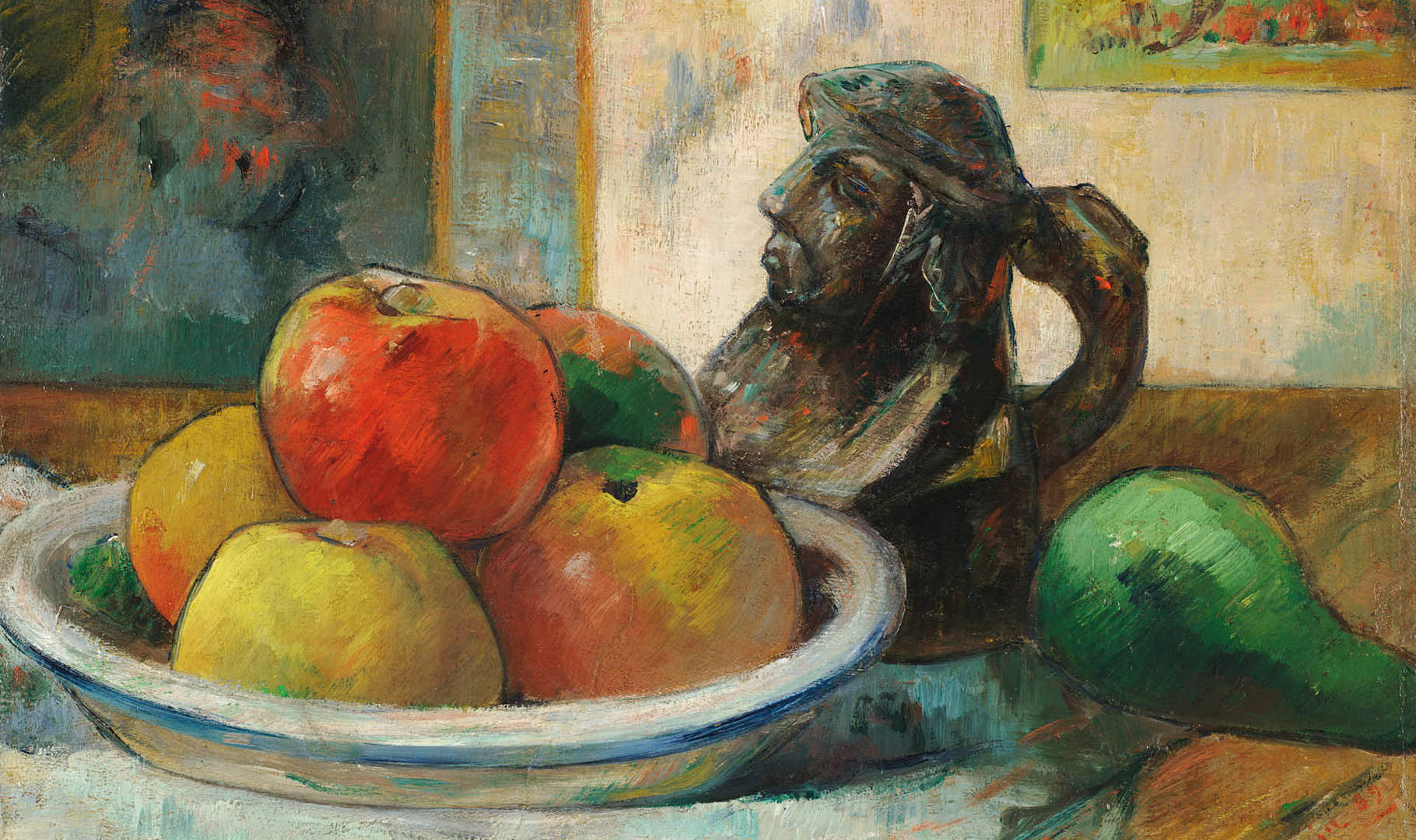 Title image: Paul Gauguin, 'Portrait of Madame Roulin' (detail), 1888. Saint Louis Art Museum. Funds given by Mrs Mark C. Steinberg 5:1959
Image courtesy Saint Louis Art Museum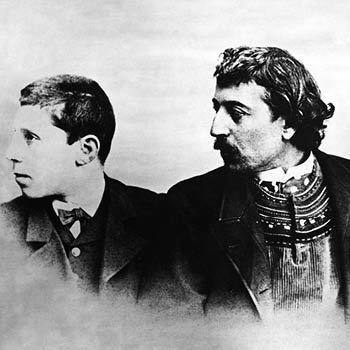 Six events in Gauguin's life that influenced both the way he thought and the way he painted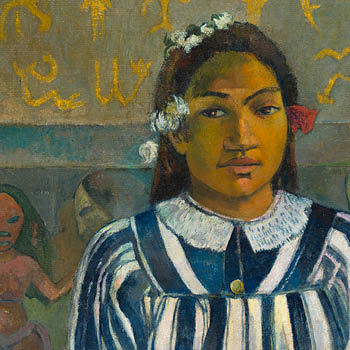 Elizabeth C. Childs explores Gauguin's time in the South Seas and the impact the region had on his portraits