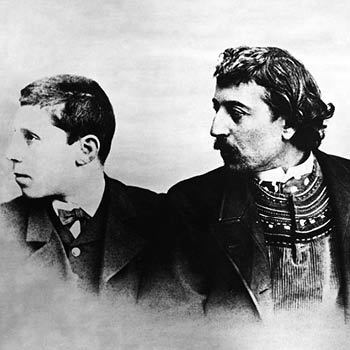 Six events in Gauguin's life that influenced both the way he thought and the way he painted
Flight to Peru
Gauguin's father, a French radical journalist and critic of the Bonapartist regime, concerned about the consequences of Napoleon III's return to power in 1848, decided to move the family from Paris to Peru (Gauguin's maternal grandfather was a Peruvian aristocrat). His father died en route, leaving his mother to continue to Peru where the family stayed under her uncle's protection. Gauguin's childhood in Peru, the location and culture, is something he refers to later in life as he pursues an 'untamed' artistic existence and describes himself as 'half civilised, half savage'. The family returned to Paris in 1855.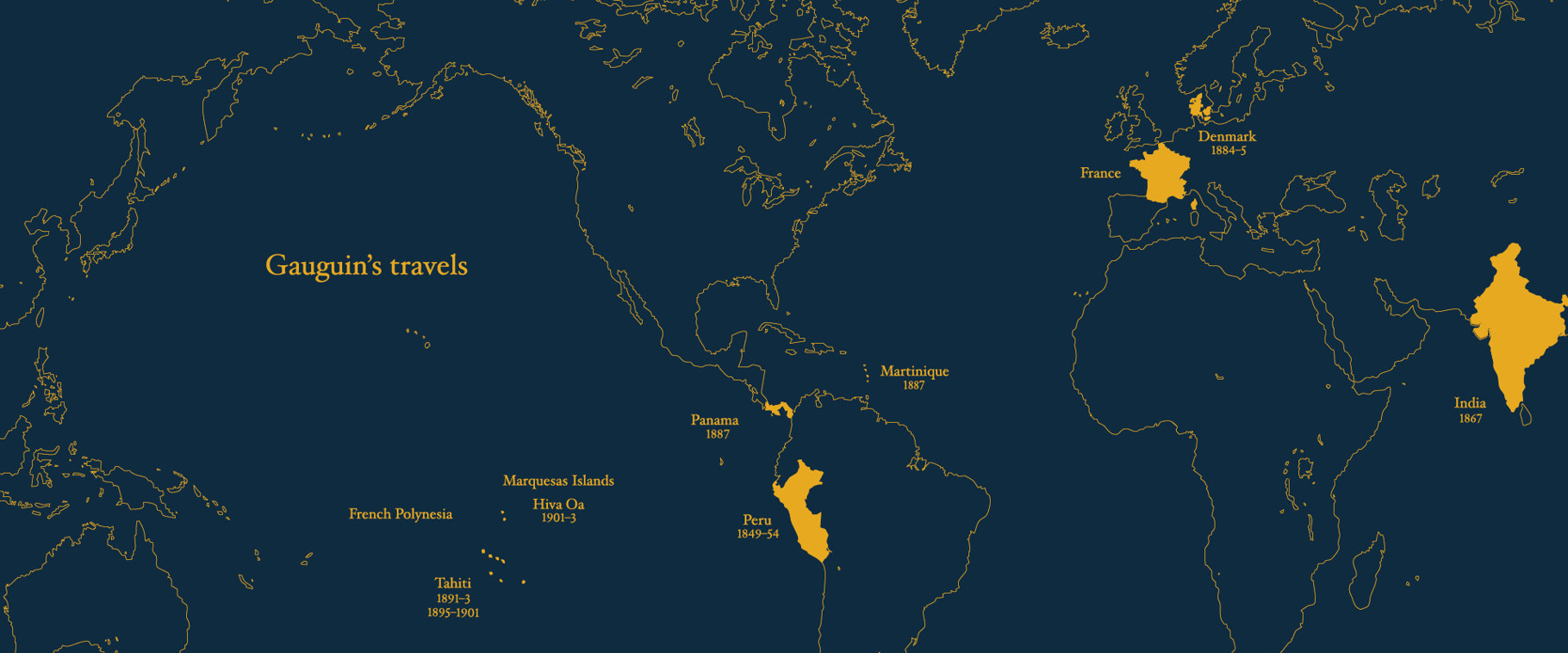 Gustave Arosa's influence
When his mother died in 1867, the businessman Gustave Arosa became the 19-year-old Gauguin's guardian. A wealthy collector, photographer, and friend of the artist Pissarro, Arosa's interest in art rubbed off on Gauguin. Gauguin painted as an amateur with Marguerite Arosa, Arosa's daughter.
Arosa's influence went beyond artistic inspiration; he got Gauguin a job as a stockbroker and introduced him to Mette-Sophie Gad from Denmark, whom Gauguin married. In 1876 Gauguin had some success as his 'Landscape at Viroflay' was accepted for the Salon. In 1880, 1881, and 1882 he was included in the Impressionist exhibitions. He moved in artistic circles, spending holidays painting with Pissarro and Cézanne.
Madame Mette in Evening Dress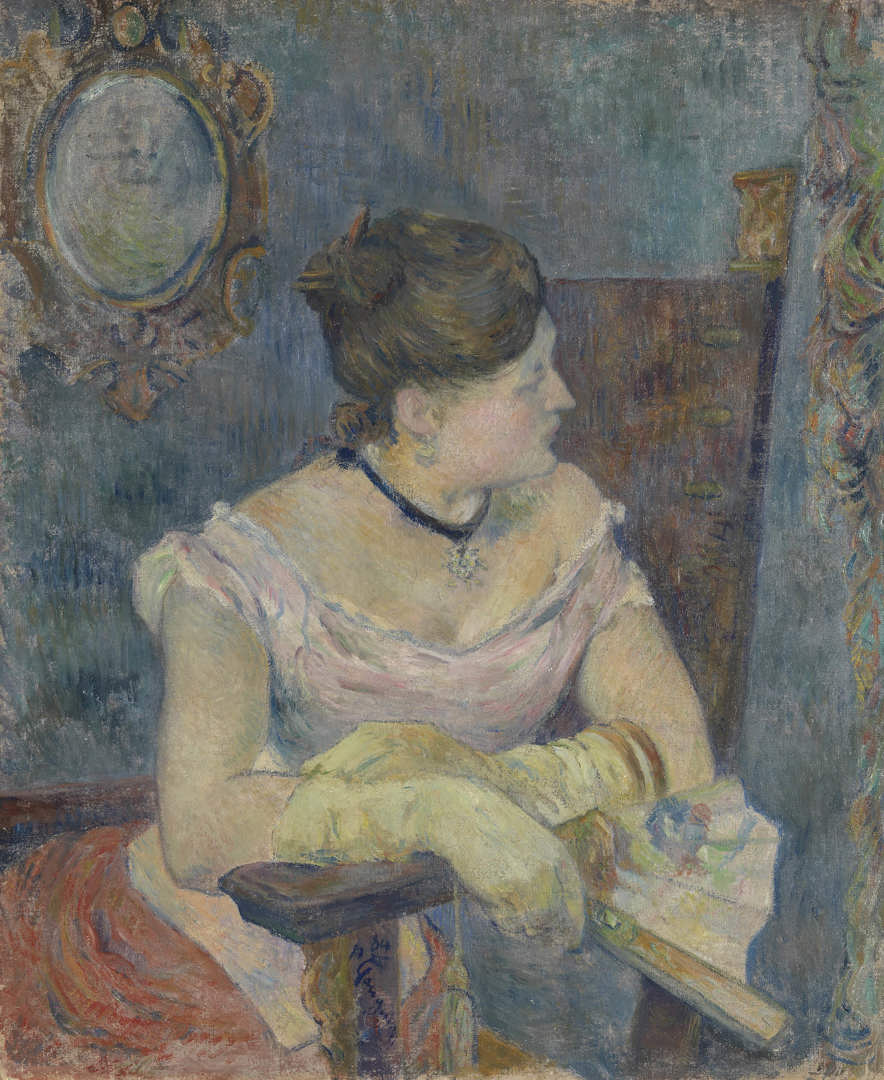 Stock market crash
In 1882, Gauguin (aged 34) lost his job in the French stock market crash. He, paradoxically, saw this as something positive - it meant he could focus on painting - but his finances never recovered. He wasn't able to find work and, looking for the support of Mette's family, they moved to Denmark. A year later, Gauguin went back to Paris with his eldest son, leaving his wife and four other children in Denmark.
A simple life in Brittany
Gauguin didn't settle for long in Paris. At a friend's suggestion, he visited the picturesque Pont-Aven in Brittany; escaping Paris, a city he referred to as 'a rotten Babylon'. He sought a simple, primitive art. Several artists joined Gauguin there, known as the Pont-Aven School, the group evolved stylistically, leaving Impressionism behind. Gauguin visited Brittany on two further occasions, retreating to the even more remote Le Pouldu but ultimately the peaceful area became so popular with artists and tourists that ironically, for Gauguin, it lost its 'unspoilt' appeal.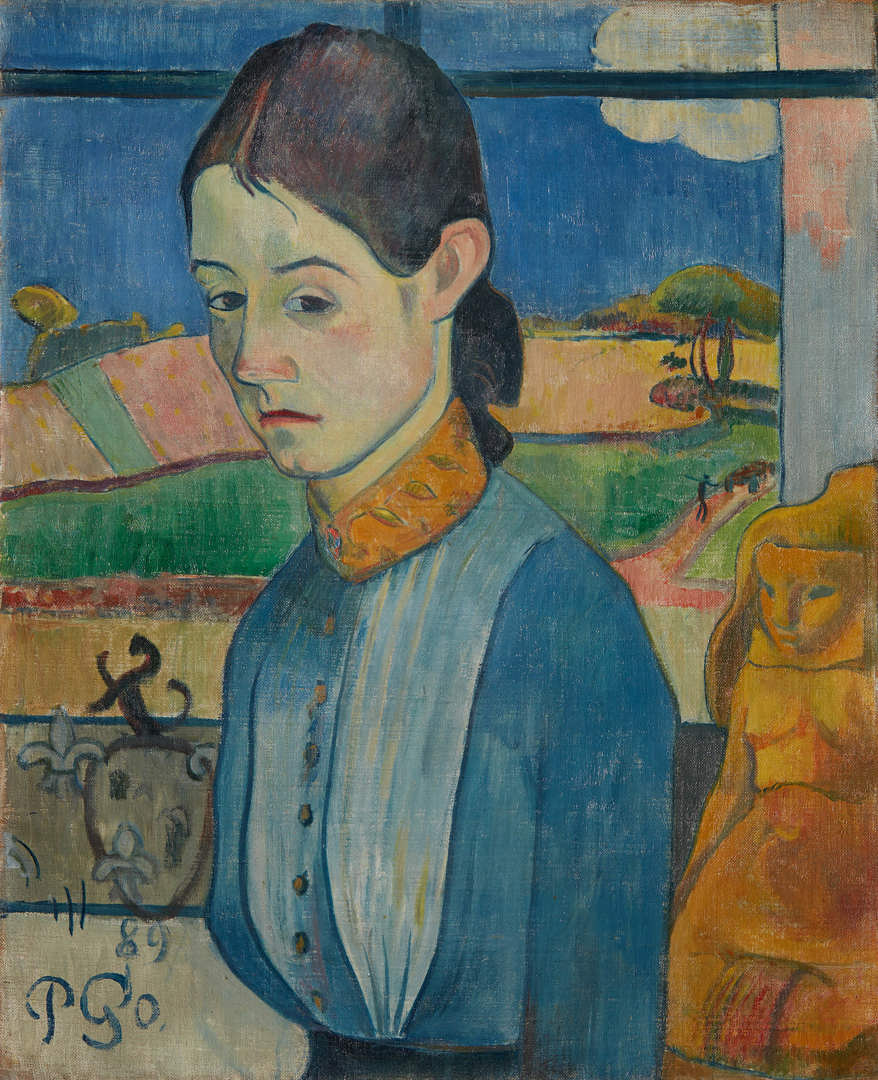 Arles and Van Gogh
One of the most famous episodes of Gauguin's life involves his contemporary, Vincent van Gogh. To satisfy Van Gogh's incessant invitations and Van Gogh's art dealer brother Theo's request, Gauguin visited Van Gogh's nascent 'artist community' in the south of France in October 1888. Van Gogh worked on seven sunflower paintings between August 1888 and January 1889, two of which were intended to decorate Gauguin's bedroom in the rented home and studio (the Yellow House), in Arles. But the artist community was not to be. Gauguin was the only artist to visit Arles. Gauguin and Van Gogh held very different views on art; a real clash of characters. They argued and argued. The situation deteriorated to a point where Van Gogh threatened Gaugin with a razor, and later cut off his own ear. Gauguin left for Paris on Christmas day 1888.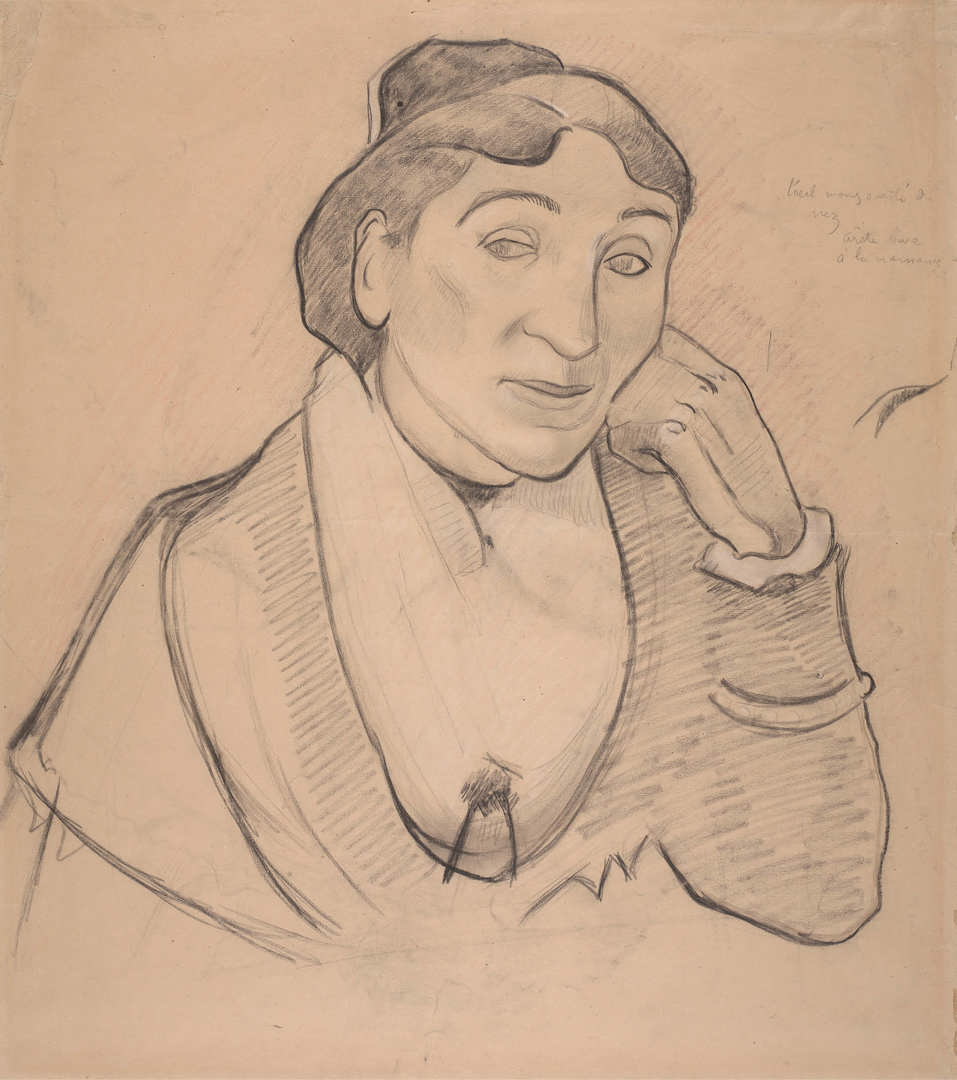 Tahiti and the Marquesas
Gauguin's first trip to Tahiti followed a time spent moving between Le Pouldu and Paris. Having got a grant from the French government, Gauguin set off. After two months at sea, he arrived in Papeete in June 1891. Tahiti didn't live up to the image Gauguin had of a pristine paradise; French colonisation had already had an impact. Gaugin returned to France between 1893 and 1895 before making a final journey to French Polynesia where he painted some of this best-known works. Still restless and looking for the untouched, he moved from Tahiti to Hiva Oa in the Marquesas. His health was in decline and he died in 1903, aged 55.
Paul Gauguin, Self Portrait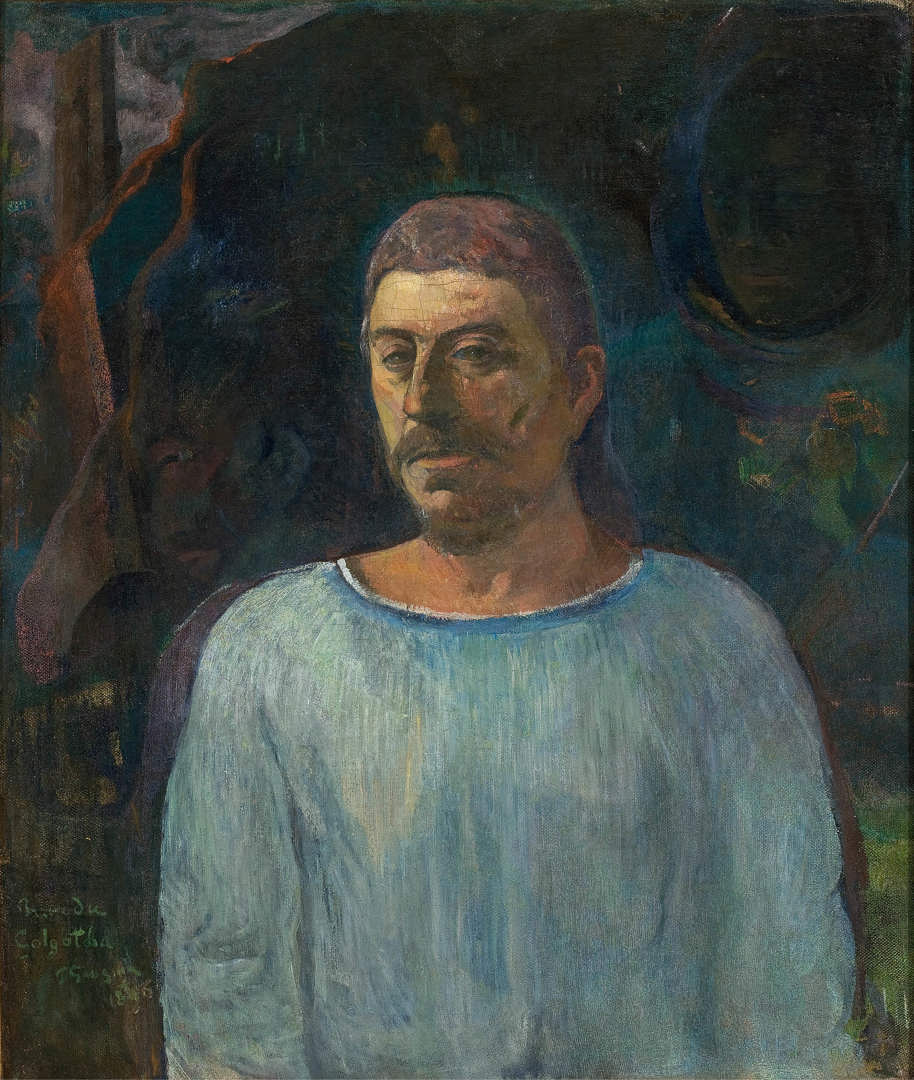 Title image: 'Clovis, Paul and Aline Gauguin' (detail), about 1884 / © SZ Photo / Bridgeman Images
We answer some questions about Gauguin's portraits and self portraits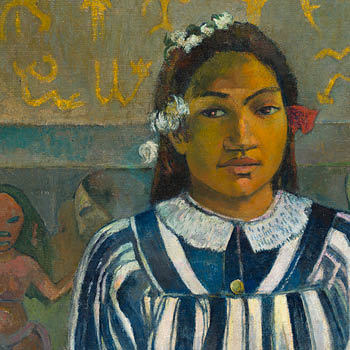 Elizabeth C. Childs explores Gauguin's time in the South Seas and the impact the region had on his portraits