Paul Delaroche was one of the most celebrated artists of his time. His large history paintings received wide acclaim at the Paris annual exhibition, then dominated by the conflicting influences of Neo-classicism and Romanticism.
Such was Delaroche's success that it often exceeded that of his contemporaries, Ingres and Delacroix. His paintings combine Ingres's highly finished style with Delacroix's historical themes to great effect, resembling stage productions where dramatic scenes are being acted.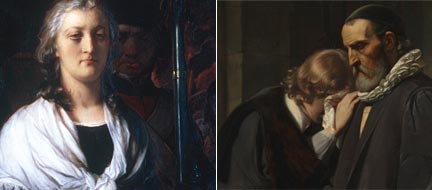 The Execution of Lady Jane Grey
The monumental Execution of Lady Jane Grey, Delaroche's most famous painting, is arguably the best example of this new genre. Depicting the moment before the execution of the young queen in 1554, after a reign of just nine days, it is poignant in subject matter and uncanny in its intense realism.
Through preparatory drawings and sketches, this exhibition traces the slow and careful gestation of the painting. It also places it in the wider context of history painting of the time. Important precedents are displayed alongside the major works which established Delaroche's reputation in the 1820s and 30s.
'Painting History: Delaroche and Lady Jane Grey' examines Delaroche's predilection for emotionally-affecting English themes and his involvement with the theatre, both essential components of his art. The exhibition aims to return critical attention to a major painter who fell from favour soon after his death, but to whom the public now respond with wide admiration.
The Execution of Lady Jane Grey
Introducing Delaroche's 'Execution of Lady Jane Grey' - 2 minutes
This extract comes from the exhibition audio guide.