Delacroix: Art's liberator
Eugène Delacroix was one of the most significant artists of the 19th century. His vibrant use of colour and innovative techniques are considered to have liberated art from the constraints of early 19th-century rules and practices.
Delacroix's importance was not limited to his artworks; his 'Journal', first published between 1893 and 1895, is viewed as an unparalleled exploration of artistic purpose and practice. Throughout his career he cultivated a reputation as a bohemian, consumed to the point of illness by painting, writing, emotion, and imagination. Combined, Delacroix's paintings, writings, and self-image had a profound impact on, and shaped the development of, modern painting.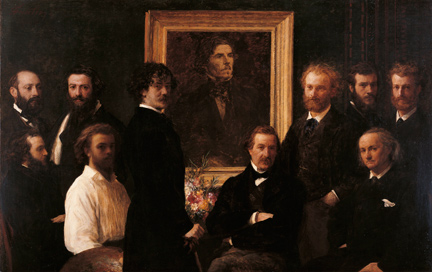 Delacroix might have been selected to undertake important public commissions in Paris but, from his debut entry at the Paris Salon in 1822 where he exhibited 'The Barque of Dante' to his death, his emotionally charged subjects and individual approach to the use of colour and technique, divided opinion, attracting hostility from the press and the art establishment.
After death, his reputation was transformed. Through posthumous displays of his work and the sale of his studio contents, the devotion of his loyal supporters, and the publication of his 'Journal', he became a touchstone for many of the late 19th- and early 20th-century painters we associate with the rise of modern art. His widespread influence is evident in 'Homage to Delacroix' by Ignace-Henri-Théodore Fantin-Latour, which was exhibited in Paris in 1864, a year after Delacroix's death in August 1863.
In the painting above, Fantin-Latour depicts himself (seated in white) alongside artists and writers grouped around Delacroix's portrait, including Edouard Manet and Charles Baudelaire. Like Delacroix, many of the men surrounding the portrait had an uneasy relationship with the art establishment and the press. For them, Delacroix was more than a revered artist: he was a rallying figure for all those unwilling to accept the rules of conventional art, whether in literature, poetry, or painting.