Paintings by Netherlandish
This bearded man was once thought to be the painter Anthonis Mor; a label on the back names him as '[Sr] Antony More'. The artist was believed to have been knighted during his visit to England in 1554–5 and was therefore called Sir Anthony More or Sir Antonio Moro. However, there is no resemblanc...
Not on display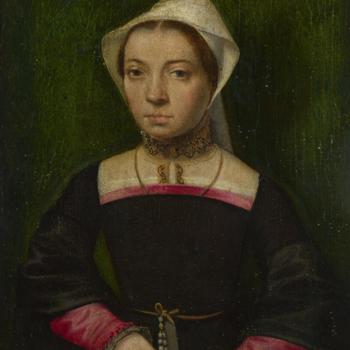 A well-dressed young woman gazes out from this portrait. Her chemise seems to be embroidered in black and gold at the neck and cuffs. The golden beads among other whitish ones that hang from her girdle are probably a rosary, a devotional aid often used for prayer.We don't know who the woman is or...
Not on display
The unknown little girl in this portrait looks out at us, shy and uncertain. Her auburn curls hang loose, framing her pink cheeks. She is in her finest clothes, the bodice stiff and restrictive, the silk apron sparkling white. Her overskirt is looped up to show that as much attention has been pai...
Not on display