Issued November 2014
Venues announced for Masterpiece Tour

In March 2015, a much-loved work from the National Gallery Collection –  Canaletto's 'A Regatta on the Grand Canal' – is going on the road and travelling the UK as the second painting in the three-year Masterpiece Tour .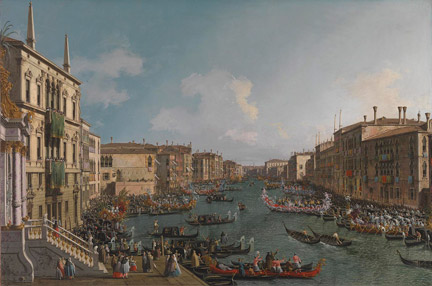 The three host venues for 2015 are the Victoria Art Gallery, Bath; Compton Verney, Warwickshire and Sunderland Museums and Winter Gardens.
The Masterpiece Tour is part of the National Gallery's commitment to promote the understanding, knowledge and appreciation of Old Master paintings to as wide an audience as possible. This opportunity to bring hugely popular National Gallery paintings to the public's doorstep is being made possible by the generous support of Christie's.
Victoria Art Gallery, Bath
7 March – 3 May 2015
The first stop on the tour will be the Victoria Art Gallery in Bath. Bath's Victoria Art Gallery welcomes around 100,000 visitors a year to view its lively temporary exhibitions and diverse collection displays, from Turner to Grayson Perry and Hugo van der Goes to Howard Hodgkin.
18th-century Bath was a popular tourist destination, with its hot spring water and fashionable architecture. Just like in Canaletto's Venice, wealthy visitors were enthusiastic purchasers of paintings and prints of the city as reminders of their travels. It will be displaying a selection of Bath views alongside 'A Regatta on the Grand Canal', looking at Canaletto's influence on British art and the 18th-century enthusiasm for view-painting.
Stephen Bird, Head of Heritage Services at Bath & North East Somerset Council, says:
"We are absolutely delighted that the Victoria Art Gallery in Bath has been selected to host Canaletto's 'A Regatta on the Grand Canal' as part of the National Gallery's Masterpiece Tour programme. The Gallery is a most fitting venue in which this fine painting can be enjoyed by a large and diverse audience of both residents and visitors to the city. It is also most apt that in England's first Palladian city, Robert Adam's 'Pulteney Bridge over the River Avon', right beside the Gallery, was modelled on Palladio's design for the Rialto Bridge. This association offers great opportunities to exhibit other works from the collection and devise learning programmes on the subject of waterways and bridges."
Compton Verney, Warwickshire
9 May – 21 June 2015
The next stop on the tour is Compton Verney in Warwickshire, a nationally-accredited museum and gallery with six diverse permanent collections and frequent international exhibitions, all housed in a Georgian mansion with a large modern extension set in 120 acres of historic 'Capability' Brown parkland. One of the gallery's most important permanent collections is Neapolitan Art of the 17th and 18th centuries, and one of the collection's principal works – Vanvitelli's 'Posillipo with the Palazzo Donn'Anna' of c.1701, which features Venetian-style gondolas crossing the Bay of Naples – will be displayed alongside Canaletto's 'A Regatta on the Grand Canal', enabling audiences to compare views, approaches, techniques – and boats. The display will also (until 7 June 2015) coincide with Compton Verney's major exhibition 'Canaletto: Celebrating Britain', which looks at Canaletto's reaction to emerging British identities in the years of the artist's visit to these shores of 1746-55 – a context which will encourage visitors to compare burgeoning mid-Georgian Britain with the picturesque decay of Canaletto's Venice.
Dr Steven Parissien, Director of Compton Verney, says:
"Compton Verney is delighted to have been chosen as a partner in the Masterpiece Tour for 2015, a collaboration which builds on our already strong programming links with the National Gallery and which underlines for our regional audience our ability to bring major artworks to their doorstep. The loan of this major work will not only give our visitors a new perspective on our own Italian collection but will amplify and enhance our forthcoming exhibition on Canaletto and Britain. This marvellous opportunity couldn't have come at a better time."
Sunderland Museums and Winter Gardens
11 July – 13 September 2015
The final venue in the Masterpiece Tour is Sunderland Museum & Winter Gardens. Sunderland Corporation established a museum in 1846, the first public museum to be funded by a local authority outside of London. The current museum opened in 1879 and the collection grew quickly. 1964 saw the remodelled museum open with a purpose-built art gallery. The Museum & Winter Gardens reopened after an extensive Heritage Lottery funded refurbishment programme in 2001. Eight new galleries were created and a Winter Garden added; transforming the museum. Located in the city centre, the museum contains a wide range of collections which are still expanding.
Jo Cunningham, Museums Manager, says:
"We are delighted to have been chosen to display 'A Regatta on the Grand Canal' by Canaletto. This stunning painting from the National Gallery will be a fabulous attraction, bringing a national loan to a regional audience. Sunderland Museum aims to show world-class exhibitions which interest and excite our visitors. Sunderland developed at the mouth of the River Wear and the river was integral to its development and prosperity. The Canaletto painting will be shown in our art gallery alongside our panoramic river paintings depicting local Victorian ceremonial scenes." 
In 2016, Rembrandt's 'Self Portrait at the Age of 63' will join the final stage of the tour, bringing the trio of annual tours to a close. Each annual tour runs from January to July and visits three different regional museums per year.
Dr Nicholas Penny, Director of the National Gallery, says:
"The National Gallery was created for the benefit of the British public, but it must be acknowledged that a number of visitors may find it difficult to come to London. We hope that the tour of this great Canaletto masterpiece will reach people who have never visited their national collection or haven't done so for ages, and we hope that many of those whom we do reach then feel inspired to visit or revisit. We are delighted to include these three venues in the Masterpiece Tour 2015 and look forward to seeing the different ways in which this much-loved painting will be displayed in each setting."
Steven P. Murphy, Chief Executive Officer, Christie's, says:
"We all want to see as many people as possible encounter, and enjoy, art. Christie's has long supported regional and national museums to help make that possible, and we are especially honoured to support the Masterpiece Tour. Canaletto is a painter of significance, depth and pleasure. Nothing beats getting up close to a work of art and I'm delighted we are helping people in Bath, Warwickshire and Sunderland do just that with this masterpiece."  
For further press information, please contact Esther Saunders-Deutsch at esther.saunders-deutsch@ng-london.org.uk 020 7747 2420
Sponsored by: