Issued September 2015
The National Gallery announced today (14 September 2015) that a pair of rarely lent royal portraits will be coming to London as a late addition to the landmark exhibition Goya: The Portraits, sponsored by Credit Suisse, which opens on 7 October.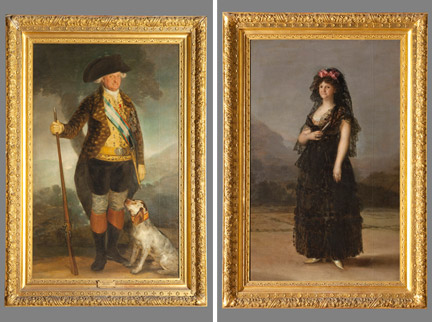 'Charles IV in Hunting Dress' and 'María Luisa wearing a Mantilla', both painted in 1799, are last minute loans from the Patrimonio Nacional in Spain.
This is only the second time the paintings have ever been lent as a pair and only the second time they have ever left Spain. The royal portraits, which are of major importance to the artistic heritage of Spain, are in excellent, original condition and still in their original gilt wood frames having hung in the Palacio Real, Madrid ever since they were created by the iconic Spanish painter.
The exhibition will trace the artist's career, from his early beginnings at the court in Madrid to his appointment as First Court Painter to Charles IV, and as favoured portraitist of the Spanish aristocracy.
Dr Gabriele Finaldi, Director of the National Gallery said:
"We are very honoured to receive these iconic and highly important paintings on loan from Patrimonio Nacional. The arrival of this pair of exceptional paintings by Goya from the Royal Palace in Madrid presents the unique opportunity to witness Goya's development as a royal portraitist, displayed in the context of his remarkable career. We are delighted to feature the paintings in this, the first ever exhibition to focus on his portraits."
In Trafalgar Square, the paintings will be hung in the same room as the 'Duchess of Alba' painted two years earlier (1797). One of the highlights of the exhibition will be the once-in-a-lifetime opportunity to view these two formidable women opposite one other, each wearing the black lace 'mantilla' so typical of 'maja' costume.
José Luis Díez, Director of Collections at the Royal Palace of Madrid said:
"The works 'Carlos IV, in Hunting Dress' and 'Maria Luisa wearing a mantilla' are the first and most representative pair of royal portraits of the series painted by Goya for the Palacio Real in Madrid from 1799. Due to the fragility of the works, the two portraits have not left the palace for two decades and, even then, only very occasionally have been lent on an individual basis to temporary exhibitions. Given the importance of the exhibition (the first monographic show dedicated to Goya as portraitist) and given the outstanding reputation of the venue, the National Gallery, London, The Board of Directors of the Patrimonio Nacional has quite exceptionally authorised the loan of this superb pair of portraits."
Xavier Bray, Curator of 'Goya: The Portraits' said:
"These two royal portraits still play a major role in Madrid's royal palace. They hang in the apartments that lead to the throne room where foreign dignitaries are welcomed by the present King of Spain. I am therefore incredibly grateful to the Patrimonio Nacional for making this exceptional loan. Without them we would not have been able to mark Goya's appointment as First Court Painter to Charles IV in 1799, a position he had fought long and hard to achieve. They are also some of his best portraits, in a perfect state of preservation and painted in a technique that only Velázquez before him could match, and they show the King and Queen as real people, a couple who wished to be admired and loved by their subjects as equals."
NOTES TO EDITORS
For further information please contact the National Gallery Press Office on 0207 747 2865 or press@ng-london.org.uk
Publicity images can be obtained from http://press.ng-london.org.uk