The National Gallery acquires its first painting by Spanish artist Joaquín Sorolla
Issued June 2020
The National Gallery has acquired its first painting by Joaquín Sorolla (1863–1923).
'The Drunkard, Zarauz (El Borracho, Zarauz)', (1910), can be explored on the National Gallery website from today. The painting's first visit to London was in 2019 for the exhibition Sorolla: Spanish Master of Light; the first major UK exhibition of the artist's work in more than a hundred years at the National Gallery.
Over 167,000 people visited 'Sorolla: Spanish Master of Light', which featured more than sixty works by the artist known as Spain's Impressionist, and whose last London exhibition, in 1908, advertised him as 'The World's Greatest Living Painter'.  
'The Drunkard, Zarauz' was purchased for £325k with the support of a generous legacy from Mr David Leslie Medd OBE, 2019.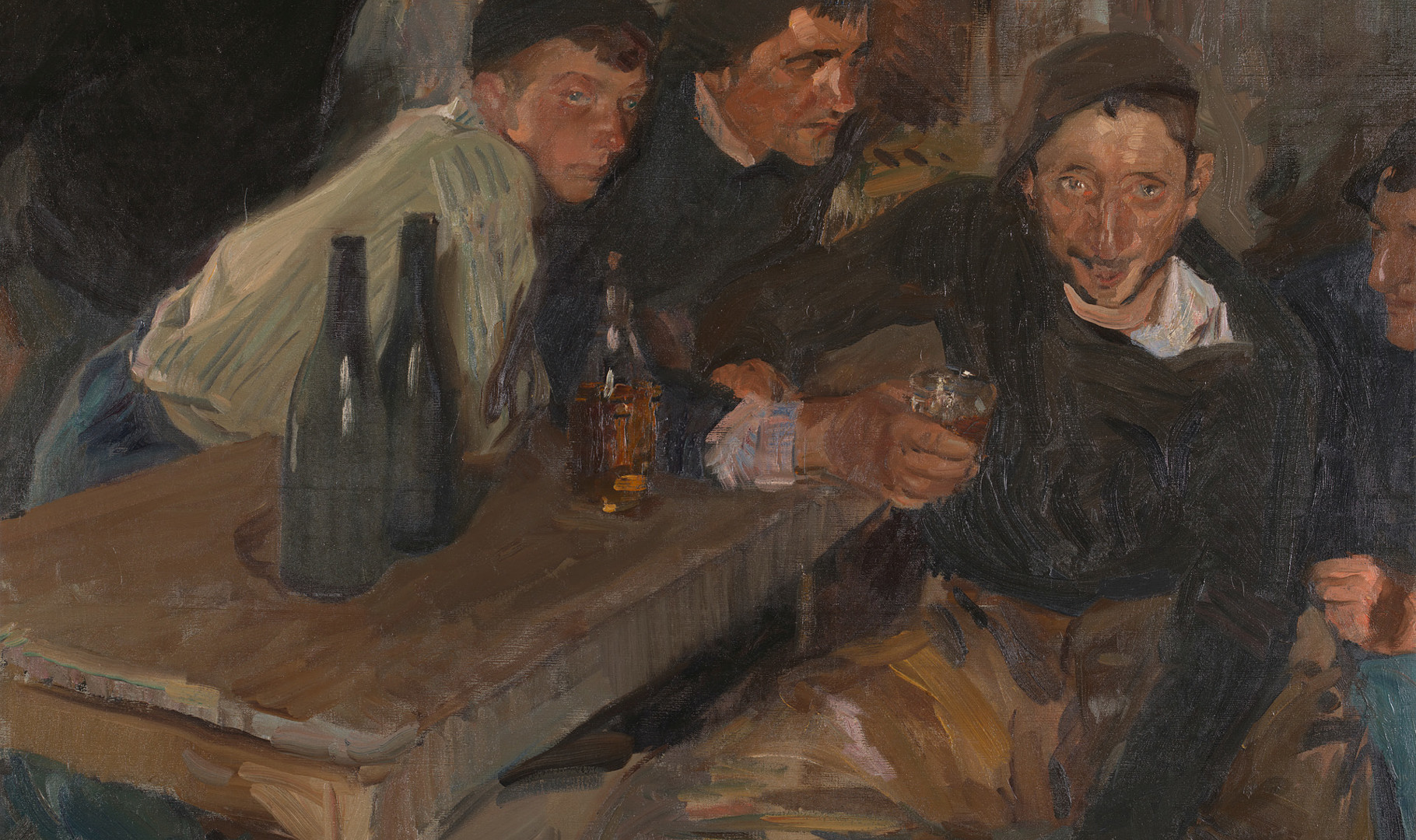 The newly acquired painting is a large-scale sketch, rapidly executed in situ as Sorolla trolled the taverns of Zarauz in the Basque Country where he and his family spent the summer of 1910.
Sorolla depicts the human drama of the devastating effects of alcoholism: five men in various states of inebriation gather in the shadowy interior of a tavern. One of them, more drunk than the others, stares through watery eyes directly at the artist as another pushes a glass of cider towards him, making fun of his drunken state.
Evidence of the artist's hasty, improvisatory response to the ramshackle scene is seen in the rapid application of relatively thin layers of paint and the brilliant economy of brushstrokes where light and shadow are precisely evoked with minimal means.
That the artist never worked up a 'finished' tavern scene from Zarauz suggests that what he sought was that very fleeting sense of immediacy. That he was particularly pleased with 'The Drunkard, Zarauz' is indicated by his decision to include it the following year in his second major American retrospective exhibition, at the Art Institute of Chicago.
The 1910 date of the picture is interesting as it was the first time in 10 years that Sorolla had turned to such dark themes. His 'Sad Inheritance' (1899, Fondación Bancaja, Valencia), a haunting evocation of physical decline, depicts a crowd of sick and disabled naked children, including some using crutches due to polio, on the Malvarrosa beach in Valencia. That painting, which won the gold medal at the Paris Universal Exposition of 1900, marked the end of the 'social' phase of his career. For the following decade Sorolla largely dedicated himself to elegant portraits and the sun-dappled scenes of leisure along the seacoasts of Spain on which worldwide renown during his lifetime was based.
Born in Valencia in 1863, Joaquín Sorolla y Bastida succeeded in becoming one of the world's most famous painters during his lifetime. This was thanks to a unique technique that showed a deep allegiance to the tradition of Spanish painting while capturing the dazzling play of sunlight.
National Gallery Director, Dr Gabriele Finaldi, says 'New pictures help to expand our understanding of the European painting tradition and enrich the story the Gallery tells, so we are delighted that this extraordinary picture now belongs to everyone, including future generations.'
He added, 'Following the success of the 'Sorolla' exhibition at the National Gallery in 2019, it is very pleasing to welcome the first work by him in the Gallery's collection. The subject of a drunkard in a Basque tavern is perhaps untypical of the artist but the virtuosity of his brushstroke and the confident, sketch-like handling reveal him at his dazzling best.'
When the National Gallery reopens, 'The Drunkard, Zarauz' will be on display in Room 41 with contemporary paintings from across Europe and America, adding a touch of social realism to the National Gallery's collection of early 20th-century pictures by artists such as Cézanne, Renoir, Monet, Klimt and Bellows.
Christopher Riopelle, the National Gallery's Neil Westreich Curator of Post-1800 Paintings, says 'Around the time he painted 'The Drunkard, Zarauz' Sorolla was contemplating the commission for the monumental painting cycle on the peoples and customs of his homeland, 'Vision of Spain' (Hispanic Society of America, New York), on which he would spend the rest of his working life. As if in preparation, with this deeply human painting he returned to his engagement with the Spanish peasant and, perhaps as important, to making brilliant use once more of the indispensable Spanish colour: black.'
NOTES TO EDITORS
Joaquín Sorolla y Bastida was born in Valencia in 1863. Sorolla was only two years old when both of his parents died in a cholera epidemic. Sorolla's exceptional artistic talent was evident from a young age. He started exhibiting paintings at the Exposición Nacional de Bellas Artes in Madrid in his late teens and, in 1881, was accepted to the Academy of Fine Arts in Valencia. In 1884, not yet 21, he exhibited his first large history painting, which was acquired by the Spanish government.
In 1888 he married Clotilde García del Castillo, who was to be his muse and the subject of many of his pictures. They settled in Madrid in 1890 and went on to have three children. Sorolla's other great love was for his home city of Valencia and many of his best works, often painted 'en plein air', captured the effects of blazing Mediterranean sunlight and the seacoast of Valencia.
From 1890, Sorolla's career was a breathless succession of Spanish and international exhibitions, commissions for portraits, showers of honours and almost ceaseless travel. Paintings by him were exhibited in Munich, Paris, Chicago, Vienna, Venice, and as far as Buenos Aires. In 1895, his painting 'Return from Fishing' (now in the Musée d'Orsay, Paris) was exhibited at the Paris Salon and then purchased by the French state, confirming his status as a major international figure. By 1900, he could be considered as the most famous of all living Spanish artists.
In 1911, Sorolla received his most ambitious commission to date, from the Hispanic Society of America, to paint a series of canvases to decorate their library. The result, 'Vision of Spain', depicting the regional costumes and customs of the major provinces of Spain, became an all-consuming project for several years.
Sadly, Sorolla never saw his epic mural cycle installed in New York as he suffered a stroke while painting in the garden in Spain, in June 1920. When he died, three years later, he was buried like a state hero.
LEGACIES AT THE NATIONAL GALLERY
The National Gallery was founded by a gift in 1826 from Sir George Beaumont, who believed that art enriches lives and that a nation must have a great public art collection. Since then, hundreds of other art lovers have remembered the Gallery in their will and, remarkably, nearly a quarter of the Gallery's paintings are on display thanks of gifts in wills.
We have a duty to past benefactors, today's visitors and future generations to care for the paintings, build the collection, share our knowledge, and provide access to the widest possible public. We rely on legacies to help us in this endeavour.
A gift in your will, no matter how small or large, will cost you nothing in your lifetime and will make a real difference to the National Gallery. We would welcome the opportunity to talk to you more about your connection with the Gallery and what your legacy could achieve. Please contact Stéphanie Gaillard on 020 7747 5982 or development@ng-london.org.uk
For further information, please contact the National Gallery Press Office on 020 7747 2865 or email:  press@ng-london.org.uk
Publicity images can be obtained from https://press.nationalgallery.org.uk/