The Director's Choice, a new virtual exhibition
Issued May 2021
When the National Gallery in Trafalgar Square closed its doors in March 2020 due to the worldwide pandemic, it quickly became apparent that, for a time, we had to become an online Gallery only – the nation's gallery in the nation's homes.
Many people still wanted to tour and explore the National Gallery, take solace in great art at this difficult time, but they had to do it virtually. Over the past 12 months our curators and educators - working with our digital team – have produced hundreds of films, talks, online courses and experimental content formats for our members, supporters and a rapidly growing online audience across the world. Before March 2020, we hadn't hosted a single live event online, we've now done more than 500.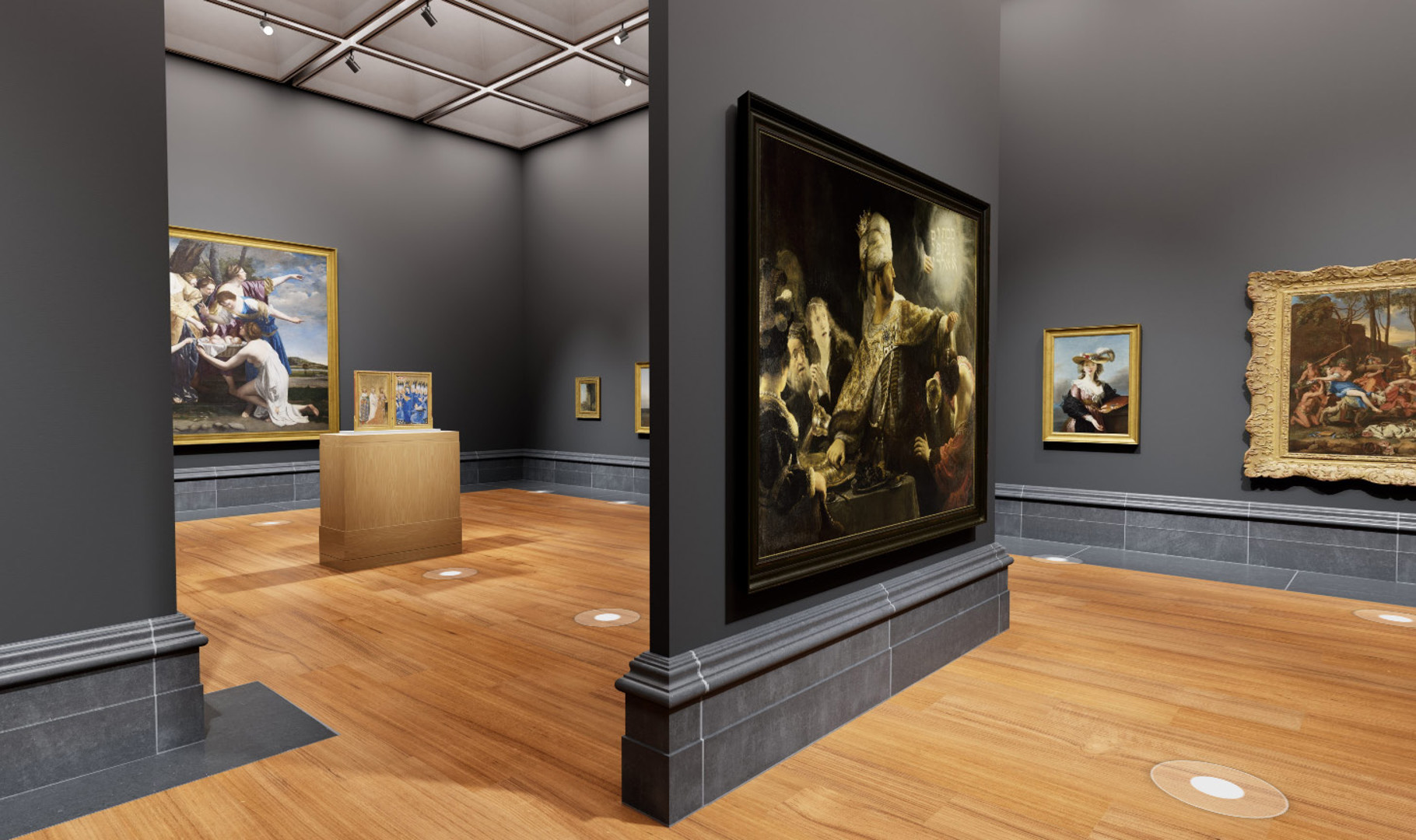 During the closure period, Director Dr Gabriele Finaldi wrote a weekly email exploring a picture of his choice from the Collection, which was sent to supporters to help them stay connected with the Gallery. These personal weekly messages proved hugely popular, and so now 20* of those works Gabriele selected have been brought together in an innovative virtual exhibition - 'The Director's Choice' - for everyone to enjoy online, free.
The wonders of digital have enabled this unlikely and curious display of National Gallery masterpieces - from Giotto to Monet and Caravaggio to Turner. Online visitors can navigate themselves around the virtual gallery, zooming in close to explore the 3D images of the diverse works of art on display. Click on the panel next to the picture to listen to Gabriele's audio guide that he has narrated for each painting; enjoy the anecdote and insight surrounding reptilian still-life props, Rococo fads and fashions, and things that are not quite what they seem. When viewing the gallery on mobile you can position the paintings in your own home with the augmented reality feature.
You can experience this unusual mix of artists and styles spanning more than 400 years of art history gathered together virtually online here https://www.nationalgallery.org.uk/visiting/virtual-tours/the-directors-choice
The 'Director's Choice' exhibition is available from 5 May. The National Gallery – Government advice permitting – is planning to reopen its doors from 17 May, therefore it is hoped the launch of 'The Director's Choice' exhibition just a few days earlier will provide people with an 'appetiser' ahead of returning to see their paintings in real life.
National Gallery Director, Dr Gabriele Finaldi, says, 'There is an element of playfulness and even daring to this but it provides us the opportunity to explore how new digital technologies can broaden the range of approaches to experiencing our paintings. I hope people enjoy it.' 
Lawrence Chiles, National Gallery Head of Digital Services, added, 'With our doors closed we have had to adapt and find new ways to bring the collection to the public. Technology like this offers exciting possibilities for creating digital experiences that can complement and broaden access to the Gallery and the work we do.'
More information at nationalgallery.org.uk
Twitter @nationalgallery
Facebook @thenationalgallery
Instagram #nationalgallery
YouTube The National Gallery
Notes to editors
*Paintings featured in 'The Director's Choice' virtual exhibition
Giotto and Workshop, 'Pentecost', probably about 1310–18
An unknown English of French (?) artist, 'Richard II presented to the Virgin and Child by his Patron Saint John the Baptist and Saints Edward and Edmund ('The Wilton Diptych')', about 1395–9
Jan van Eyck, 'A Man in a Turban', 1433
Andrea Mantegna,'The Agony in the Garden', about 1455–6
Michelangelo, 'The Entombment (or Christ being carried to his Tomb)', about 1500–1
Giovanni Bellini, 'Doge Leonardo Loredan', about 1501–2
Albrecht Altdorfer, 'Christ taking Leave of his Mother', probably 1520
Catharina van Hemessen, 'ortrait of a Man', 1552
Michelangelo Merisi da Caravaggio, 'Boy bitten by a Lizard', about 1594–5
Francisco de Zurbarán, 'Cup of Water and a Rose', about 1630
Orazio Gentileschi, 'The Finding of Moses', early 1630s
Nicolas Poussin, 'The Triumph of Pan', 1636
Rembrandt, 'Belshazzar's Feast', about 1636–8
Vermeer, 'A Young Woman standing at a Virginal', about 1670–2
Canaletto, 'Piazza San Marco and the Colonnade of the Procuratie Nuove', about 1756
Thomas Gainsborough, 'The Painter's Daughters chasing a Butterfly', probably about 1756
Elisabeth Louise Vigée Le Brun, 'Self Portrait in a Straw Hat', 1782
Joseph Mallord William Turner, 'The Evening Star', about 1830
Jean-Baptiste-Camille Corot, 'Avignon from the West', 1836
Claude Monet, 'Snow Scene at Argenteuil', 1875
Press enquiries
National Gallery Press Office email press@ng-london.org.uk 
Publicity images can be obtained from https://press.nationalgallery.org.uk/