The Credit Suisse Exhibition: Raphael
Issued January 2022
9 April – 31 July 2022
First Floor Galleries, Rooms 1–8
Admission charge
Priority booking is now available to National Gallery Members for the major spring 2022 exhibition, The Credit Suisse Exhibition: Raphael. Tickets will go on public sale from 9 February.
Marking the 500th anniversary of Raphael's death in 2020 and delayed because of Covid restrictions, the National Gallery presents one of the first-ever exhibitions to explore the complete career of this giant of the Italian Renaissance.
A painter, draughtsman, architect, designer and archaeologist who captured in his art the human and the divine, love, friendship, learning, and power, and who gave us quintessential images of beauty and civilisation: Raphael's life was short, his work prolific, and his legacy immortal.
In his brief career, spanning just two decades, Raffaello Santi (1483–1520) shaped the course of Western culture like few artists before or since. This exhibition examines not just his celebrated paintings and drawings – but also his not so widely known work in architecture, archaeology and poetry, as well as his designs for sculpture, tapestry, prints, and the applied arts. The aim is to do something no previous Raphael exhibition has ever done - explore every aspect of his multimedia activity.
With more than 90 exhibits, all by Raphael, except those in media he did not practise himself but for which he provided designs, 'The Credit Suisse Exhibition: Raphael' demonstrates why the artist plays such a pivotal role in the history of Western art.
Broadly chronological, the exhibition opens with a section devoted to the artist's early works created in the Marche region of eastern Italy and his birthplace Urbino. These include the drawings for his 'Saint Nicholas of Tolentino altarpiece (Studies for the Coronation of Saint Nicholas of Tolentino', about 1500‐1, black chalk, Palais des Beaux‐Arts de Lille) reflecting his lifelong practice of studying from live models. 
The exhibition then focuses on Florence where, as well as establishing himself within a new network of clients, Raphael continued to produce works for many other locations, including the Ansidei Madonna (The Virgin and Child with Saint John the Baptist and Saint Nicholas of Bari, 1505, oil on poplar, the National Gallery) for Perugia. A rare gathering of Raphael's paintings of the Virgin and Child – the genre that he above all made his own – includes pictures dating to his time in Florence, as well as paintings executed during his first years in Rome, where he moved in 1508 to work for one of the great patrons in Western art history, Pope Julius II (reigned 1503–13).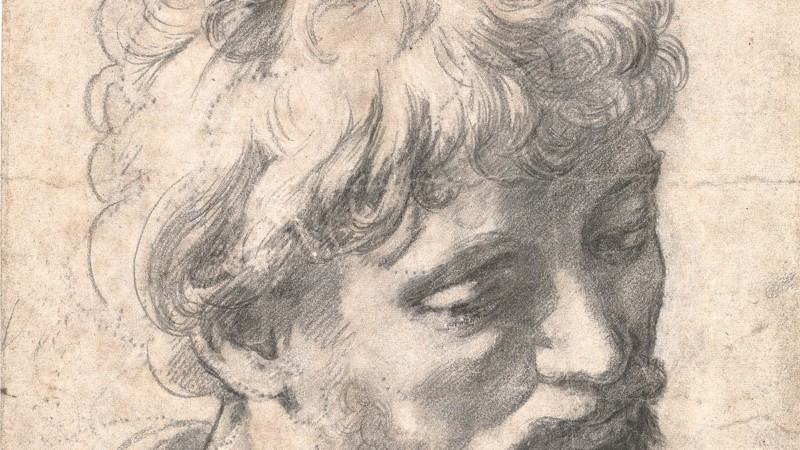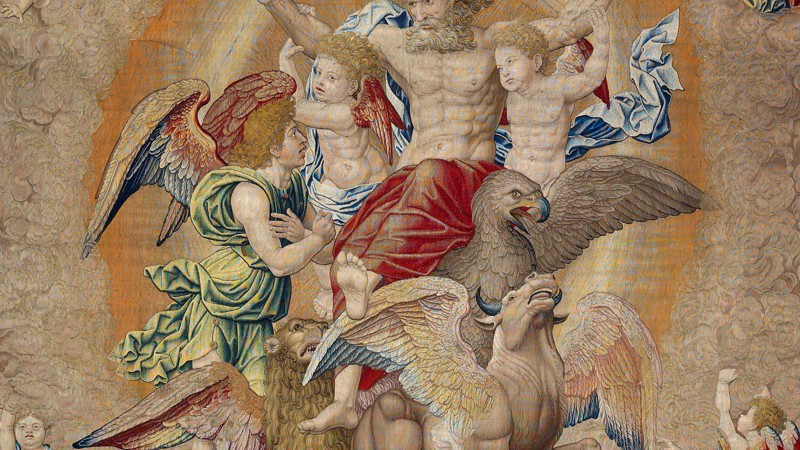 A section follows on Raphael's arrival in Rome where he quickly gained the patronage of the Sienese banker, Agostino Chigi (1466–1520). Chigi became his most important lay client, commissioning frescoes for his suburban villa, now called the Farnesina, as well as designs for chapels in two Roman churches: Santa Maria della Pace and Santa Maria del Popolo. The exhibition includes two bronze roundels from Santa Maria della Pace, never previously exhibited outside Italy (attributed to Cesarino Rossetti after designs by Raphael 'The Incredulity of Saint Thomas'; and 'The Descent into Limbo', both about 1511–12, bronze, Italian state property, Milano, Chiaravalle, Chiesa Abbaziale di Santa Maria.)
A room is then devoted to Raphael's frescoes for Julius II's private apartments, or Stanze. This four-room project included monumental, multi‐figure compositions depicting biblical subjects, scenes from the history of the Church, allegories of concepts such as Poetry and the great gathering of philosophers known as the 'School of Athens' (1509–10). Drawings on display include a life study for the Greek philosopher Diogenes (about 412–323 BCE) depicted in the 'School of Athens (Study for Diogenes', about 1508–10, silverpoint on paper primed in beige, rose and light‑purple, Städel Museum, Frankfurt am Main.) In addition to his demanding commitment to the Stanze, Raphael found time for other commissions, including his penetrating portrait of the sickly and elderly, yet strong-willed Julius II , also exhibited in this room (1511, oil on poplar, the National Gallery, London) which transformed the way the powerful were depicted in Western art.
Raphael's Roman years saw him applying his talents widely and building a thriving and multi-faceted artistic enterprise. The artist and biographer Giorgio Vasari (1511–1574) described him as a 'universal artist' in recognition of the mastery he developed across many media. The section explores his innovative work in media such as printmaking, decorative art and tapestry design, as well as his architecture and archaeological work as surveyor of ancient Rome. However, painting remained central to his work, as demonstrated by in the painted variations on the subject of the Holy Family on display in the exhibition.
Several of his original print designs, engraved by Marcantonio Raimondi (about 1470/82– about 1534), are here displayed alongside his preliminary drawings revealing the immense trouble Raphael took over what others might have regarded as minor works. This includes his 'Study for the Massacre of the Innocents' (about 1509–10, red chalk, The Albertina Museum, Vienna.) Also, included in this section is a single autograph drawing for the border of a salver ('Design for the Border of a Salver', about 1510, pen and brown ink, red chalk, The Ashmolean Museum, Oxford.)
As surveyor of ancient Rome to Pope Leo X (reigned 1513–1521) Raphael undertook an ambitious survey of the ancient city with drawings of its principal buildings, having lamented in a letter on display in the exhibition, the destruction of significant ruins as 'the shame of our age', Letter to Leo X, (Raphael, in collaboration with Baldassare Castiglione (1478–1529), 1519, lent by Archivio di Stato di Mantova, Acquisto Castiglioni.)
The exhibition also provides an overview of his work as an architect in Rome, including his most prestigious appointment as architect of the new St Peter's – the beginnings of the basilica we know today. His designs for private townhouses, or palazzi, are represented by a model of the façade of the Palazzo Branconio dell'Aquila, while his designs for the sprawling Villa Madama, created as a Medici refuge just outside Rome, were the most ambitious of their kind since antiquity but sadly the villa was only partially completed ('Elevation Drawing of a Villa Project', about 1516, The Ashmolean Museum, Oxford.)
Raphael's ground-breaking work as a designer for tapestries is represented by Saint Paul Preaching at Athens (Workshop of, or on behalf of, Pieter van Aelst, active about 1490–1533, after design by Raphael, about 1517–19, Brussels Wool, silk and gilt‑metal‑wrapped thread, Musei Vaticani, Cittá del Vaticano.) This was part of his series on the Acts of the Apostles, designed to be hung in the Sistine Chapel under, and in direct competition with Michelangelo's famous, frescoed ceiling. This series is among his most complex and influential works, bringing the logic of his monumental and meticulously planned narratives of the Vatican frescoes to a different, transportable medium. A digital facsimile of the original painted cartoon for the tapestry (Royal Collection, on permanent loan to the Victoria and Albert Museum), made especially for this exhibition, helps elucidate the collaborative creative process behind this great projects, involving assistant painters and draughtsmen as well, of course, as the weavers in the Netherlands who created the finished works.
The spectacular final room is dedicated to the portraiture of Raphael's last years. He was generally too busy to take on portrait commissions, unless there was a strong political imperative, as with the 'Portrait of Lorenzo de' Medici '(1518, oil on canvas, Private Collection.) The portraits he did execute, therefore, tend to have been painted out of friendship or affection, supremely exemplified in his famous 'Portrait of Baldassare Castiglione' (1519, oil on canvas, Musée du Louvre, Paris).
'The Credit Suisse Exhibition: Raphael' is curated by David Ekserdjian, Professor of History of Art and Film at the University of Leicester; Tom Henry, Professor of History of Art (Emeritus) at the University of Kent; and, for the National Gallery, Dr Matthias Wivel, the Aud Jebsen Curator of Sixteenth Century Italian Paintings.
Dr Matthias Wivel says: 'We are delighted that following its delay because of Covid we are now able to stage this exhibition which marks the 500th anniversary of Raphael's death in 2020, and is the first-ever outside Italy to explore the complete career of this key figure in Western art.'
David Mathers, CEO of Credit Suisse International, says: 'We are delighted to be supporting 'The Credit Suisse Exhibition: Raphael' at the National Gallery, London. We are thrilled that our clients, employees and partners will be able to experience Raphael's celebrated paintings and drawings as well as his work in architecture, poetry and design in one of the first ever exhibitions to explore the master's complete career. We look forward to continuing our long-standing commitment to the National Gallery in support of this much anticipated instalment of its exhibition programme."
Exhibition sponsored by
With additional support from
The Thompson Family Charitable Trust
The Vaseppi Trust
And other donors
Notes to editors
Images (clockwise from top left)
Raphael, Study for the Head of an Apostle in the Transfiguration © Private Collection
Raphael, Saint Catherine of Alexandria, about 1507 © The National Gallery, London
Raphael, Alba Madonna, about 1509-11 © National Gallery of Art, Washington DC
Pieter Coecke van Aelst, Vision of Ezekiel, about 1521 © Museo Nacional de Artes Decorativas. Madrid
The Credit Suisse Exhibition: Raphael
9 April – 31 July 2022
First Floor Galleries, Rooms 1-8
Admission charge. Members go free
Tickets nationalgallery.org.uk
Press view Wednesday 6 April 2022
The artist
For centuries Raphael (1483–1520) has been recognised as the supreme High Renaissance painter, visualising central aspects and ideals of Western culture.
Though he died at 37, Raphael's example as a paragon of Classicism dominated the academic tradition of European painting until the mid-19th century.
Raphael (Raffaello Santi) was born in Urbino where his father, Giovanni Santi, was court painter. He almost certainly began his training there and must have known works by Mantegna, Uccello, and Piero della Francesca from an early age. His earliest paintings were also greatly influenced by Perugino. From 1500 - when he was already an independent master - to 1508 he worked throughout central Italy, particularly Florence, where he became a noted portraitist and painter of Madonnas.
In 1508, at the age of 25, he was called to the court of Pope Julius II to help with the redecoration of the papal apartments. In Rome he became one of the greatest of all history painters. He remained in Rome for the rest of his life and in 1514, on the death of Bramante, he was appointed architect in charge of St Peter's. He died unexpectedly leaving behind a multitude of great projects, some unfinished, and an even greater legacy as a defining artist in the Western tradition.
Credit Suisse
Credit Suisse is one of the world's leading financial services providers. Our strategy builds on Credit Suisse's core strengths: its position as a leading wealth manager, its specialist investment banking capabilities and its strong presence in our home market of Switzerland. We seek to follow a balanced approach to wealth management, aiming to capitalize on both the large pool of wealth within mature markets as well as the significant growth in wealth in Asia Pacific and other emerging markets, while also serving key developed markets with an emphasis on Switzerland. Credit Suisse employs approximately 49,950 people. The registered shares (CSGN) of Credit Suisse Group AG, are listed in Switzerland and, in the form of American Depositary Shares (CS), in New York. Further information about Credit Suisse can be found at www.credit-suisse.com.
For more information and images
National Gallery Press Office on 020 7747 2865 or email press@ng-london.org.uk
Publicity images can be obtained from https://press.nationalgallery.org.uk/