Issued March 2014
Sunley Room
November 2014 – April 2015
Admission free
This autumn, the National Gallery will hold the first-ever UK exhibition focused on the paintings of Peder Balke. Largely forgotten for more than a century, this Norwegian artist was ahead of his time and is only just being rediscovered and recognised as one of the forerunners of modernism.
This groundbreaking free exhibition, a collaboration with the Northern Norway Art Museum [External link] in Tromsø, will see around 50 paintings representing every facet of the artist's career travelling to London from private and public collections across Europe. The vast majority of these works have never been seen in the UK before.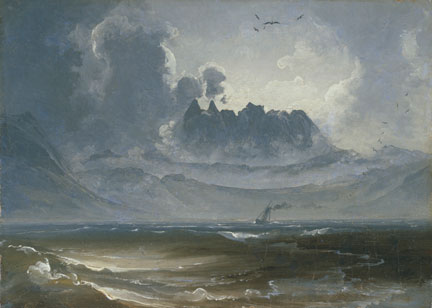 Peder Balke (1804–1887) is one of the most original painters of 19th-century Scandinavia. Born on the Norwegian island of Helgøya, he attended art school in Christiania (now Oslo), before studying with painters in Stockholm and Dresden. Balke was one of the very first artists to venture to the far north of his native Norway. In 1832 he visited the distinctive, dramatic and rugged lands of the North Cape, an experience of primal nature so profound that he built his career painting those isolated Arctic Circle seascapes. Balke wrote in his memoirs at the time:  
''… the pen cannot describe the illustrious and overwhelming impression, which the opulent beauties of nature and locations delivered to the eye and the mind – an impression, that not only caught me in the flush of the moment, but also had a significant influence onto my whole future life, as I never, not in a foreign country nor anywhere else in our country, had the opportunity to contemplate something so impressive and inspiring as what I have seen on this Finnmark-journey.''
Sadly Balke's lack of commercial success, as well as his misfortunes in social projects, forced him to abandon his career as a painter; however his later endeavours as a property developer of housing for the poor, and as a politician, are fascinating and important in their own right. Nevertheless, the small scenes he then painted for his own pleasure are now recognised as highly original improvisations: they are more experimental – with Balke using brushwork or even his hands to suggest seascapes – and extraordinarily prescient of later expressionism.
The exhibition is being curated by Christopher Riopelle, National Gallery Curator of Post-1800 Paintings, in collaboration with Knut Ljøgodt, Director of Northern Norway Art Museum, and Dr Marit Ingeborg Lange (formerly chief curator of the National Gallery of Oslo). Christopher Riopelle said:
''This long-overdue exhibition will highlight Peder Balke's unique, innovative and virtuosic paintings of Scandinavian seascapes and we sincerely hope it will put an artist, who is richly deserving of recognition among a much wider audience, finally back on the map.''
The National Gallery owns just one painting by Peder Balke: 'The Tempest' (about 1862), which was generously presented to the Gallery in 2010 by Danny and Gry Katz. It was the first, and remains the only, painting by a Norwegian artist in the Collection, although a major landscape by Johan Christian Dahl - 'The Lower Falls of the Labrofoss' (1827) - was presented by Asbjørn Lunde to the American Friends of the National Gallery in 2012, by whom it was loaned to the National Gallery.
National Gallery Director, Dr Nicholas Penny, said:
''The work of Peder Balke is extremely significant for the history of 19th-century landscape painting. British audiences are well aware of the tradition of Constable and Turner, but this landmark exhibition will introduce them to a skilled and innovative practitioner of this discipline from the same period but from elsewhere in Europe. A previous National Gallery exhibition of Scandinavian art – 'Forests, Rocks, Torrents: Norwegian and Swiss Landscapes from the Lunde Collection' (2011) – was highly successful, being enjoyed by 148,408 visitors.''
The exhibition will first be seen at the Northern Norway Art Museum in Tromsø (14 June – 12 October). Director Knut Ljøgodt said:
''Peder Balke has only recently been recognized as one of the most outstanding painters of the romantic period. We are thrilled that the National Gallery collaborates with us on this – and we hope that a large, international public will discover Balke's art. He deserves a place in the art history of the world – alongside Edvard Munch!''
Notes to Editors
About Peder Balke
Born into poverty on the Norwegian island of Helgøya (in Lake Mjøsa, Eastern Norway) in 1804, Peder Balke studied decorative painting in Christiania for two years from 1827. Determined to become an artist, in 1829 he transferred to Stockholm, where he was taught by the landscape painter Johann Fahlkrantz (Professor at the Art Academy). Balke was drawn to the landscape of Norway; he walked across much of its lower regions and, decisively, in 1832 travelled by ship to the North Cape, a rugged and largely inaccessible area of the country. There he found bleak and original landscape motifs which allowed him to define his highly individual painting style. He continued to explore these motifs in increasingly austere images throughout his career.
Between 1835 and 1844 he travelled twice to Dresden (where he studied with the leading Norwegian, Johan Christian Dahl, and also got to know the art of Caspar David Friedrich) and in 1845 he headed to London and to Paris, where he received a major commission from King of the French, Louis-Philippe for northern Norwegian scenes. The 1848 Revolution and the ousting of the king saw the commission abandoned; today 28 sketches for it remain in the Louvre. By 1850 Balke was back in Christiania, although his artistic career was foundering and he devoted more time to politics and property. By about 1860 his paintings – for the most part small, improvisational oils on panel – were made primarily for his own amusement. He died in 1887; his art all but forgotten – until now.
The exhibition will be accompanied by a fully illustrated scholarly catalogue.
For further information please contact the National Gallery Press Office on 020 7747 2865 or press@ng-london.org.uk.
Publicity images can be obtained from http://press.ng-london.org.uk. To obtain a username please contact the National Gallery Press Office.
For public enquiries, please contact 020 7747 2885 or information@ng-london.org.uk