Issued: August 2012
Samian Sibyl with a Putto by Guercino (1591–1666)
La Ferté by Richard Parkes Bonington (1802–1828)

Samian Sibyl with a Putto by Guercino (1591–1666), never before seen by the public and La Ferté by Richard Parkes Bonington (1802-1828) have both been allocated to the National Gallery by the Arts Council England under the Acceptance in Lieu scheme, which allows donors to leave major works of art to the nation in lieu of inheritance tax. These two paintings make an important addition to the National Gallery's permanent collection and are now available for visitors to enjoy in Rooms 42 and 32 respectively. 
Guercino's, 'Samian Sibyl with a Putto', was an oracle of Apollo from the Greek island of Samos, who prophesied that Jesus would be born of a virgin in a stable at Bethlehem - the inscription held by the putto refers to the suffering of the Virgin Mary: 'Hail Zion, chaste maiden who has much suffered.'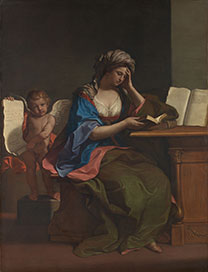 This painting is directly related to the National Gallery's Cumaean Sibyl, which was painted in 1651 by Guercino for his patron Giuseppe Locatelli of Cesena. As told by the artist's early biographers, the 'Cumaean Sibyl' painting was being finished when Prince Mattias de' Medici, brother of Grand Duke Ferdinand II, sighted it and convinced Guercino to sell it to him. The artist then had to create another painting for Locatelli and, rather than repeat the same composition, he painted 'The Samian Sibyl' so that each of his noble patrons would have an entirely original composition.

It is rare to be able to display subsequent versions of compositions. Their juxtaposition offers a profound and clear demonstration of the artist's ability to vary a basic compositional formula to create a distinctive mood. The points of distinction between the two Sibyl paintings – one being active and the other contemplative – make them function as a brilliant pair, even if this was not intended by the artist. 
Richard Parkes Bonington's 'La Ferté'. This is the first work by the great master Parkes Bonington to enter the National Gallery's permanent collection. 'La Ferté' establishes the connection between the French and English painting traditions and beautifully enhances the National Gallery's landscape collection.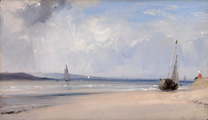 Richard Parkes Bonington's 'La Ferté' probably depicts the estuary of the river Somme, on the French coast of Picardy. A hamlet on the outskirts of the small port of Saint-Valéry-sur-Somme, 'La Ferté' offered wide unspoilt views and was a favourite sketching spot for Bonington and his painting companions, Paul Huet and Thomas Shotter Boys.

This open-air study painted in 1825 is likely to have been made on the spot and conveys the changeable weather of the Northern coast. Characterised by a fluid handling of paint, light, smooth horizontal sweeps of his brush evoke the sky, the brisk sea air and the sand washed tide whilst vertical strokes suggest distant rain showers further in the horizon. Foam and seaweed are picked out with a few thicker highlights, painted wet-in-wet and some details such as the large boat and the woman on the right may have been added later in Bonington's studio.

Its inclusion in the National Gallery collection will enable visitors to appreciate the freshness and freedom of Parkes Bonington's modern brushwork and the impressionist investigations into open-air painting.
Notes to editors
Giovanni Francesco Barbieri, called Guercino ('squinter') (1591–1666), was born in Cento, near Ferrara. He became one of the leading painters of the Bolognese school and was one of the most accomplished draughtsman of the Italian Baroque. His early work shows the influence of a variety of North Italian sources, most notably the work of Ludovico Carracci and Venetian artists of the preceding century. He developed a highly individual style that shows a command of subtle effects of light and dark, strong colour, and robust brushwork. After serving the Bolognese Pope Gregory XV in Rome in 1621–3, his work began slowly to change as he came under the influence of a more classical style of painting. His figures reveal an acute command of the 'affetti', gestures and facial expressions that reflect the study of body language in relation to the classical tradition. In his later work, such as 'Samian Sibyl', he was deeply affected by the austere classicism of one of his greatest rivals, Guido Reni.   
Richard Parkes Bonington (25 October 1802–23 September 1828). Born of English parents, Richard Parkes Bonington spent much of his short life in France. He initially studied painting in Calais before moving to Paris. In 1818 he first met Eugène Delacroix and enrolled in the atelier of Baron Antoine-Jean Gros. A keen traveller, he spent much time exploring Normandy and Picardy, frequently sketching at St Valéry sur Somme and nearby La Ferté with his painting companions, such as his great friend Paul Huet (whose work is also represented in the National Gallery collection). In 1825 he visited London with several French artists, including Delacroix, and in 1826 he travelled through Switzerland to Venice. He died tragically young, at the age of 26, from consumption.

About the Acceptance in Lieu (AIL) Scheme: The Acceptance in Lieu (AIL) scheme enables taxpayers to transfer important works of art and other heritage objects into public ownership while paying Inheritance Tax, or one of its earlier forms. The taxpayer is given the full open market value of the item, which is then allocated to a public museum, archive or library. Once an object has been accepted in lieu, it is allocated by the appropriate minister to a suitable museum or gallery.
For further press information please contact press@ng-london.org.uk / 020 7747 2865
Publicity images can be obtained from http://press.ng-london.org.uk. To obtain a username please contact the National Gallery Press Office on 020 7747 2865 or e-mail press@ng-london.org.uk