Issued September 2020
7 October 2020 – 3 January 2021
Room 1
Admission free
The first exhibition in the UK exploring sin in art will be staged at the National Gallery this autumn.
Sin will bring together paintings from the National Gallery's collection dating from the 16th to the 18th century with loans from important private and public collections including modern and contemporary works by Andy Warhol, Tracey Emin, and Ron Mueck. There will be 14 works on display.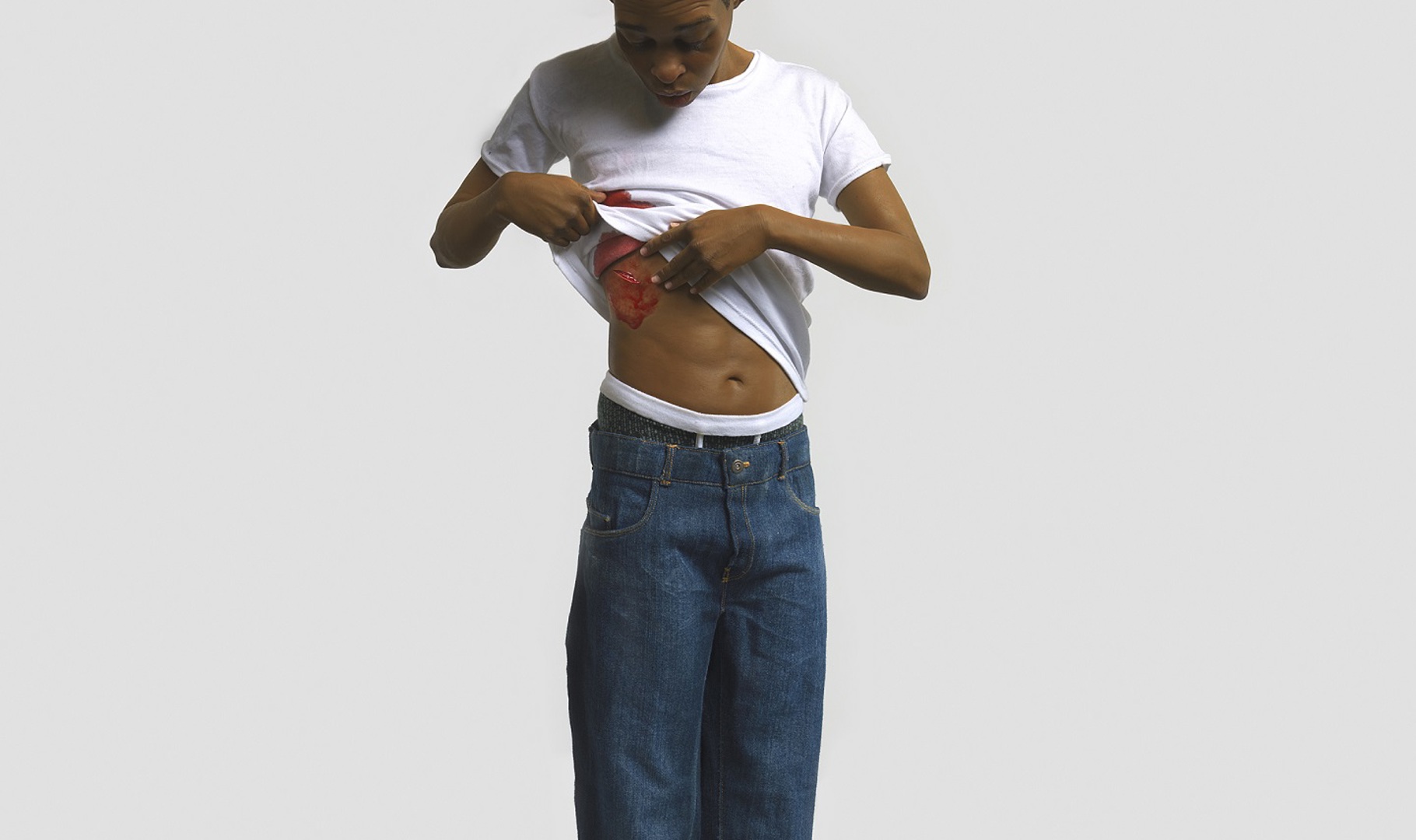 Sin has been a recurrent subject for artistic exploration over the centuries across the world. Sin in a religious context means an immoral act that is considered to be a transgression against divine law. In a secular world, it means a serious or regrettable fault, offence or omission. Sin is as universal as it is personal. Most people at some point in their life will do something they regret, although the gravity of their 'sin' and the way each individual or society deals with it very much depends on the country, time and socio-cultural context. While the concerns, ambiguities, perceptions and representations of sin extend across world religions and to those of no faith, Sin will primarily explore this concept within a Christian context.
Two early paintings in the exhibition, 'The Garden of Eden' by Jan Brueghel the Elder, 1613 (on loan from a private collection, Hong Kong) and 'Adam and Eve' by Lucas Cranach the Elder, 1526 (on loan from The Samuel Courtauld Trust, The Courtauld Gallery, London) feature scenes from the Old Testament which have helped define the concept of sin in the collective 'Western' consciousness: the moment described in the Book of Genesis when Adam and Eve eat the forbidden fruit from the tree of knowledge and are subsequently expelled from the Garden of Eden for committing the first sin.
Both pictures are ambiguous as they tell and warn the viewer about sin and yet portray the naked body as seductive and a potential source of temptation.
Many artists over the centuries have sought to depict the seven deadly sins (pride, greed, lust, envy, gluttony, wrath and sloth), the group of sins defined as the worst by the sixth-century pope, Gregory I (Saint Gregory the Great).
The 18th-century British painter William Hogarth was a master at depicting sinful behaviour. In his Marriage A-la-Mode series, and in particular in The Tête à Tête, the National Gallery, London, he shows a young 'couple of convenience', sprawled slothfully in their Palladian London townhouse. The wife has tea for one, an indication of the separate life she leads from her husband. The husband, meanwhile, does not even try to hide his mistress's cap as it falls out of his pocket, attracting the attention of his curious dog. A large black spot on his neck denotes he has caught syphilis, presumably from his mistress.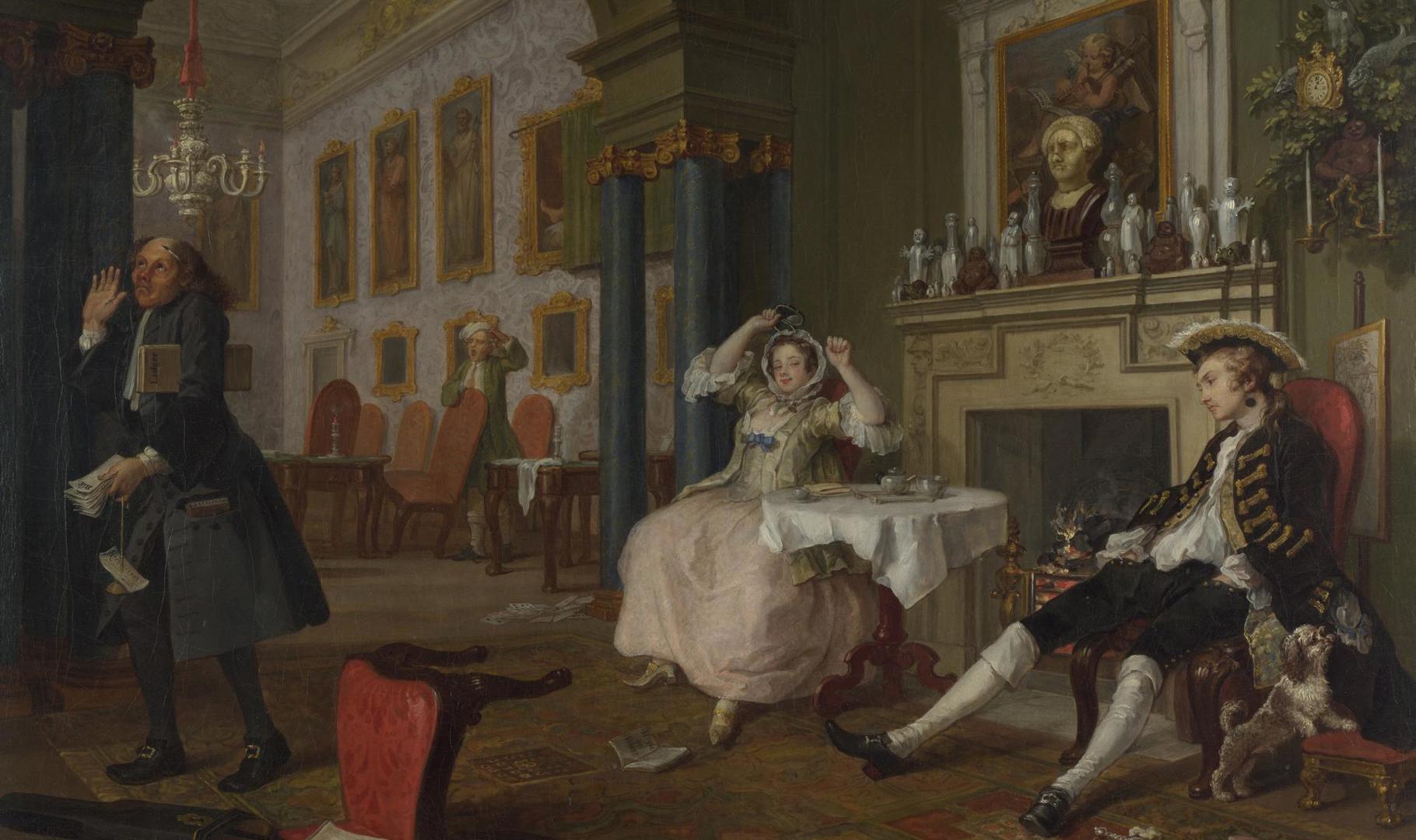 While many paintings depict sinful behaviour, some portray people who are regarded as being without sin, notably the Virgin Mary, whom Christians recognise as the mother of God's son, Jesus. Her purity is equated with her beauty in Diego Velázquez's Immaculate Conception, the National Gallery, London.
Other paintings show acts of redemption, atonement and confession: the options available to cancel out sin. Few artists have addressed repentance as directly as Andy Warhol did in some of his last paintings, such as 'Repent, and Sin No More!', 1985–6 (ARTIST ROOMS: Tate and National Galleries of Scotland) based on a leaflet distributed in the streets of New York.
Some works in the exhibition shed light on the power of confession, either to free oneself from the burden of sin or to obtain forgiveness. The Mass of Saint Giles, the National Gallery, London, shows the Holy Roman Emperor Charlemagne kneeling in front of Saint Giles, whose prayers of intercession to God led to the absolution of the Emperor from his sins. Tracey Emin's neon work 'It was just a kiss', 2010 (Exhibition Copy, Courtesy of the Artist and White Cube) could be considered an open-ended and ambiguous secular confession.
A painting entitled 'The Scapegoat' by William Holman Hunt (1854–5, Manchester Art Gallery) explores another solution to get rid of sin. The origin of the theme is found in the Old Testament Book of Leviticus, and the term is also used for the idea of blaming someone for the faults of others. Christians believe that Christ's death on the cross, as the ultimate scapegoat, atoned for humankind's sins once and for all.
'Youth', 2009 (Courtesy the artist) a sculpture by Ron Mueck, invites us, on leaving the exhibition, to continue to reflect on the enduring nature of sin and on what sin and redemption mean in contemporary society. A young man lifts his T-shirt to examine a wound. It evokes the image of Christ showing his sacrificial wound. Is Youth another type of Christ? The work proposes a path of redemption that questions, disrupts and dismantles stereotypes and prejudices perpetuated by society's ongoing cycle of sin.
'Sin' will also include paintings by Jan Gossaert, Jan Steen, Bronzino, and the Gallery's recently acquired Venus and Cupid by Lucas Cranach the Elder.
Dr Joost Joustra, Howard and Roberta Ahmanson Research Curator, says: ''Sin' invites visitors to reflect on a fundamental concept that pervades our lives and history, but also to marvel at the ingenious ways artists have addressed the subject across time.'
Dr Gabriele Finaldi, Director of the National Gallery, says: 'Sin is a deadly serious subject and artists over the centuries have treated it with imagination and inventiveness. This small exhibition packs a big punch and will, I hope, lead to much discussion and reflection on the meaning and imagery of sin.'
For more information, visit nationalgallery.org.uk

NOTES TO EDITORS
Sculpture information
Ron Mueck, Youth, 2009, Courtesy the artist © Ron Mueck / photo the National Gallery, London
Press view: Tuesday 6 October 2020 (10am–2pm)
Opening hours
Open to public: Wednesday 7 October 2020
Daily 11am–6pm (last admission 5pm)
Friday 11am–9pm (last admission 8.15pm)
Publication
Title: Sin: The Art of Transgression
Author: Joost Joustra
96 pages, 80 illustrations, 235 x 160 mm portrait
Paperback: £12.95
Published by National Gallery Company Ltd. Distributed by Yale University Press.
Social media 
Join the discussion about the exhibition online at: 
Twitter: @NationalGallery
Instagram: @nationalgallery
Facebook: National Gallery
Events programme
7 October 2020 – 3 January 2021
Four women and sin • Online course • £30
Tuesday 13 and 20 October, 11am–1pm
The Virgin Mary, Mary Magdalene, Eve and Venus are four of the most significant female figures in Western art. In this two-week course discover how Christian notions of sin have helped establish the images which are so familiar to many of us today.
Seven deadly sins • Online talk • Free, booking essential*
Thursday 15 October, 4–5pm
This online talk will discuss the representation of the seven deadly sins in National Gallery paintings and in film, literature and popular culture. What do they mean to us today in a society that invites lusting after celebrities, supersized meals, Instagram envy and the vanity of selfies?
Dreaming in a Nightmare: Jeremiah Emmanuel on Ron Mueck's Youth • Online talk • Free, booking essential*
Saturday 21 November, 3pm
The National Gallery's Head of Learning and National Programmes Karen Eslea is joined by activist and entrepreneur Jeremiah Emmanuel to explore Ron Mueck's sculpture Youth. Emmanuel will reflect on his own journey, from a childhood living in poverty in South London to the UK Youth Parliament, which is the subject of his recent book Dreaming in a Nightmare.
Every society needs a scapegoat • Online talk • Free, booking essential*
Monday 30 November, 6.30pm
Award-winning writer Katharine Quarmby discusses scapegoats in contemporary society and reflects on how our own prejudices against marginalised groups can be mirrored and distorted in the actions of those responsible for hate crime.
A philosophy of sin and art • Online panel discussion • £8/£5 concession**
Tuesday 17 November, 6pm
This online discussion will question to what extent we need sin to make art or to understand the artistic legacy of the past. Speakers include philosopher Deborah Casewell; performance artist Amrou Al-Kadhi; art historian and Chaplain at King's College, Cambridge, Ayla Lepine; and Director of the Centre for Philosophy and the Visual Arts Sacha Golob.
nationalgallery.org.uk/membership
* (booking opens 19 October for members and 26 October for general release)
** (on sale from 19 October for members and 26 October for general release)
For further information and images please contact the National Gallery Press Office at press@ng-london.org.uk. 
Publicity images can be obtained from https://press.nationalgallery.org.uk/