Kehinde Wiley at the National Gallery: The Prelude
Issued November 2021
Sunley Room
10 December 2021 – 18 April 2022
Admission free
This winter, in his first collaboration with a major UK gallery, American artist Kehinde Wiley will explore the artistic conventions and canons of the Western landscape tradition – mountainous, coastal, sublime, Romantic and transcendental – through the mediums of film and painting.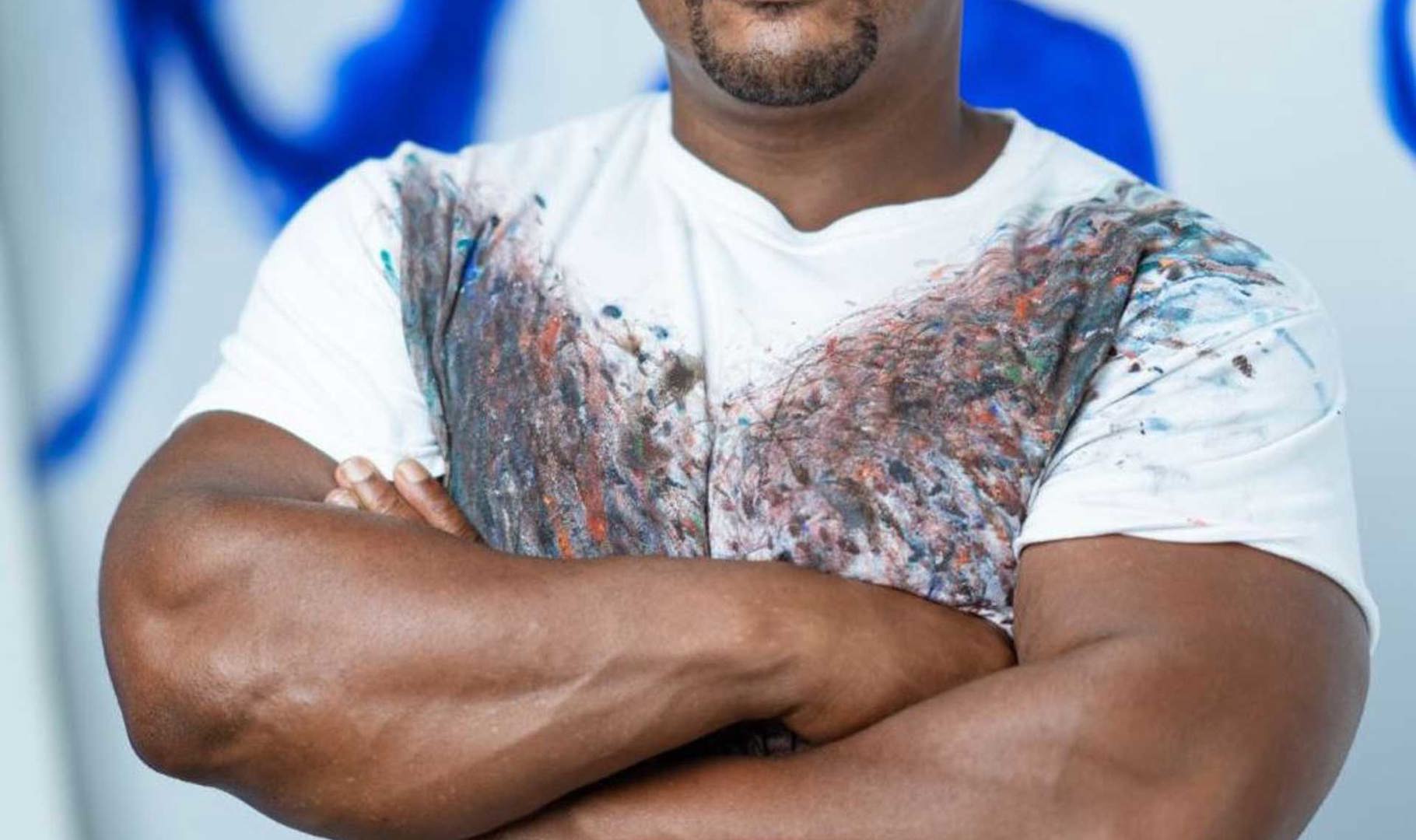 Kehinde Wiley (b. 1977, Los Angeles) is an American artist best known for his portraits that feature people of colour in the traditional settings of Old Master paintings. Most famously, in 2017 he was commissioned to paint Barack Obama, becoming the first Black artist to paint an official portrait of a President of the United States. His work references European portraiture by positioning contemporary Black sitters, from a range of ethnic and social backgrounds, often wearing casual or hip-hop clothing, in the poses of the original historical, religious or mythological figures, conferring – in the process – his sitters with a similar fame and status.
His images – as part quotation, part intervention – raise questions about power, privilege, identity, and above all highlight the absence or marginalisation of Black figures within European art.
Wiley's first film installation, 'Narrenschiff' (2017), was a contemporary response to the 'Ship of Fools' allegory, popular in European culture from the late 15th century. Wiley's work featured a group of young Black men at sea, struggling to reach the land – a metaphor for both historical and contemporary issues of migration, isolation and social dislocation.
Building on these themes at the National Gallery, with five paintings and one six-channel digital film, Wiley will explore European Romanticism and its focus on epic scenes of oceans and mountains, humankind's relationship with nature and in the process touches upon current concerns such as climate change and migration.
One section of the film included in this project will feature Black Londoners that Wiley met and cast for the film on the streets around the National Gallery, and whom he took on a trip to Norway to explore its fjords and glacial landscapes. Mountains can be perceived as something to be conquered. They can also be seen as impenetrable places, the highest places on earth and consequently the closest to the heavens, associated with virtue, rationality, purity and godliness. In this film 'In Search of the Miraculous' the Black female and male characters are, in turns, overwhelmed by the snow, subsumed by whiteness and almost disappear in the landscape, or take centre stage and contemplate nature in a respectful and dignified way. His paintings reference the Romantic wanderer figure in search of spirituality or self-discovery.
Marine painting has long been linked to European maritime power and traditionally featured imperial endeavours, voyages of exploration, and typically emphasized the prowess of experienced seafarers or the bravery and leadership qualities of (white) naval officers. In Wiley's work, oceans are seen as changing, irrational and unreliable forces which also can be used as trade routes, passages and escapes to a better life, and also represent the site of a defunct empire.
Situated in the Sunley Room, at the centre of the Gallery's collection, this free exhibition will draw out the dynamic relationship between Wiley's work and the National Gallery's historical landscapes and seascapes by artists such as Claude, Friedrich, Turner and Vernet.
Christine Riding, Jacob Rothschild Head of the Curatorial Department, says: 'I met Kehinde Wiley in 2017, as a curator at the Royal Museums Greenwich, when we acquired his allegorical painting, 'Ship of Fools', the first work by this internationally renowned artist to enter a UK public collection. I am so thrilled to have the opportunity to collaborate with him at the National Gallery, building on his recent exploration of the pictorial conventions associated in Western art with the sublime, landscape and marine art.'
National Gallery Director, Dr Gabriele Finaldi, says: 'The National Gallery's paintings and the themes they explore have archetypal status and seem to demand constant reconsideration and reinterpretation. Kehinde Wiley's response has been to define a new kind of sublime, one that is strong and distinctive, that reflects on artistic and poetic tradition, but confronts urgent contemporary questions of identity, migration and marginality.'
More information at nationalgallery.org.uk
Twitter @nationalgallery
Facebook @thenationalgallery
Instagram #nationalgallery
YouTube The National Gallery
Exhibition sponsored by


Supported by
Christian and Florence Levett
The Sunley Room exhibition programme is supported by the Bernard Sunley Foundation
Notes to editors
Press view: Wednesday 8 December 2021
Opening hours
Open to public: Friday 10 December 2021
Daily 10am–6pm (last admission 5pm)
Fridays 10am–9pm (last admission 8.15pm)
Publication
Title: 'Kehinde Wiley at the National Gallery: The Prelude'
Authors: Christine Riding with contributions by Sarah Thomas, Zoé Whitley and Kehinde Wiley
112 pages, over 70 illustrations, 280 x 240 mm, portrait
Hardback: £25, special Gallery price: £20
Published by National Gallery Company Ltd. Distributed by Yale University Press.
Image
Photographer: Abdoulaye Ndao
About Kehinde Wiley
Kehinde Wiley was born in 1977 in Los Angeles, USA. He lives and works in New York, USA; Dakar, Senegal and Lagos, Nigeria.
Wiley engages the visual rhetoric of the powerful, majestic and sublime in his representation of contemporary African-American and African-Diasporic men and women, who adopt heroic poses directly referencing European and American portraiture. While developing a compelling body of work for the exhibition 'In Search of the Miraculous', 2017, Wiley reinterpreted seascapes by Turner, Winslow Homer and Hieronymus Bosch. In the same year, the artist created his first film installation, 'Narrenschiff' a contemporary response to the 'Ship of Fools' allegory of the late 15th century.
The National Gallery exhibition follows Wiley's solo exhibitions at The Box, Plymouth, UK in September 2020 and at William Morris Gallery, London in February 2020. Wiley had his first major survey exhibition in France in July 2020 at Centre d'art La Malmaison, Cannes.
Wiley was recently commissioned by Public Art Fund to create a large-scale site-specific artwork for the new Moynihan Train Hall at Penn Station, New York. His illuminated stained-glass installation 'Go' was unveiled at the station in December 2020. The artist's monumental public sculpture 'Rumors of War' was temporarily situated in Times Square, New York in September 2019, before being permanently installed in the Virginia Museum of Fine Arts, Richmond, Virginia in December 2019. In 2018 the Smithsonian Institution unveiled Kehinde Wiley's official portrait of Barack Obama for the Presidential Portrait Commission at National Portrait Gallery, Washington, DC. This painting is touring the USA alongside Amy Sherald's portrait of Michelle Obama in 'The Obama Portraits Tour' until May 2022.
From 2015-17 Wiley had a major ongoing touring exhibition titled 'Kehinde Wiley: A New Republic' which visited Brooklyn Museum, New York; Modern Art Museum of Fort Worth, Texas; Seattle Art Museum, Washington; Virginia Museum of Fine Arts, Virginia; Phoenix Art Museum, Arizona; Toledo Museum of Art, Ohio; and Oklahoma City Museum of Art, Oklahoma. Exhibitions of Wiley's vast and celebrated body of work 'The World Stage', have taken place in numerous galleries between 2007 and 2014. For this project, Wiley temporarily relocated to different countries and opened satellite studio to familiarise himself with the area's culture and history before creating portraits of the local people.
Wiley received his MFA from Yale University in 2001. Shortly after, he became an Artist-in-Residence at the Studio Museum in Harlem, New York. In 2015 he was awarded the US State Department Medal of Arts. In 2018 he received the W.E.B. Du Bois Medal at Harvard University, Massachusetts. In June 2019 he was honoured by The Gordon Parks Foundation, New York. Wiley is the Founder and President of Black Rock Senegal, a non-profit artist in residence program located in Dakar, Senegal.
Kehinde Wiley is represented by Stephen Friedman Gallery, London, and the exhibition is assisted by Stephen Friedman Gallery and Galerie Templon, Paris-Brussels.
About the National Gallery's Modern and Contemporary Programme
For nearly two centuries, the National Gallery's Collection has provided inspiration to modern and contemporary artists from all over the world, including Francis Bacon, Richard Hamilton, Yinka Shonibare, Michael Landy, Chris Ofili, Paula Rego, Bridget Riley, Alison Watt and many others.
The National Gallery's Modern and Contemporary Programme continues this tradition through exhibitions, displays, commissions, and residencies. In 2019 Bridget Riley's monumental wall painting Messengers was unveiled in the Gallery's Annenberg Court, as well as the exhibitions Rachel Maclean: The Lion and The Unicorn (29 November 2018 – 3 February 2019) and Sea Star: Sean Scully at the National Gallery (13 April – 11 August 2019.) The first Artist in Residence of the programme was Rosalind Nashashibi, announced in 2019, and whose display Rosalind Nashashibi: An Overflow of Passion and Sentiment opened at the Gallery 2 December 2020. Ali Cherri was announced as the Gallery's 2021 Artist in Residence in January 2021. The first Contemporary Fellowship, awarded to Nalini Malani, and supported by Art Fund, was announced in June 2020.
For further information about the Modern and Contemporary programme please visit: nationalgallery.org.uk/paintings/contemporary-residencies
About the Bernard Sunley Foundation
The Sunley Room was established at the National Gallery in 1984 and the Foundation has supported the exhibition programme in the Sunley Room every year since 1990. The Bernard Sunley Foundation is a family grant-making foundation which supports charities in England and Wales that deliver a real community focus and provide greater opportunities for the young, the elderly, the disabled and the disadvantaged.
About the Hiscox Group
Hiscox is a global specialist insurer, headquartered in Bermuda and listed on the London Stock Exchange (LSE: HSX). Our ambition is to be a respected specialist insurer with a diverse portfolio by product and geography. We believe that building balance between catastrophe-exposed business and less volatile local specialty business gives us opportunities for profitable growth throughout the insurance cycle. The Hiscox Group employs over 3,000 people in 14 countries and has customers worldwide. Through the retail businesses in the UK, Europe, Asia and the USA, we offer a range of specialist insurance for professionals and business customers as well as homeowners. Internationally traded, bigger ticket business and reinsurance is underwritten through Hiscox London Market and Hiscox Re & ILS. Our values define our business, with a focus on people, courage, ownership, and integrity. We pride ourselves on being true to our word and our award-winning claims service is testament to that. For more information, visit www.hiscoxgroup.com.
About illycaffè
illycaffè is an Italian family business, founded in Trieste in 1933 and committed to offering the greatest coffee to the world. It produces the unique illy 100% Arabica blend made of nine of the world's best selections of Arabica, with a constant eye towards innovation. The bestowing of the first 'Ernesto Illy Award for quality espresso coffee' in 1991 in Brazil and the 'Ernesto Illy International Coffee Award' in 2017 symbolise its commitment to coffee growers, to whom illy pays a premium price for quality coffee. Since 2013 illycaffè – which has a presence in over 140 countries - has regularly featured on the list of the World's Most Ethical Companies. In 2019 it adopted benefit corporation status under Italian law, and in 2021 it became the first Italian coffee company to obtain B Corp international certification thanks to its commitment to abiding by the highest environmental and social performance standards. In 2020 the company employed 1291 people and posted consolidated revenues of €446.5 million. In 2021 Rhone Capital became a minority shareholder of illycaffè to assist the company with its international growth. www.illy.com
For further information, please contact the National Gallery Press Office on press@ng-london.org.uk
Publicity images can be obtained from https://press.nationalgallery.org.uk/