Issued February 2016
Annoucement made at opening of 'Delacroix and the Rise of Modern Art'
The National Gallery is delighted to announce that HRH The Prince of Wales has become its first Royal Patron.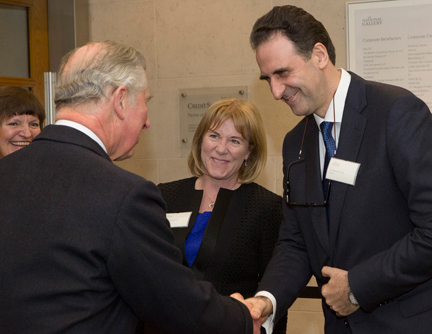 The announcement was made last night (Monday 15 February 2016) as the Prince attended the Private View of the latest National Gallery exhibition, Delacroix and the Rise of Modern Art.
During his visit the Prince toured 'Delacroix and the Rise of Modern Art' with National Gallery Director, Dr Gabriele Finaldi, and Chair of Trustees, Hannah Rothschild, before meeting members of staff and other invited guests.
The exhibition – which opens to the public on Wednesday 17 February 2016 – is the first major presentation of Delacroix's art in Britain for more than 50 years and surveys his dynamic career and then moves beyond it, assessing for the first time the influence he exerted during the decades following his death. It has been organised with the Minneapolis Institute of Art.
There has long been an association between The Prince of Wales and the National Gallery – he was previously a Trustee from 1986 to 1993.
Commenting on the Royal Patronage, Hannah Rothschild, Chair of the National Gallery Trustees, said:
"As a patron of the arts, a passionate advocate for cultural life, and a former trustee, The Prince of Wales is uniquely qualified to become the National Gallery's first Royal Patron. It is a great honour for the institution and we look forward to working more closely with him in the years to come."
For further information and images please contact the National Gallery Press Office on 020 7747 2865 or press@ng-london.org.uk