Artworks by schoolchildren from the National Gallery's 'Take One Picture' exhibition to be shown on outdoor screens - thanks to the generous support of Ocean Outdoor
Issued February 2021
The National Gallery is delighted to be teaming up again with digital out of home media owner, Ocean Outdoor, to bring artworks onto the nation's streets. 
The previous partnership (May 2020) involved works from the Gallery's collection being displayed on large format digital screens around the UK. This time the artworks showcased have been created by primary schoolchildren as part of the Gallery's 25th annual Take One Picture exhibition.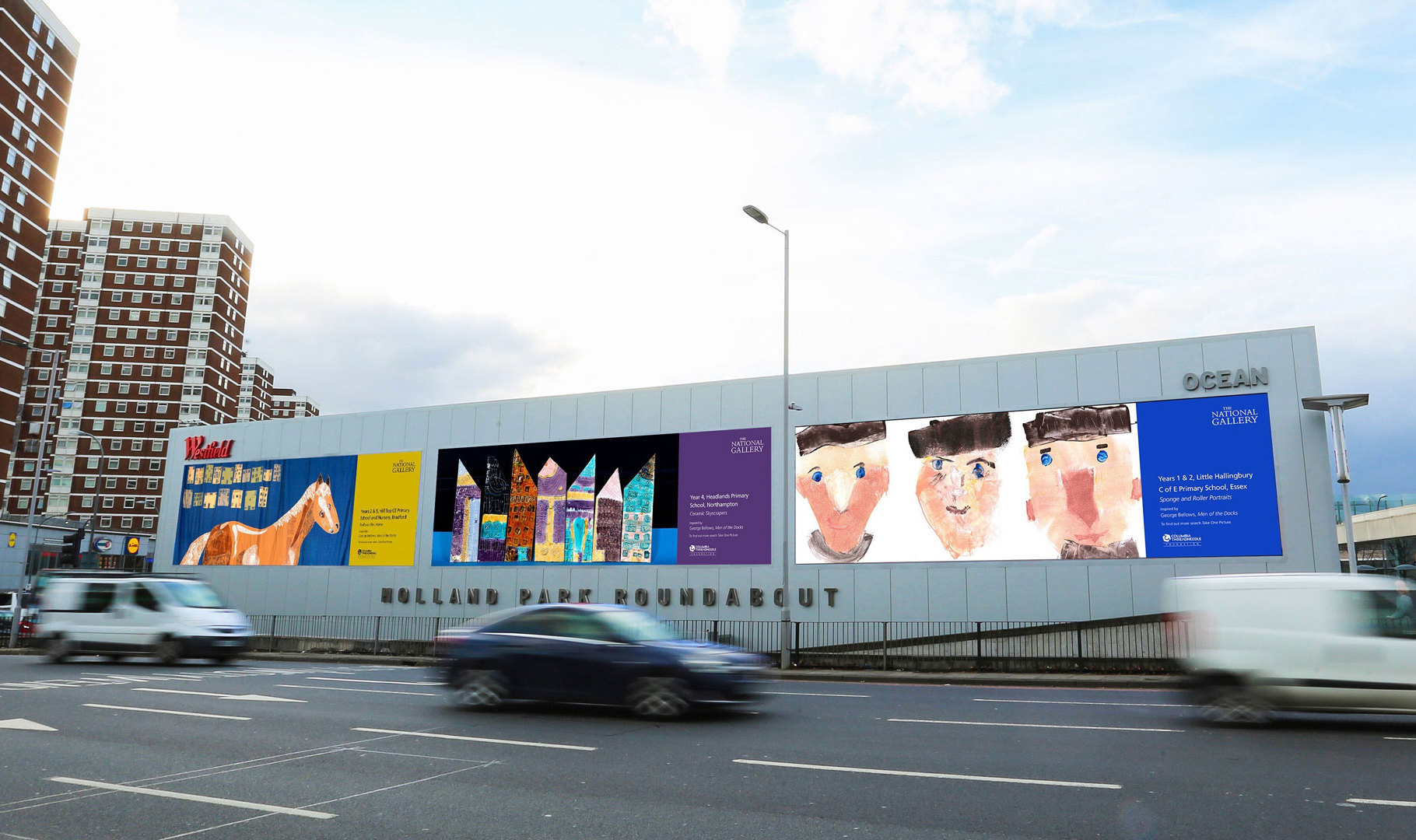 While the 'Take One Picture' exhibition had to close in Trafalgar Square after just a few days in line with Government guidance, this partnership will be an opportunity for a much wider audience to see a selection of these artworks. They will appear on large format screens nationwide for two weeks, from 1–15 March.
At a time when the physical spaces of museums and galleries stand silent, we are increasingly turning to innovative digital ways of viewing and experiencing art. The Ocean Outdoor and the National Gallery partnership will bring artworks by UK schoolchildren to streets across the nation. The campaign will be displayed on more than sixty screens in six cities: Aberdeen, Birmingham, Edinburgh, Glasgow, London and Manchester.
The high impact roadside and city centre screens will show the artworks of schools in the local region where possible, in hopes that students will be able to experience the excitement of seeing the vibrant colours of their own creations up close, just translated into a different format and blown-up large scale. Some artworks will be shown beyond children's own local area, to inspire children and adults living in other communities.
Each year for Take One Picture schools focus on one National Gallery Collection work and create their own artworks responding creatively to various elements in the painting including themes, subject matter, historical context or composition. This year's focus painting is Men of the Docks (1912) by American painter George Bellows which depicts a wintry river landscape in New York with a view over Lower Manhattan; a group of longshoremen stand with their shoulders hunched to keep the cold at bay, waiting to unload a huge ocean liner behind them.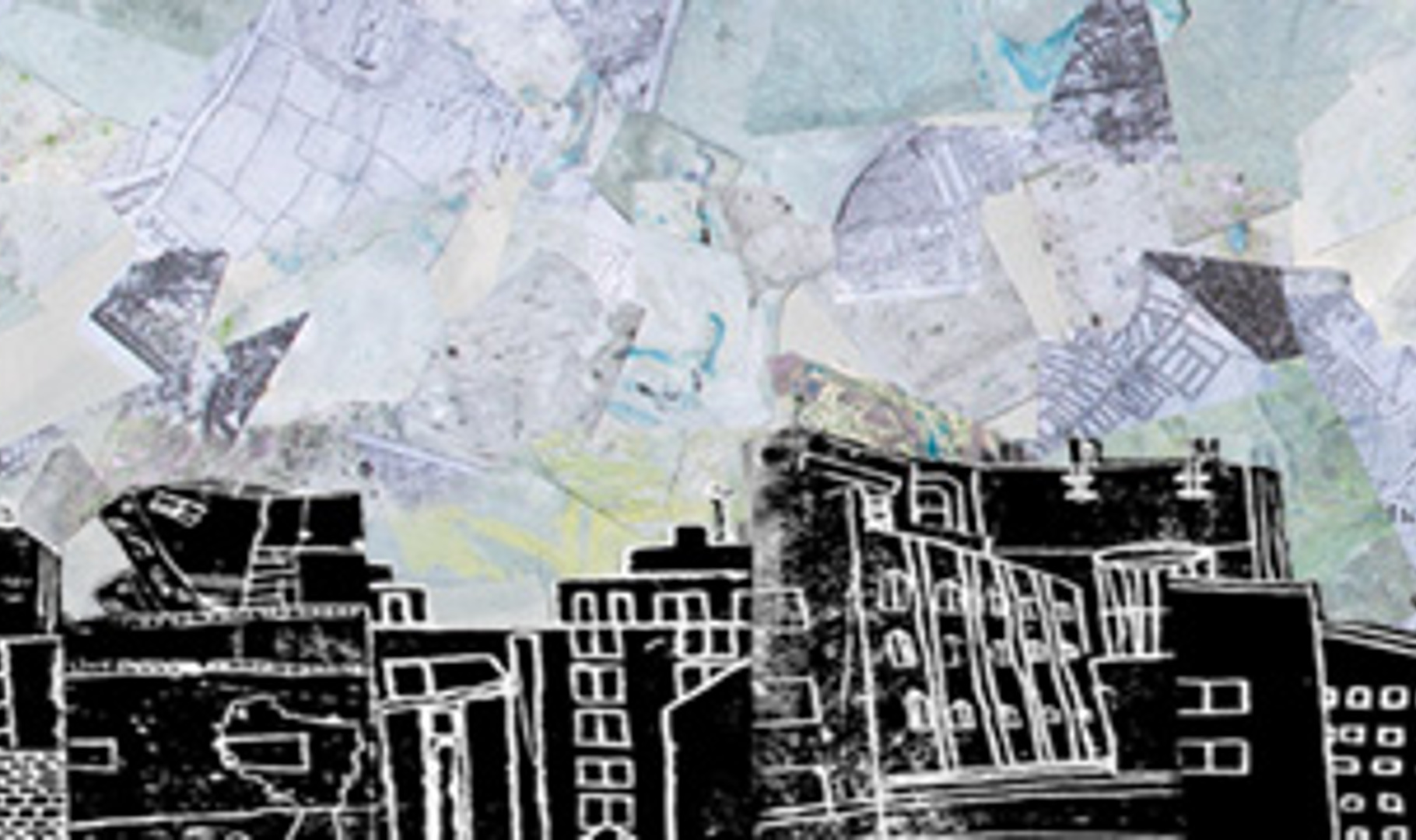 The artworks shown on the Ocean Outdoor screens depict a wide range of subjects inspired by the painting: cityscapes and skyscrapers, immigration and opportunity, the riverfront as a place of work and horses as working animals. Ranging from model ships and towering skyscrapers to painted portraits and letters home, a variety of works reflecting the richness of creative responses to Bellows's painting will be featured. At a challenging moment, these digital screens show us the power of creativity and optimism, bright spots shining out from all over the nation. 
Dr Gabriele Finaldi, Director of the National Gallery, says: "Art can provide inspiration and solace in these difficult times. While the Gallery doors are closed, we are hugely grateful for this generous gesture from Ocean Outdoor that is allowing us to bring the artworks of schoolchildren from the Take One Picture exhibition in London to the streets of the nation."
Chris Standish, Ocean Outdoor head of brand partnerships, said: "Once again, our partnership with the National Gallery celebrates Ocean's Art of Outdoor proposition, this time through the creative work of school children. As this latest period of lockdown begins to ease and the schools start to return, what better way to celebrate the creativity of young people than through the joy of outdoor spaces in their own neighbourhoods."
NOTES TO EDITORS
About Ocean Outdoor
 
Ocean Outdoor operates some of the most prestigious digital out of home (DOOH) locations in the UK, Northern and Continental Europe.  Ocean's portfolio includes 4,000 screens in seven countries and 351 cities. 
Ocean's UK portfolio features the most iconic DOOH locations including the BFI IMAX; the Landsec Piccadilly Lights and a significant presence in the top 13 UK cities. Ocean's high-profile landlords and partners include Birmingham, Manchester, Glasgow and Southampton City Councils, Landsec, Unibail-Rodamco-Westfield, the BFI and intu.
In the UK, a continued focus on Ocean's Digital Cities for Digital Citizens philosophy has significantly augmented the Group's position as an operator of high quality DOOH assets. Ocean continues to deliver good organic development through new City tender wins, the rollout of new locations in Scotland, London, the West Midlands and Manchester and significant screen investment.
The Take One Picture programme at the National Gallery is generously supported by Columbia Threadneedle Foundation.
Sponsored by
The Sunley Room exhibition programme is supported by the Bernard Sunley Foundation.
About Take One Picture
Launched in 1995, 'Take One Picture' is the National Gallery's countrywide scheme for primary schools. Each year the Gallery focuses on one painting from the collection to inspire cross-curricular work in primary classrooms. After a one-day Continuing Professional Development (CPD) course at the Gallery, teachers are given a print of the focus painting, a soundscape and a variety of other resources to support classroom learning. The challenge is then for schools to use the image imaginatively, both as a stimulus for artwork, and to make links across the curriculum.
Each year a selection of work produced by schools based on the painting is shown at the National Gallery and published on the website. In order to be considered for the display, schools submit examples of how a whole class or school has used the picture to inspire projects that are child-led and cross-curricular and through which children have learnt a new process and involved members of the local community. 
Further information about the programme, related CPD courses for teachers, and the annual Take One Picture exhibition at the National Gallery can be found at https://www.nationalgallery.org.uk/take-one-picture 
About George Bellows
Born in Columbus, Ohio, in 1882, Bellows studied at the Ohio State University. He moved to New York City in 1904 to study art with Robert Henri and the group of enthusiastic young painters around him, known as the Ashcan School, who found rich subject matter in the booming metropolis. From 1907, Bellows focussed on New York City, depicting working-class subjects in an expressive style; his painting of fighting boxers remain among Bellows's most famous works. Bellows played a key role in the organisation of the legendary Armory Show of 1913, which introduced the American public to masterworks by French Impressionists, Post-Impressionist, and Cubist painters, as well as to works by American contemporary artists. The atrocities of the First World War had a traumatic impact on Bellows, who in 1918 undertook a series of lithographs and monumental canvasses on this theme. He died in 1925 at the age of 42.
List of participating schools in Take One Picture 2020
The full list of schools represented in the exhibition are as follows, with school artworks shown on Ocean Outdoor screens indicated with an asterisk*:
Beecroft Garden Primary School, London
Caroline Chisholm School, Northampton
Cleveland Road Primary School, Essex
Darrick Wood Infant and Nursery School, Kent
Downshall Primary School, Essex
George Betts Primary Academy, West Midlands*
Glendower Preparatory School, London
Grange Park School, Kent*
Gunthorpe Primary School, Peterborough
Headlands Primary School, Northampton*
Hill Top CE Primary School and Nursery, Bradford*
Holy Trinity CE Primary School, London
Ide Primary School, Exeter
Kenmont Primary School, London
Kingsway Community Primary School, Warwickshire
Kingsway Junior School, Hertfordshire
Kingswood Parks Primary School, Hull
Little Hallingbury C of E Primary School, Essex*
Mab's Cross Community Primary School, Lancashire*
Oakwood School, Surrey 
Parkhill Junior School, London*
Preston Park Primary School, London
Ramsgate Art Primary School, Kent*
Rectory Farm Primary School, Northampton
Redlands Primary and Nursery School, Nottinghamshire*
RGS The Grange, Worcester
Rhodes Avenue Primary School, London
Sir John Sherbrooke Junior School, Nottingham
SS Peter and Paul RC Primary School, Tyne and Wear*
St Martin de Porres Catholic Primary School, Luton*
St Mary's School Hampstead, London 
Stivichall Primary School, Coventry*
Stoke Bishop C of E Primary School, Bristol*
The Priory C of E Primary School, London
Tudor C of E Primary School, Suffolk
Wellington Prep School, Somerset*
West London Free School Primary, London*
For press information please contact press@ng-london.org.uk / 020 7747 2865
For details on the Ocean Outdoors screens please contact susann.jerry@oceanoutdoor.com /07725 091814
Publicity images can be obtained from https://press.nationalgallery.org.uk/
For public enquiries please contact 020 7747 2885 or information@ng-london.org.uk
Twitter @nationalgallery
Facebook @thenationalgallery
Instagram @nationalgallery
YouTube The National Gallery
For further information, please contact the National Gallery Press Office on press@ng-london.org.uk
Publicity images can be obtained from https://press.nationalgallery.org.uk/