Issued February 2015

National Gallery's first-ever online fundraising appeal is a success
One of the most iconic works in the National Gallery collection – An Allegory of Prudence by Titian and workshop – is getting a new frame, all thanks to a successful public appeal to raise £27,000.
Since the Frame Appeal was launched online in October 2014, 244 people have responded with donations of all sizes.   
National Gallery Director, Dr Nicholas Penny, said:
"We'd like to thank every single person who has donated and made this possible. This is the first-ever time we have raised funds with this type of online public appeal, and we have been overwhelmed by how generous such a large amount of people have been to us. We hope that everyone who has donated will come to the National Gallery soon to see 'An Allegory of Prudence' in its new frame and feel proud of the vital role they have played in making this happen."  
'An Allegory of Prudence', which was painted about 1550-65, features three heads which allude to the three ages of man: youth, maturity, and old age.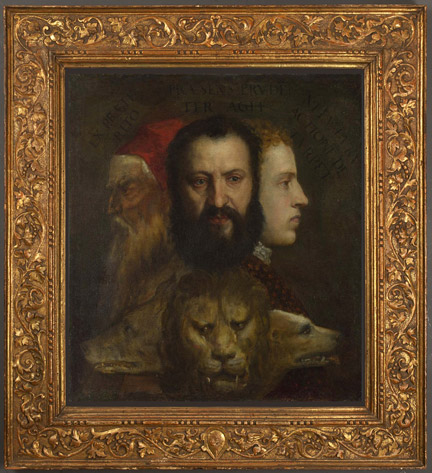 The painting is one of the most unusual in all Titian's oeuvre and has sometimes been thought to have a personal, even autobiographical, significance for the artist. It may originally have served as the cover for another painting. The triple-headed beast – wolf, lion, and dog – is a symbol of prudence. The Latin inscription, '[Learning] from yesterday, today acts prudently, lest by his action he spoil tomorrow' explains the meaning of this visual riddle.
Although the masterpiece itself is in excellent condition, its current 17th- century French frame is heavily altered - crowding the work and flattening the composition.
Recently, the National Gallery's Head of Framing, Peter Schade managed to source a fine, uncut, 16th-century frame from Venice – however, £27,000 was required to purchase it. Peter explains why he was so keen to secure it:
"Most of us may be unaware of how powerfully the frame can influence our perceptions of the painting within, which is why we are always seeking to find frames that are contemporary; however it is extremely rare to find a frame that is a perfect match. This new frame was not only made in Venice – where 'An Allegory of Prudence' was painted – at around the same time, but it is also almost exactly the right size. This frame is of extremely high quality, the colour and detailing working in harmony with Titian's masterpiece perfectly."  
'An Allegory of Prudence' can be seen in Room 6 of the National Gallery – its new frame will be fitted over the next few months.
NOTES TO EDITORS

An Allegory of Prudence
Titian and workshop active about 1506; died 1576
About 1550-65
Oil on canvas
75.5 x 68.4 cm
Presented by Betty and David Koetser, 1966
© National Gallery, London
The National Gallery is one of the greatest art galleries in the world. Founded by Parliament in 1824, the Gallery houses the nation's collections of Western European paintings from the late thirteenth to the early twentieth century. Almost all of the 2,300 paintings in the National Gallery's collection are on permanent display. The collection includes works by Raphael, Leonardo da Vinci, Turner, Rembrandt, Degas, Cézanne, Van Gogh, Renoir, Monet, Rubens, Velázquez, Van Dyck, Titian and Bellini. The Gallery's key objectives are to enhance the collection, care for the collection and provide the best possible access to visitors. More at www.nationalgallery.org.uk
For further information and images please contact the National Gallery Press Office on 0207 747 2865 or press@ng-london.org.uk