Present
Financial statements to 31 March 2017
Government Grant in Aid remains the Gallery's principal source of funds. For the year ended 31 March 2017, the amount of Grant in Aid allocated for running costs was £20.4m. There was an additional grant of £3.7m restricted to expenditure on capital, including ongoing essential capital repairs.
The Spending Review settlement has provided a degree of certainty over funding for the 5 years to 2020–21 and will enable the Gallery to progress with confidence. However, no provision is made for inflation or funding to cover new activities and respond to cost pressures in a changing and increasingly hazardous world. Therefore the Gallery will continue to develop self-generated income streams through more intensive use of Gallery spaces and in collaboration with its commercial partners. Membership, donations, and support from the corporate sector, trusts and foundations, and private individuals are vitally important for the continued success of the Gallery's programme of exhibitions, education programmes, and outreach work.
Total incoming resources this year, including donations for acquisitions of £0.7m, were £41.3m compared with £46.4m in 2015–16 (including £5.6m for picture acquisitions). Self-generated income excluding donations totalled £9.2m, compared to the £9.3m recorded in 2015–16.
The Gallery's total charitable expenditure of £35.8m for 2016–17 saw a slight increase against the previous year (2015–16: £34.2m), as it developed new and ambitious programmes of activity. The Gallery continues to exercise tight budgetary control and implemented a number of efficiency measures during the year in response to the pressures on public funding.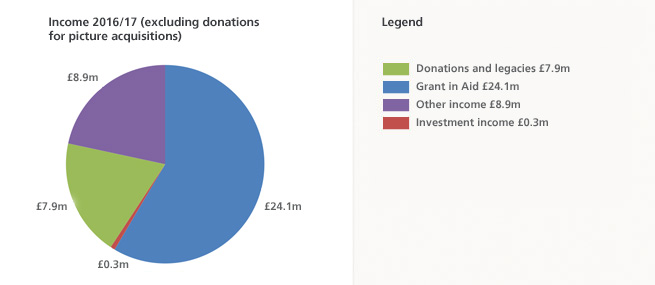 Related documents

Financial Statements 2016–17 [PDF 860kb – opens in a new window]
The 'Financial Statements 2016–17' are published by TSO (The Stationery Office) and available from:
Online: www.tsoshop.co.uk 
Mail: TSO, PO Box 29, Norwich NR3 1GN
Telephone: +44 (0)333 200 2425
Email: customer.services@tso.co.uk
Fax: +44 (0)333 202 5080
Textphone: +44 (0)333 202 5077
Read about National Gallery finances 2008–16
---

Problems opening files? Get Adobe Reader [External link]