Present
Financial statements to 31 March 2018
Government Grant-in-Aid remains the Gallery's principal source of funds. For the year ended 31 March 2018, the amount of Grant-in-Aid allocated for running costs was £20.4m. There was an additional grant of £3.7m restricted to expenditure on capital, including ongoing essential capital repairs.
The commitment in the 2016 Spending Review to maintain the current levels of Grant-in-Aid funding until 2020 has provided the Gallery with a welcome degree of certainty, however there is no provision for inflation or funding to cover new activities and respond to cost pressures. Membership, donations and support from the corporate sector, trusts and foundations, and private individuals are vitally important for the continued success of our programme of exhibitions, education programme, and outreach work.
Total income this year, including donations for acquisitions of £17.9m, was £56.8m compared with £41.2m in 2016/17 (including £0.7m for picture acquisitions). Self-generated income excluding donations totalled £8.9m, compared to the £9.2m recorded in 2016/17.
The Gallery's total charitable expenditure of £35.3m for 2017/18 saw a very slight decrease against the previous year (2016/17: £35.8m), as departments continued to exercise tight budgetary control. The Gallery's new strategic plan, published in March 2018, sets out its ambition for increased investment in new areas of activity in future years, to be funded from a planned growth in self-generated income.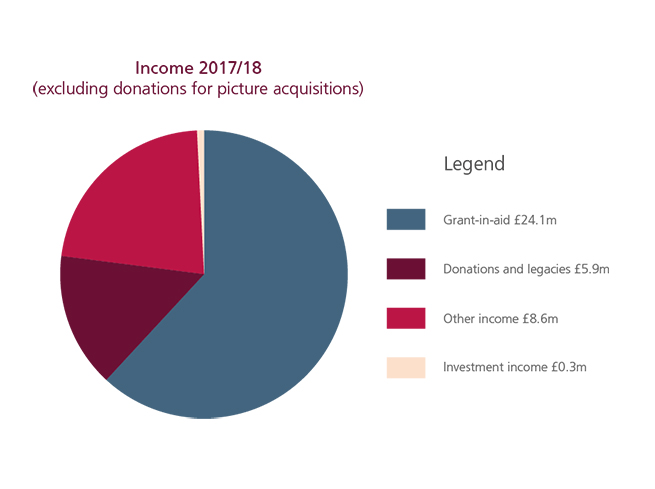 Related documents

Financial Statements 2017/18 [PDF 484kb – opens in a new window]
Read about National Gallery finances 2008–17
---

Problems opening files? Get Adobe Reader [External link]