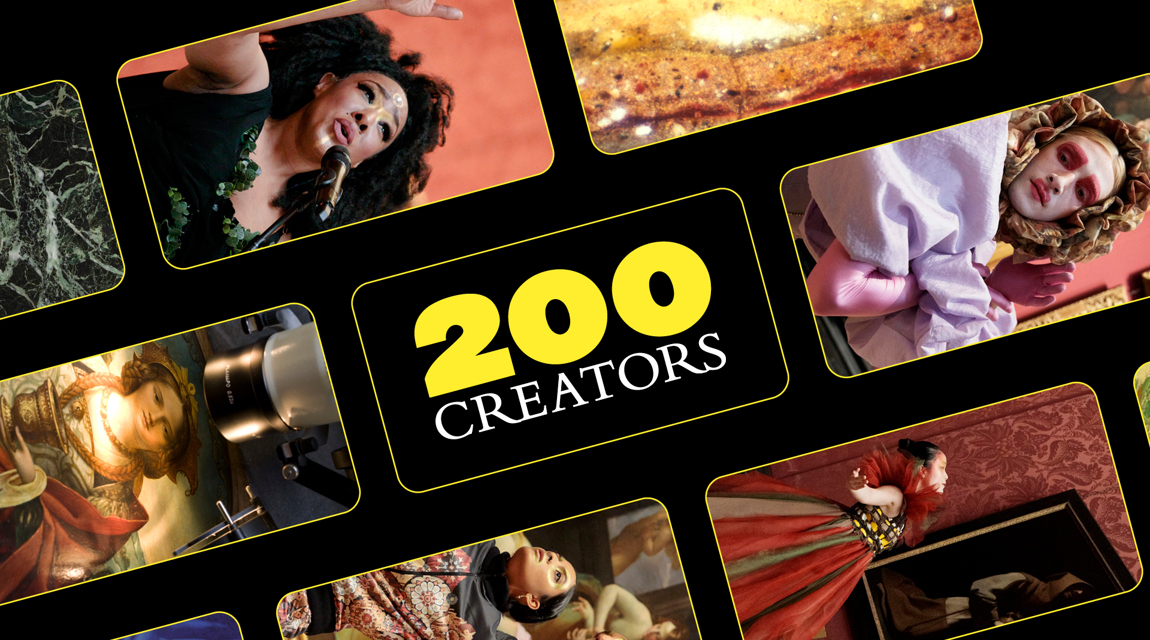 200 Creators
We're building a network of digital creators to celebrate our 200th birthday in 2024
The open call for 200 Creators has now closed
The National Gallery is a space for everyone, everywhere – where great paintings of the past inspire new ideas for our future.
We're building a network of digital creators that reflect this to celebrate our 200th birthday in 2024.
200 Creators is your chance to participate in the National Gallery's celebration of creativity, marking 200 years of bringing people and paintings together.
Being part of 200 Creators will give you the opportunity to meet National Gallery staff, see behind-the-scenes activity and visit out of hours to explore the Gallery's collection of some of the world's greatest paintings. We want you to be inspired and to create and share content with your online communities.
There are two opportunities for creators to participate, either as a Creative Collaborator or as part of the 200 Creators network.
There are two stages to becoming a Creative Collaborator with the National Gallery:
Stage 1. Applications for this stage have now closed. We will select 50 creators to participate in an Ideas Lab event at the National Gallery, and then after that event to pitch us your ideas.
Stage 2. Following the Ideas Lab event we will select 20 Creative Collaborators, who will become our social media ambassadors, right across the UK, each receiving £4,000 to create content inspired by any aspect of the Gallery. Creative Collaborators will have access to National Gallery resources, including curators, scientists, conservators, and out-of-hours visits to the Gallery. Inspiration can be taken from our iconic, or lesser known, paintings, our buildings, our staff or something else. The choice is yours.
If you aren't successful at this point, don't worry, we still want you to come along on this creative journey, you could join our 200 Creators Network instead.

Every creator selected for our 200 Creators network will receive a one-year National Gallery Membership for our Bicentenary year. Membership gives you free access to exhibitions, exclusive online events, and exhibition preview days.
Everyone in the network will be invited to our 200 Creators launch event on 2 July 2024 with social platform workshops, collection tours, and insights from experts across the Gallery. There'll also be opportunities to connect with lots of other creators on this day.
We are actively encouraging applications from creators who are from communities whose voices and ideas are currently underrepresented in the arts.
200 Creators is part of NG200, our programme of activity celebrating 200 years of the National Gallery. Launching on 10 May 2024, NG200 is a festival of art, creativity and imagination.
Applications for 200 Creators opened on Monday 4 September 2023 and closed on 8 October 2023 at 23.59 BST. A panel of National Gallery experts will select a shortlist of 50 creators from the applicants, who will be invited to an Ideas Lab evening event on Monday 30 October 2023 at the National Gallery in London, with travel bursaries available for each applicant.
The selection panel of National Gallery experts include Amber Akaunu, Video Producer; Lawrence Chiles, Head of Digital Services; Beks Leary, Senior Content Manager; Simon Magill, Senior Marketing Manager; and Ellie Wyant, Social Media and Community Manager.
The Ideas Lab event will give shortlisted applicants the opportunity to hear from Gallery experts on different aspects of the National Gallery, including our paintings, the building and behind-the-scenes activities. Following the event, the shortlisted applicants will be invited to submit more developed creative content proposals by Sunday 12 November 2023 at 23.59 GMT.
The panel will then select 20 applicants as Creative Collaborators, each receiving £4,000. This will cover all fees, and any materials, equipment or expenses needed to develop content for the project.
Successful applicants will be notified in early December 2023 and development of the content will take place from 5 February to 21 April 2024. We anticipate that it will require approximately three to four weeks of work across this period. No content will be released until the 200 Creators launch event on Tuesday 2 July 2024 with subsequent content to be posted throughout July and August 2024 during the National Gallery's 'Summer of Creativity'.
Those from the shortlisted group of 50 who are not selected will be invited to become part of the 200 Creators network.
Please note that all participants, the 20 Creative Collaborators and the 200 Creators network will be under embargo until April 2024.
We are inviting digital creators who fulfil the following criteria to submit an Expression of Interest:
1. Followers and Engagement
You will meet the minimum following and/or engagement rate for at least one of the following platforms. Your account must be public and remain public for the period of the project.
YouTube – 50k subscribers
TikTok – at least 1m likes on your account and 50k followers
Instagram – 100k followers
Please note: These social platforms are our priority but if you are active on an alternative online platform, we will consider applications on a case-by-case basis.
2. Proven international reach with your community. Please state the top five countries of your followers or subscribers with statistics.
3. Experienced in collaborating and creating content for online communities, brands or organisation (not specifically cultural).
4. Demonstrable strong creative direction for collaboration with the National Gallery that engages with their own online community.
Shortlisted applicants – Ideas Lab
Shortlisted applicants will be invited to an Ideas Lab evening event at the National Gallery in London on Monday 30 October 2023, where they will have the opportunity to hear from National Gallery experts, including curators, conservators, educators, scientists and researchers. You will also hear about the full NG200 Programme, including National Treasures and Art Road Trip. A travel bursary of £200 will be given to each shortlisted applicant to attend this event.
The Ideas Lab is a springboard for the shortlisted applicants to develop their proposals. Following the event, you will have two weeks to develop and submit a more detailed proposal. This proposal should indicate the themes, or work(s) in the Gallery's collection, which you would like to focus on, and an indication of what form your content will take.
Launch Open Call: Monday 4 September 2023
Extended deadline for Open Call: Sunday 8 October 2023 (23.59)
*Ideas Lab: Monday 30 October 2023 (evening)
Proposal Submission deadline: Sunday 12 November 2023 (23.59)
Successful Creative Collaborators informed: Early December 2023
200 Creators network confirmed: Early December 2023
Creative Collaborators production period: Monday 5 February – Monday 22 April 2024
*Production deadline: Monday 22 April 2024 (23.59)
National Gallery Content sign off: Monday 29 April 2024
Announcement of Creative Collaborators: April 2024
*Launch event at National Gallery, London Tuesday 2 July 2024
National Gallery Membership (one year) Tuesday 2 July 2024 (starts from)
* Applicants must be able to commit to these dates