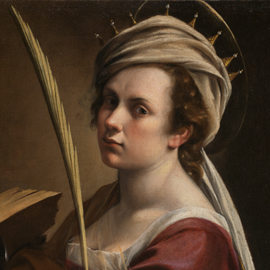 Gentileschi's Self Portrait as Saint Catherine of Alexandria
Discover how this rare masterpiece was bought with the support from multiple trusts and individuals, including a legacy from the late Mrs Mollie W. Vickers
A recently discovered, rare self-portrait by the most celebrated female artist of the Italian Baroque – Artemisia Gentileschi – was acquired thanks to the support of the American Friends of the National Gallery, the National Gallery Trust, and a number of trusts and individuals. Amongst these individuals was Mrs Mollie W. Vickers who died in 2016 generously leaving a gift in her will to the National Gallery Trust (registered charity number 299509).
Self Portrait as Saint Catherine of Alexandria, an oil painting from about 1615–17, is currently undergoing conservation treatment before going on display in early 2019.
Letizia Treves, The James and Sarah Sassoon Curator of Later Italian, Spanish, and French 17th-century paintings at the National Gallery said of the acquisition:
"Artemisia is without question one of the most celebrated painters of her time, and we have long wished to acquire a painting by her for the national collection. The fact that this is a self-portrait adds enormously to the painting's appeal and art historical significance. We are fortunate to have one of the strongest collections of Italian Baroque paintings but, with the exception of Caravaggio, no Italian artist of the 17th century surpasses Artemisia in terms of fame and popular appeal. Following conservation treatment and reframing 'Self Portrait as Saint Catherine of Alexandria' will find a natural home alongside other works by Italian Baroque painters, including Caravaggio and Artemisia's father Orazio Gentileschi."
If you are inspired by this story, the generosity of Mrs Mollie W. Vickers, and the National Gallery, perhaps you would consider remembering us in your will. A gift of any size, large or small, will have a lasting impact on our work and help to develop and maintain the collection, keep the Gallery free, and continue enriching the lives of future generations.
Download our information booklet
To discuss what your support could achieve, please contact Georgina Barry in the Development Office on 020 7747 5982 or by email at: Georgina.Barry@ng-london.org.uk