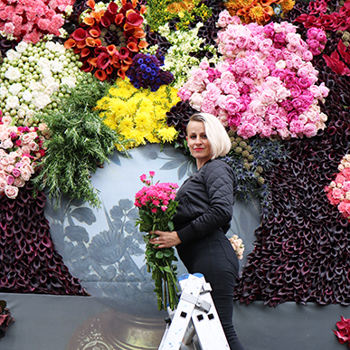 How florists brought one of our Dutch flower paintings to life
Funnyhowflowersdothat.co.uk
In 2016, Funnyhowflowersdothat.co.uk generously supported the Gallery's Dutch Flowers exhibition. This support helped bring iconic Dutch flower paintings from the early 17th to late 18th century to life for the first time in 20 years.
To complement the exhibition, Funnyhowflowersdothat.co.uk created a remarkable living floral reproduction of Ambrosius Bosschaert the Elder's A Still Life of Flowers in a Wan-Li Vase.
A short film created by Funnyhowflowersdothat.co.uk shows how 30 florists used over 26,000 stems to create the display, which stood at 8.2 metres high. This video has been watched more than 13,000 times within social channels and the Gallery's Periscope tour had 632 live viewers and 7,656 followers. In all, the viral capacity of the display on social media exceeded expectations.
We hosted a floral design workshop that taught about the style and composition of Dutch still-life paintings and participants created their own floral arrangements to take home. Over 170 people entered a competition to win a place at this workshop.
This collaboration was promoted across all social media and the Gallery saw an increase in visitors to the exhibition over the floral display weekend of 5,454 people compared to the previous weekend.
This campaign recently won the 2017 UXB London Award for Best Use of Digital Channels in a Fundraising Campaign at the Emcees Arts & Culture National Fundraising Awards 2017.
Flowers bringing art to life
This is a YouTube video player. Below the video are the title, view time and description. Below that is a carousel of video thumbnails. Clicking a thumbnail will load and play that video.
1 video
It took almost 30 florists working for two days straight, 100 blocks of Oasis florist's foam, nearly 30,000 stems of 26 different varieties in 37 different colours to recreate Bosschaert's Dutch masterpiece, A Still Life of Flowers in a Wan-Li Vase. ...