Lucas Cranach the Elder
NG 3922
Primitive People
Oil on panel, 51.5 x 35.8 cm (including edging strips 51.5 x 38 cm), painted surface 50.0 x 35.8 cm
Provenance, exhibitions, versions, and copies
Provenance
The picture was in the collection of the German businessman George Edward Habich (1818–1901) at Kassel by 1880. Habich was a collector of paintings and other works who spent much of his life in Boston, where he donated works to the Museum of Fine Arts in 1892. This painting was placed on loan to the Königliche Gemäldegalerie, Kassel, from 1880 until April 1892, together with other works owned by Habich. It was lot 86 in the sale of the Habich1 collection paintings sold by Lempertz, Heberle and Schall at Kassel on 10 May 1892, and was bought by J.P. Richter for Dr Ludwig Mond.2  It was acquired by the National Gallery in 1924 as part of the Mond Bequest.
Exhibitions
London NG 1975 (62).
Versions and copies
1. Weimar, Schlossmuseum, panel 52.5 x 38.0 cm, dated 1527 (fig. 1).
2. Schaffhausen, Museum zu Allerheiligen, panel 56.0 x 37.0 cm, dated 1529.
3. Moscow, Pushkin Museum, panel 56.7 x 38.5 cm, dated 1530.
4. Paris, Louvre, panel 77.5 x 52.5 cm, dated 1535 (fig. 2).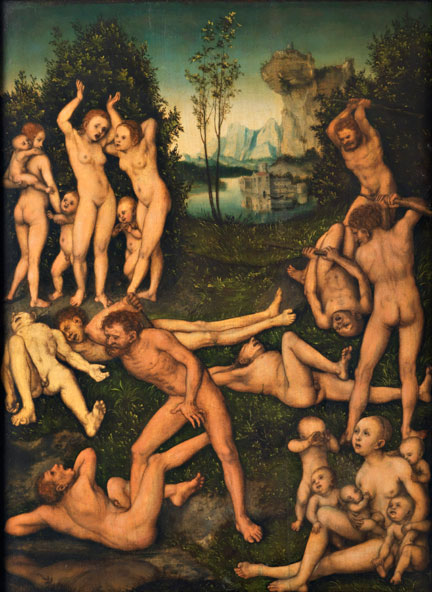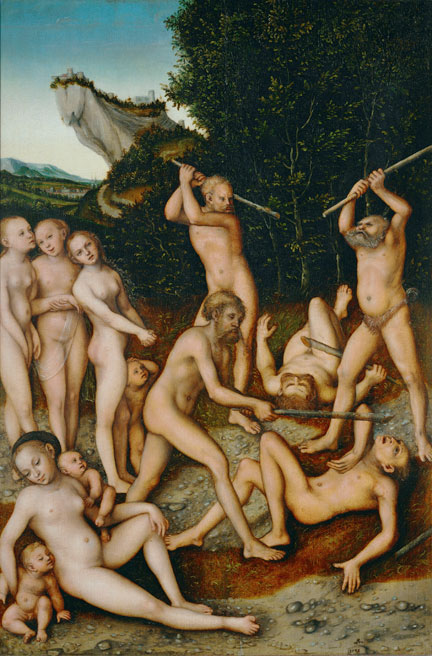 A copy of NG3922 of similar size was recorded in a private collection in Italy in 1967.3
Further sections
1. A letter of 21 January 1935 in the NG dossier from the Gemäldegalerie Kassel confirms that the Habich collection was at the Kassel Gallery from 1880 until April 1892.

2. Lugt 50805 (86) 'Kranach d. Ä. (Lucas), Die Wirkung der Eifersucht, p. 34, with illustration on adjacent page; see Richter 1910, vol. II, pp. 589–90; on Mond see also Saumarez Smith with Mancini 2006.

3. As recorded in the Koepplin Cranach archive. I am grateful to Gunnar Heydenreich for this information.