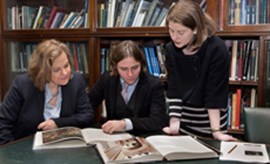 By forging links with other organisations, the National Gallery seeks to support and advance excellence in the research of European painting, both nationally and internationally.
The Gallery's own scholarship is enriched by our relationship with academics from other institutions, whether working as guest curators for our exhibitions, contributing to our publications, or presenting papers in our active programme of conferences and seminars, some of which are jointly organised with external partners.
Work on the exhibition and this publication was carried out in partnership with the Department of History of Art at the University of York. It is supported by the Arts and Humanities Research Council under the AHRC Fellowship 'Architecture in Italian Renaissance Painting'.
AHRC film

The Arts and Humanities Research Council has produced a short film that explores how funding received from the organisation underpinned the Gallery's 'Building the Picture' exhibition.
In the film we hear from Amanda Lillie, from the University of York, and Caroline Campbell, the Gallery's Curator of Italian Paintings before 1500. Both women give their perspectives of the exhibition and shine a light on what research has brought to the project.