26 May 2011
For the first time ever, a painting has been made into a 'living wall' outside the National Gallery.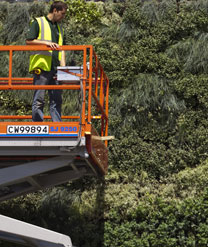 Over 8,000 plants have been planted on hoarding outside the National Gallery to recreate Van Gogh's A Wheatfield, with Cypresses.
The painting has been brought to life by GE (General Electric) as part of the Gallery's carbon plan. More than 25 varieties of plant have been used to mimic the strong bands of colour in the original picture.
GE is also supplying the National Gallery with one of its environmentally friendly Jenbacher engines, which will contribute significantly to the Gallery's energy requirements.
People can see the living wall in Trafalgar Square until the end of October.
About the painting
'A Wheatfield, with Cypresses' was painted in September 1889, while Van Gogh was a patient at the St-Rémy mental asylum.
The original painting is on display in Room 45.