November 2011
Pupils from St James the Great Primary School joined the Pigott family in opening the newly dedicated Pigott Education Centre, marking the occasion in a ribbon-cutting ceremony.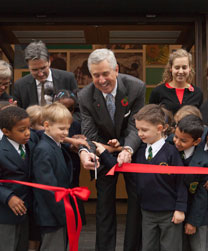 The National Gallery has officially renamed its Education Centre 'The Pigott Education Centre' in honour of the generosity of American industrialist and philanthropist Mark Pigott OBE.
In 2010 the Pigott family donated £1 million towards the centre's work, programmes and redevelopment. Improvements include renovated learning spaces, refurbished classrooms and cloakrooms, and an improved lobby design with additional seating space and noise reduction technology.
Mr and Mrs Pigott, along with their daughter Kerry, were welcomed by the Gallery's Director Nicholas Penny and Director of Education, Information and Access, Jillian Barker. Dr Penny remarked, 'The Pigott Family has made an immensely generous gift to support education at the National Gallery and we are delighted to formally dedicate the Education Centre as the Pigott Education Centre.'
The Pigott Education Centre opens its doors to tens of thousands of visitors each year – including more than 80,000 school pupils, 3,300 teachers, and over 80,000 adult learners.
Mr Pigott commented, 'It was a great pleasure for us to celebrate the dedication of the Pigott Education Centre with the students from St James the Great Primary School. We are honoured to support education at the National Gallery and believe that art provides a wonderful foundation for inspiring learning across the curriculum. The National Gallery Education department does a marvellous job of unleashing the magic of art for children to enjoy and providing opportunities to nurture that appreciation throughout their lifetimes. We look forward to students and young people being inspired by this magnificent collection for many years.'
All school children visiting the Pigott Education Centre on the day were treated to a free sketchbook to celebrate the event.
About Mark Pigott
Mr Pigott is chairman and chief executive officer of PACCAR Inc, a Fortune 150 global technology company based in Bellevue, Washington.
The Pigott family and PACCAR have generously supported UK organisations such as Cancer Research UK, the Royal Shakespeare Company, the British Library, the Palace of Westminster, the National Theatre and St. Paul's Cathedral.