Thursday 25 November
The National Gallery exhibition The Sacred Made Real: Spanish Painting and Sculpture 1600-1700 (21 October 2009 – 24 January 2010) has been named exhibition of the year at the 2010 Apollo Awards.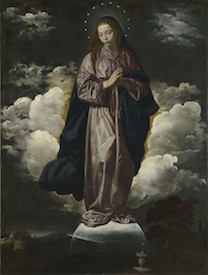 The winners were chosen by the editorial team at Apollo and by its editorial board, which includes academics, museum directors, and former Apollo Magazine editors. Apollo Editor, Oscar Humphries, announced the winners during a ceremony at Bonhams auction house.
On presenting the award to the Gallery's Deputy Director Susan Foister and the exhibition's curator Xavier Bray, Oscar Humphries said:
"In what was, for many of us who visited the exhibition, a revelatory experience. This was both a beautiful looking show, but one that had real and significant curatorial substance.
"It revealed to us not only the wonder of Spanish painting of this period but, crucially, the sculpture also revealing the dramatic symbiosis between painting and sculpture"
Apollo Magazine is one of the few art magazines to cover both historic and contemporary art. Apollo has held its annual awards ceremony since 1992, which each year coincides with its December issue.