1 February 2011
The iconic National Gallery painting 'The Ambassadors' (Hans Holbein the Younger, 1533) is one of the stars of the new Google Art Project, which will enable people to discover and view more than 1,000 artworks online in extraordinary detail.
Googleartproject.com [External link], which was launched today, is the result of a unique 18-month collaboration with 17 of the world's most acclaimed art galleries and museums, including the National Gallery.
The project involved selecting one famous artwork per institution to capture in super high resolution ('The Ambassadors' for the National Gallery, London) as well as collating thousands of other images into one place. It also included building 360-degree tours of individual galleries using Google's Street View.
With this unique project, anyone anywhere in the world can learn about the history and artists behind a huge number of works, at the click of a mouse.
The Ambassadors
'The Ambassadors' was photographed in extraordinary detail using super-high resolution or 'gigapixel' photo-capturing technology.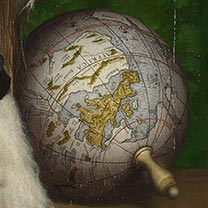 Each such image contains around 7 billion pixels, enabling the viewer to study details of the brushwork beyond that possible with the naked eye. Hard-to-see details suddenly become clear – such as the names of the individual countries, even cities, on the globe featured in the centre of the painting.
National Gallery Director, Dr Nicholas Penny, said:
'The Google Art Project has enabled museums to showcase some of their greatest and most iconic works of art using Google's Street View technology.
'In addition, Holbein's 'Ambassadors', one of the best-known paintings from the National Gallery in London, has been singled out from the collection to be viewed in extraordinarily high resolution.
'Viewers will see details – such as the globe – and explore the painting in a way that hasn't been possible before. The Google Art Project is a powerful example of how digital technology can help art institutions work in partnership to reach out globally, to new audiences, and enable works of art to be explored in depth and with stunning clarity.'
Take a look at 'The Ambassadors' on Google Art Project [External link]
Museums on Google Art Project
Museums taking part in the Google Art project are:
Alte Nationalgalerie, Berlin, Germany
The Freer Gallery of Art, Smithsonian Insitution, Washington, D.C., USA
The Frick Collection, New York, NY, USA
Gemäldegalerie, Berlin, Germany
The Metropolitan Museum of Art, New York, NY, USA
The Museum of Modern Art (MoMA), New York, NY, USA
Museo Reina Sofía, Madrid, Spain
Museo Thyssen-Bornemisza, Madrid, Spain
Museum Kampa, Prague, Czech Republic
The National Gallery, London, UK
Palace of Versailles, France
Rijksmuseum, Amsterdam, The Netherlands
The State Hermitage Museum, St Petersburg, Russia
State Tretyakov Gallery, Moscow, Russia
Tate Britain, London, UK
Uffizi, Florence, Italy
Van Gogh Museum, Amsterdam, The Netherlands