Pupils in Year 5 at Bonneville Primary School used Seurat's Bathers at Asnières to develop their storytelling skills. 
Listen to one of the pupil's stories and find out how the teachers used the painting for drama, discussion and creative writing. 

Storytelling: Inspired by Seurat's Bathers
A tale of hardship, celebration and tragedy, by a Year 5 pupil at Bonneville Primary School, London – 5 mins
Year 5 teachers Adam White, Lex Lang and Tania Fricker:
"Seurat's 'Bathers at Asnières' provided immediate images, contexts and ideas. From the very first exploration of the painting, there was a mass of story possibilities."
"We were able to use the painting as a springboard for exploring other subjects: for example, geography, in which children researched and located Asnières, and history, comparing the scene with what we knew about the Victorians. It also allowed children to make artistic links between paintings, for example, A Sunday Afternoon on La Grande Jatte, also by Georges Seurat."
Sculpture and photography
"The children were able to develop their ideas using a wide range of media, including word processing, sculpture, painting, photography and video. They also used computer editing software to combine their work with music."
"The project started with a visit to the National Gallery to introduce the painting and gain initial responses and story ideas. We built on this in school by exploring the painting using the Gallery's interactive website."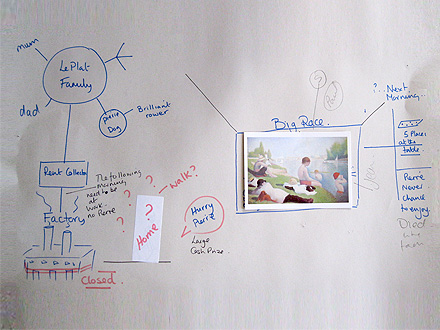 Appreciation of detail 
"Painting and drawing with different media helped the students to develop their appreciation of the detail and its relevance to any potential storyline. This included adapting the painting physically to reflect the thoughts and emotions of the characters of their story."
"Through a series of mind mappings, emotion graphs, brainstorming and drama techniques, children developed their own stories based on the painting."
Enthusiasm and creativity
"It was great to see a group of children who had spent so long on a single stimulus still so enthusiastic and creative after five weeks. Many of the individuals who were previously reluctant to write were suddenly engaged in the creative process."
"Talk and drama became the real lead-in to writing and the benefits were evident in raised attainment."