About the painting
The painting shows a dramatic seascape with two merchant ships struggling against the howling wind. The storm has rolled in so suddenly that there has been no time for the lighthouse to be lit, but a break in the clouds gives hope that it might disappear as quickly as it arrived.
Children's thoughts
See some of the children talking about the painting in our short film:
This is a YouTube video player. Below the video are the title, view time and description. Below that is a carousel of video thumbnails. Clicking a thumbnail will load and play that video.
Children's works 
Featuring works by children from 40 different primary schools, the exhibition showcased children's creative responses to the painting, ranging from crashing waves and voyaging ships, to tea-stained diaries and imaginative dance performances.
Their projects made links between art and subjects across the curriculum such as history, science, geography and literacy. See a selection of the works below.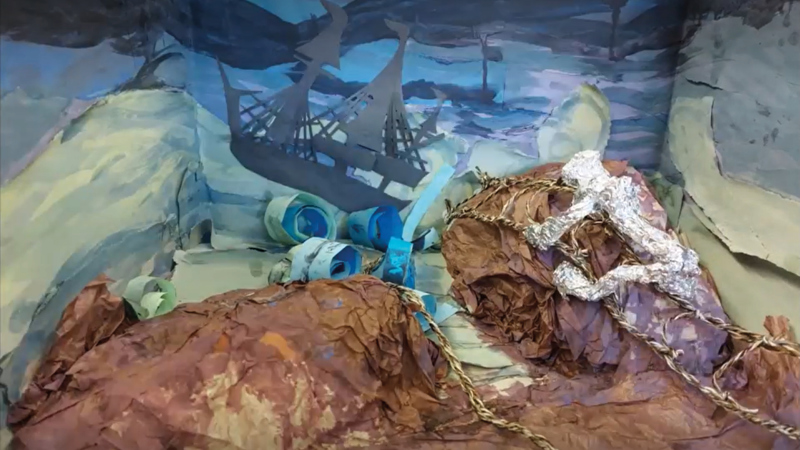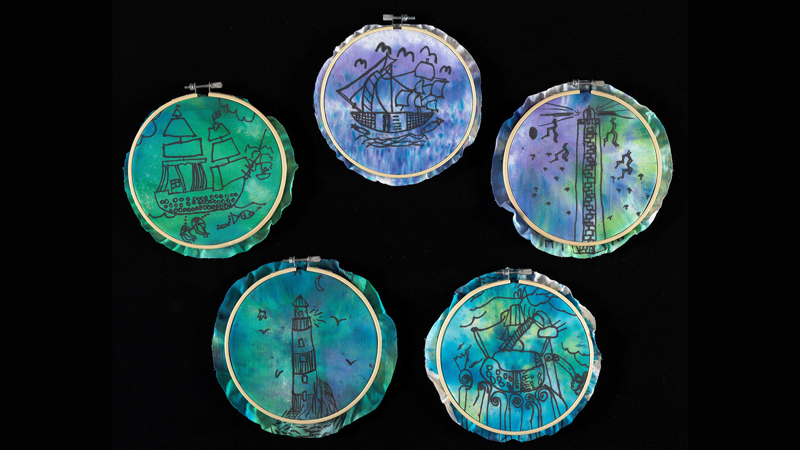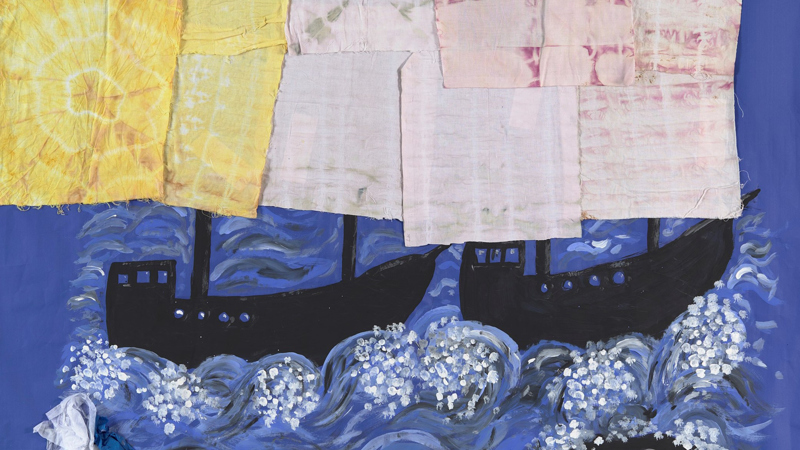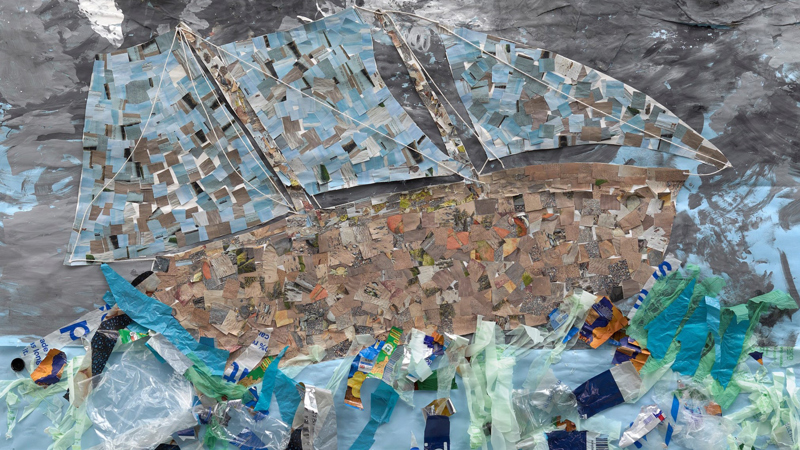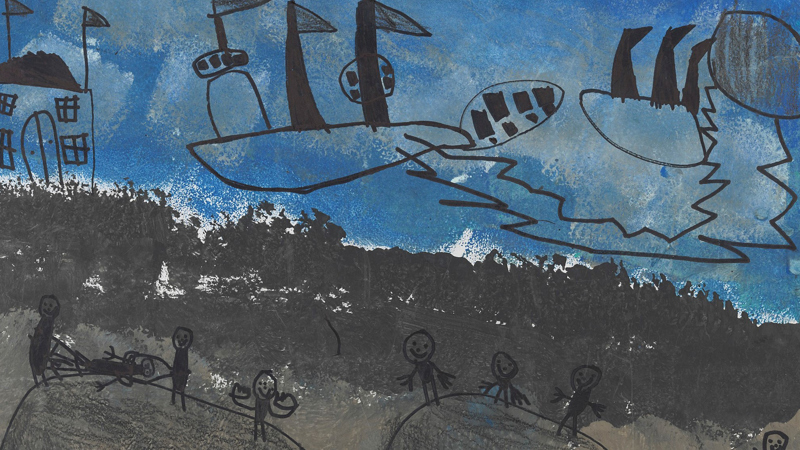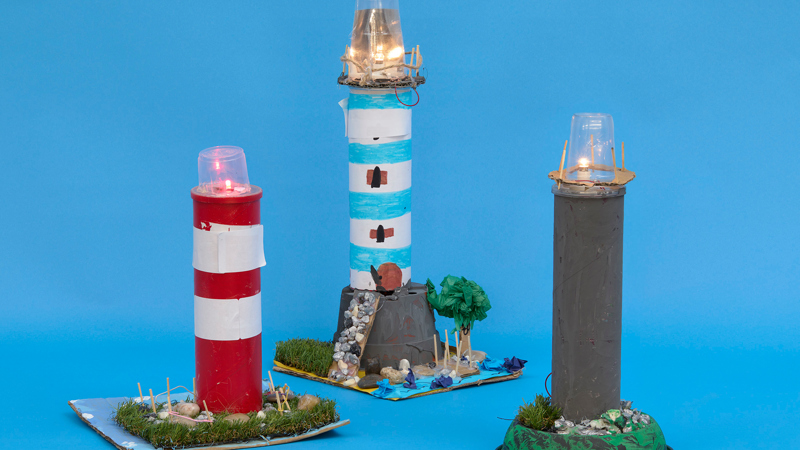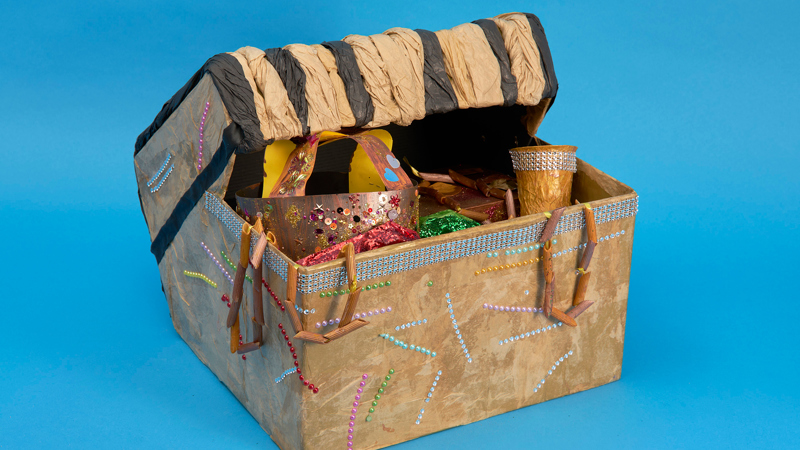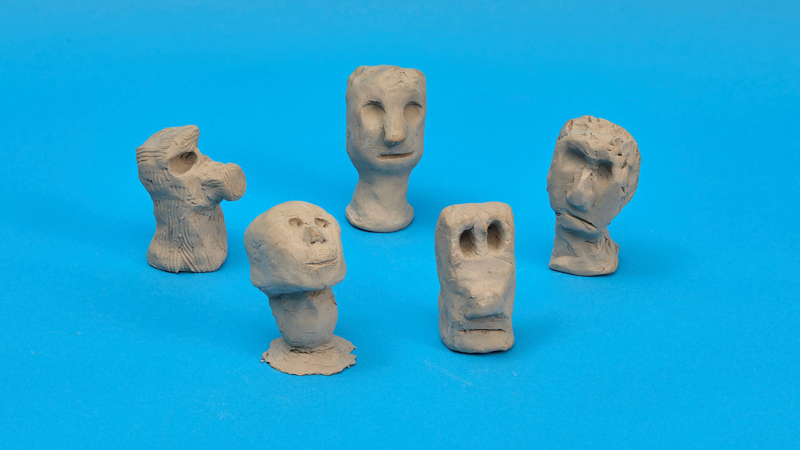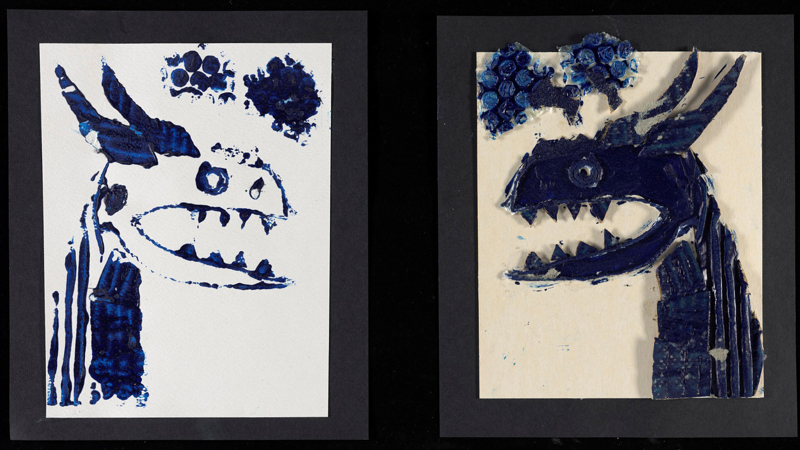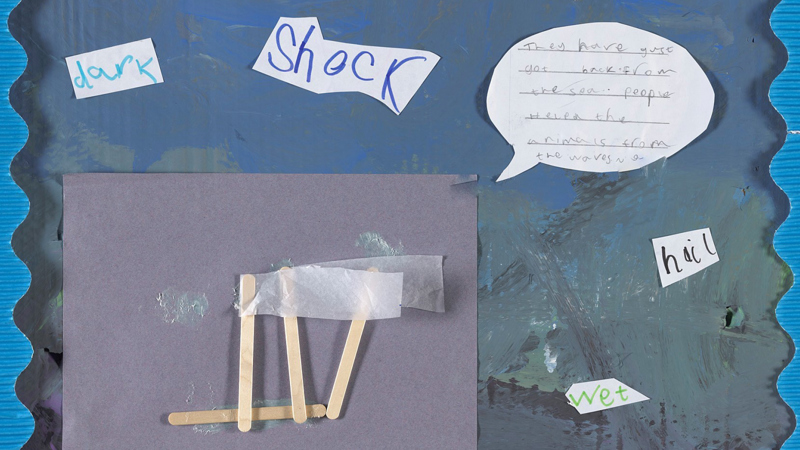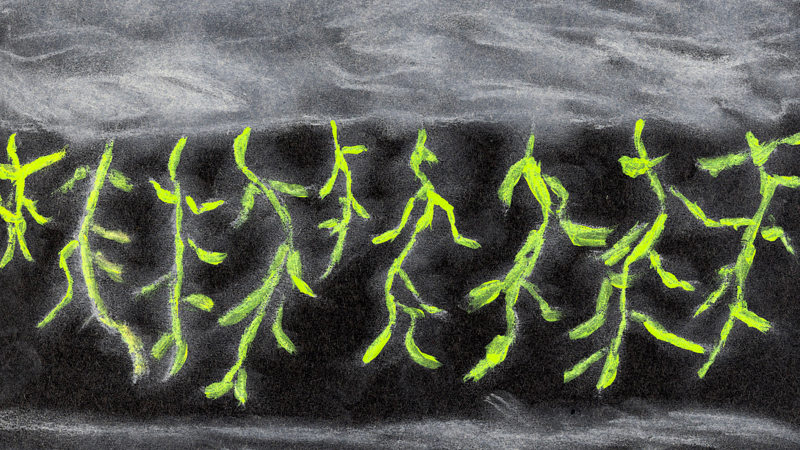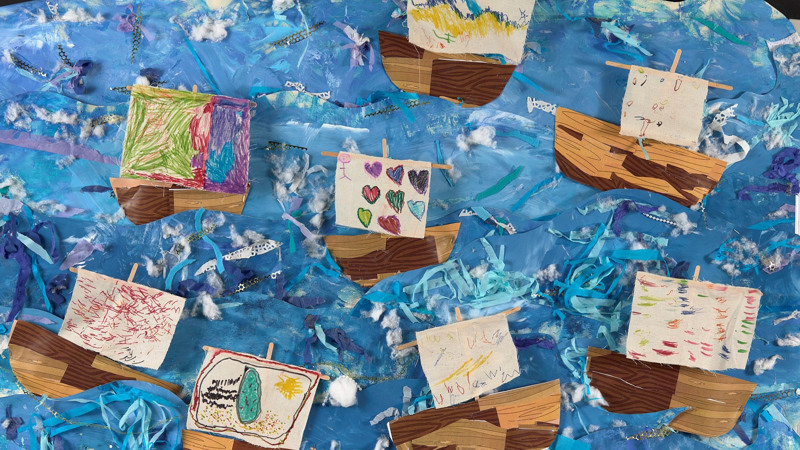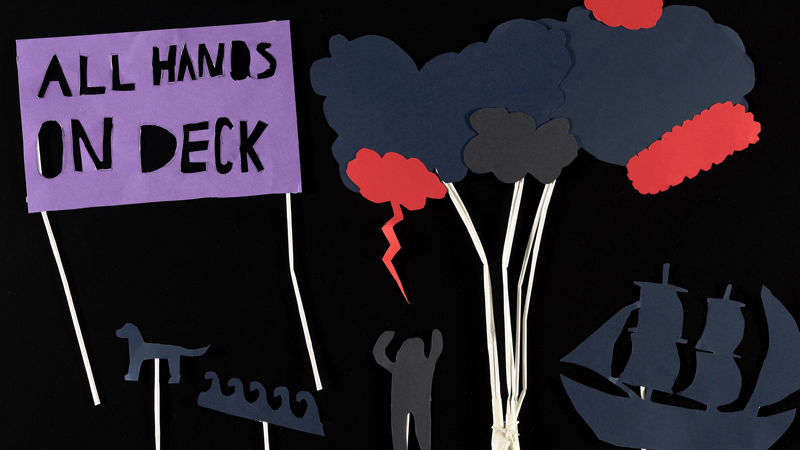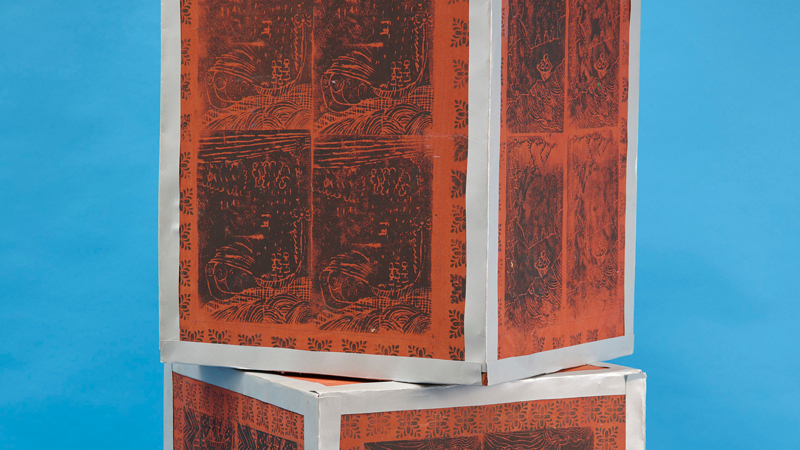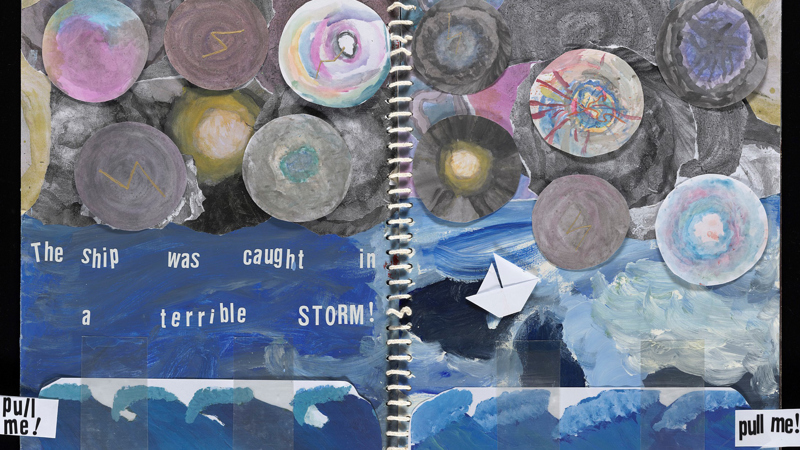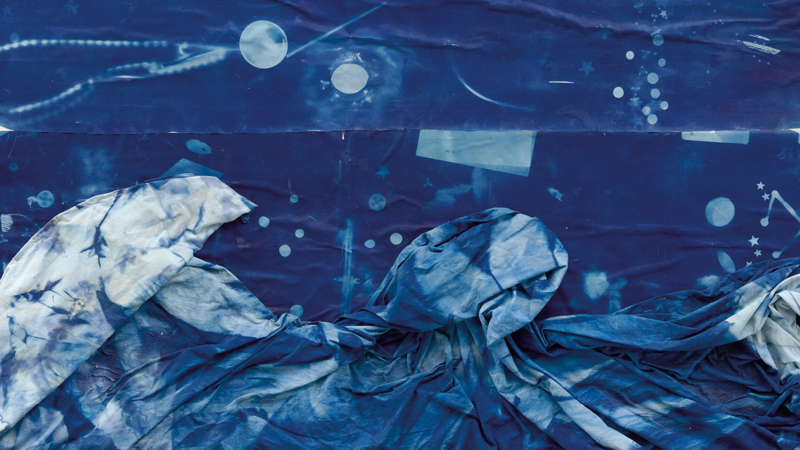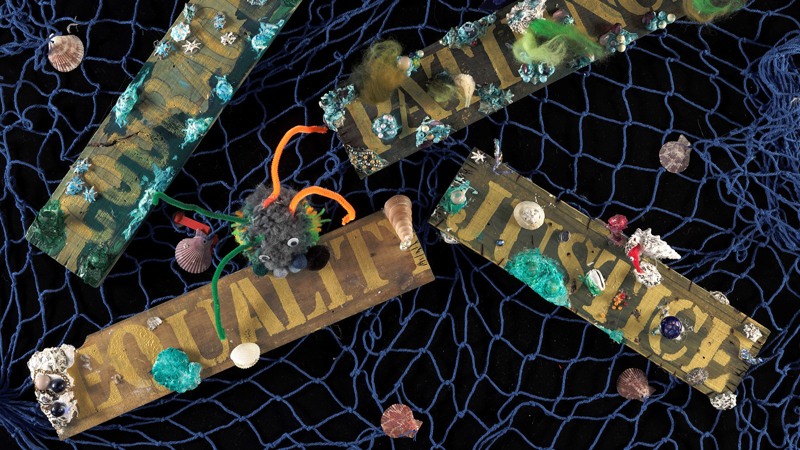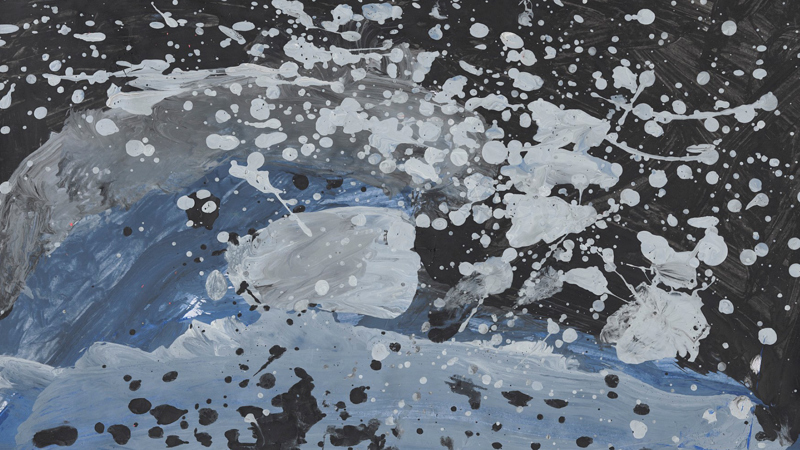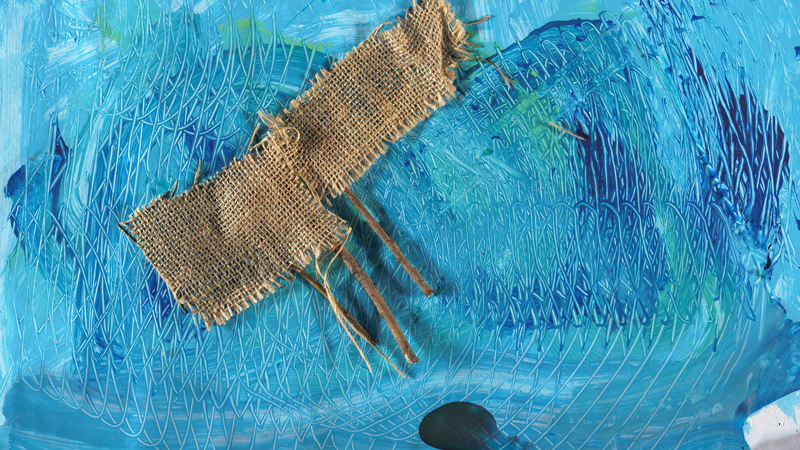 The Rescue
Beehive Lane Community Primary School, Essex, ages 7–11
After acting out being rescued from the shipwreck, the children used stop-motion techniques to create animations of a rescue.
'It was very tricky to make the foil men, but we looked at the size and kept trying to improve them.'
Fabric Portholes
Blackthorn Primary School, Northampton, ages 8–9  
The pupils decided to retell the story of the painting from the perspective of a passenger looking through a porthole, focusing on the ships and lighthouse.
'I feel like I'm under the sea when I look at this fabric.'
Tie-Dye Trade Ship
Clavering Primary School, Essex, ages 8–9  
The children found out that spices such as saffron were often traded in the 1700s, so used them to make ships with dyed sails.
'I especially enjoyed that we used natural pigments to dye our sail cloths, such as turmeric, beetroot and saffron.'
Ship on Polluted Seas
Dalmilling Primary School, Scotland - Extended Learning Facility, ages 5–8
The class used recycled materials and photographs from a trip to a local beach to create a collage of a ship on polluted seas, as a reminder to keep our beaches clean.

'I liked going to the beach and getting the photographs. It was fun using these to make the ship.'
Stormy Drawings 
Home Farm Primary School, Bradford, ages 5–6
Year 1 decided to make their own versions of the painting, highlighting details they noticed when looking closely.
'We had to make the different shades of blue and grey and then used them to print the sea and the sky.'
Working Lighthouses 
Hungerford Primary School, West Berkshire, ages 8–9
The students were fascinated by the old-fashioned lighthouse in the painting and used their knowledge of circuits to design and create their own working models.
'I love art weeks. I want to keep doing this!'
A Pirate's Treasure 
John Bunyan Primary School, Essex, ages 4–5
One student imagined that there were pirates on the ship, so the class made a chest from a recycled box and filled it with handmade treasure.
'I want to be a dragon so I can protect the treasure.'
Cliff Faces
King's Meadow School, Oxfordshire, ages 10–11 
Year 6 noticed that the cliffs on the left-hand side of the painting look like they have faces in them, so decided to make their own using clay.
'We got our hands slightly damp and moulded the clay into a face-like shape.'
In the Deepest, Darkest Depths… 
Mab's Cross Community Primary School, Wigan, ages 9–10
Focusing on what might have caused the shipwreck led Year 5 to find many old tales of mythical sea serpents and kraken pulling ships to the bottom of the sea.
'My artwork represents the siren who I imagined created the tsunami that caused the shipwreck.'
Descriptive Collages 
New Delaval Primary School, Northumberland, ages 5–6 
Year 1 thought of lots of words to describe the scene, which inspired their mixed-media collages.
'Making the picture made me feel happy.'
Neon Lightning 
Park Junior School, Wellingborough, ages 8–9 
The children were fascinated by Vernet's glowing lightning, so decided to make their own miniature storms which glow under ultraviolet light.
'I really enjoyed when we created our pictures and shone the black light for the first time. It was really cool and vibrant.'
Collaborative Stormy Sea 
Pencalenick School, Truro - a school for students with complex learning needs, ages 11–14
Students made their own boats with decorated sails, which were then added to a stormy sea inspired by Cornwall's coastline.
'Lightning and clouds.'
Shadow Puppets 
Perry Hall Primary School, Kent, ages 10–11 
Year 6 wanted to recreate the dramatic stormy scene, so decided to write scripts and turn the picture into a puppet show.
'I really enjoyed making the shadow puppets as we had never done something like that before, and it was great to work as a team.'
Tea Boxes 
Rectory Farm Primary School, Northampton, ages 8–9 
The class thought that the merchant ships might have been carrying tea, which led to research about tea and the creation of decorated cargo boxes.
'I enjoyed sharing these experiences with my friends, especially the tea tasting.'
A Shipwreck in Stormy Seas – The Fairy Story
RGS The Grange, Worcester, ages 9–11 
Children at RGS The Grange were inspired to make a storybook about the ship's journey across the sea, including moving parts and hidden messages.
'So what happened to the sailors? I like the way it ends with a cliffhanger.'
Pirates in the Deep Dark Sea 
Rookery School, Birmingham, ages 6–7 
Year 2 learned how to create stop-motion animations about a great storm, designing their own characters, settings and backgrounds.
'We worked in pairs and we had to put the iPad on a stand so it wouldn't move. We could then move the puppets a bit at a time.'
Navigating a Stormy Sea 
Snaresbrook Primary School, London, ages 10–11 
The children wanted to know how the boats knew where they were going, which inspired an investigation into the use of constellations for navigation in the 18th century.
'I brought in pasta stars and thought they could be a Milky Way cluster.'
Finding the Shipwreck 
S. Anselm's School, Derbyshire, ages 10–11 
Year 6 were inspired by the re-discovery of the Endurance (which sank in 1915) and created fragments of imagined shipwrecks.
'I thought we could make inspirational words on pieces of what look to be broken ship parts.'
Colour Mixing
Tweedmouth Prior Park First School, Northumberland, ages 5–6 
The children could see lots of tones in the painting, so experimented with creating different shades of blues and adding sand for texture.
'We were thinking about the different sea colours and mixing paint to make greys and blues.'
Mast Artworks 
West End Primary School, Lancashire, ages 5–6 
The children were particularly drawn to the angle of the ships, and decided to create artworks using sticks to represent the masts.
'I think the broken masts look like sticks sinking into the water.'