Landscape
The posthumous sale of Delacroix's studio contents in 1864 revealed a previously unseen body of directly observed landscape oil studies by the painter. These sketches demonstrated Delacroix's ability to suggest light through the use of prismatic colour and highlighted his rapid, mobile brushwork. Both had a profound impact on the Impressionist treatment of landscape from the late 1860s onwards.
The influence of Delacroix's landscape sketches was not confined to one single means of interpretation. In the 1880s and 1890s, when both the Impressionists and a new generations of artists were abandoning the pursuit of fleeting effects for a richer, more symbolic form of landscape painting, Delacroix's subjective use of colour and form to express the sensations that he felt before nature, offered a precedent for a new type of landscape painting.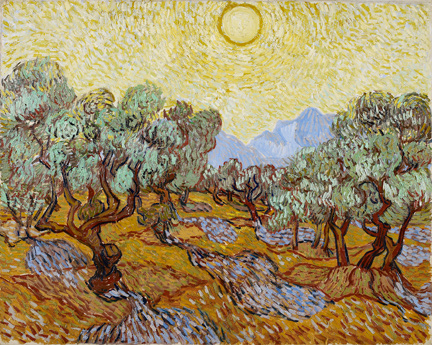 Vincent van Gogh painted 'Olive Trees' in 1889 while he was in the asylum at Saint-Rémy-de-Provence. The surrounding olive groves became a favourite subject during his stay. He energetically captured different light effects, such as the dazzling lemon-yellow sunshine and violet shadows of this painting. Van Gogh compared his feelings about olive groves to the sense of "living antiquity" that he found in Delacroix's biblical works. But he also felt that traditional subject matter was no longer relevant to modern painters when trying to express religious sentiment.