Influences and influence
"We all paint in Delacroix's language", observed Cézanne. His statement articulates Delacroix's profound influence on avant-garde painters. Although individual artists found different types of inspiration in Delacroix's paintings, his technical and compositional experimentation and use of colour were consistent stimuli for painters some five decades after his death.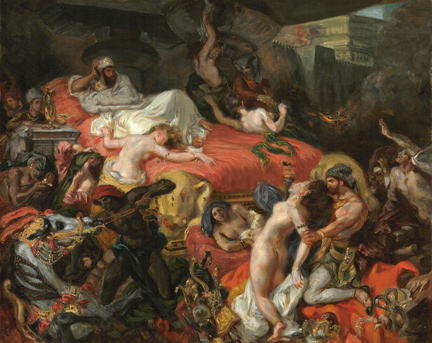 For centuries, students of painting had learned by copying other artists. When Delacroix began his training in 1815, the French academic system insisted that before students could use colour, they had to master drawing in monochrome. Frustrated by this rule, Delacroix largely taught himself to paint by copying masterpieces on public display in Paris, particularly the colourists, notably the 17th-century Flemish artist Peter Paul Rubens. He also developed a great love for the painterly techniques and literary subject matters of British artists of his own era.
Delacroix's 'Death of Sardanapalus' of 1846 is a reduced replica of an earlier painting originally shown at the Paris Salon of 1827/8. The lack of compositional focus, kaleidoscopic colour, and sense of improvisation of the 1846 version shocked and outraged the French art establishment. Delacroix himself said that 'The Death of Sardanapalus' rendered him "the abomination of painting".
The subject was inspired by Lord Byron's 1821 play 'Sardanapalus', and depicts the last king of Assyria in the moments before his suicide. Besieged and defeated, Sardanapalus orders that all his possessions, including concubines and livestock, be destroyed. In the replica, Delacroix exaggerated the characteristics that were condemned in the original, making it an even more provocative painting. The technique of flochetage exhibited in 'Death of Sardanapalus' was adopted by the Impressionists and Post-Impressionists.