Succesful joint fundraising campaign between the Art Fund and the Fitzwilliam Museum, Cambridge
On 1 November 2012 the Fitzwilliam Museum and the Art Fund announced that their fundraising campaign to buy the painting 'Extreme Unction', and keep it on public display, has been successful. The National Gallery has been pleased to support the Fitzwilliam Museum in its bid by displaying the painting in Room 1.
The National Gallery aims to promote the understanding, knowledge and appreciation of Old Master paintings throughout the UK and the display has enabled thousands of visitors to view and experience the painting first-hand. The painting will remain on display at the National Gallery until 11 November when it will travel back to Cambridge and enter the Fitzwilliam Museum's permanent collection.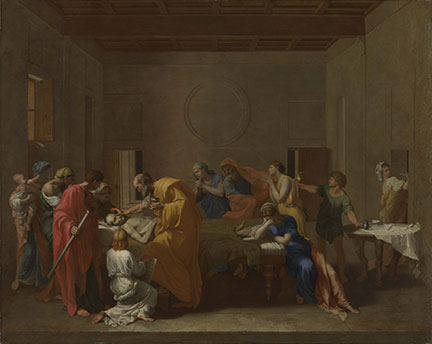 The painting
Extreme Unction (or 'Final Anointing', as the painting is also known) was made as one of a set of seven scenes representing the sacraments of the Catholic Church, painted between 1638 and 1640 by the French artist Nicolas Poussin (1594 – 1665), one of the greatest painters of the 17th century.

The scene depicts a dying man being anointed with oil in accordance with the rites of the early Christian church. It is considered by many to be the most lyrical painting of this celebrated series.
The Public Appeal
The Fitzwilliam and the Art Fund, the national fundraising charity for art, worked together to raise the money required.  The campaign was successful thanks to almost £1 million in public donations and a substantial grant from the Heritage Lottery Fund. The Fitzwilliam and the Art Fund would like to thank all donors for their generosity and support. 

To find out more about the fundraising campaign please visit the Art Fund website [external link]

The Fitzwilliam Museum, Cambridge