Winslow Homer: Force of Nature
Issued March 2022
10 September 2022 – 8 January 2023
Ground Floor Galleries
Admission charge
The first in-depth exhibition in the UK of the art of Winslow Homer (1836–1910), one of the most celebrated and admired American painters of the late 19th and early 20th centuries, will take place at the National Gallery later this year (10 September 2022 – 8 January 2023).
This exhibition, which will display over 50 paintings and watercolours from public and private collections, spanning over 40 years of the artist's career, is co-organised with The Metropolitan Museum of Art, New York and presents an opportunity for visitors this side of the Atlantic to discover an artist who, although a household name in America, is not as well known in Europe. There is no painting by Homer in a UK public collection.
The exhibition will be both chronological and thematic and focus on powerful imagery of conflict and its resolution in Homer's art. It will explore the complex social and geopolitical issues of his era - war, race, class, power - as well as broader concerns with the fragility of human life and dominance of nature, themes that resonate with people today.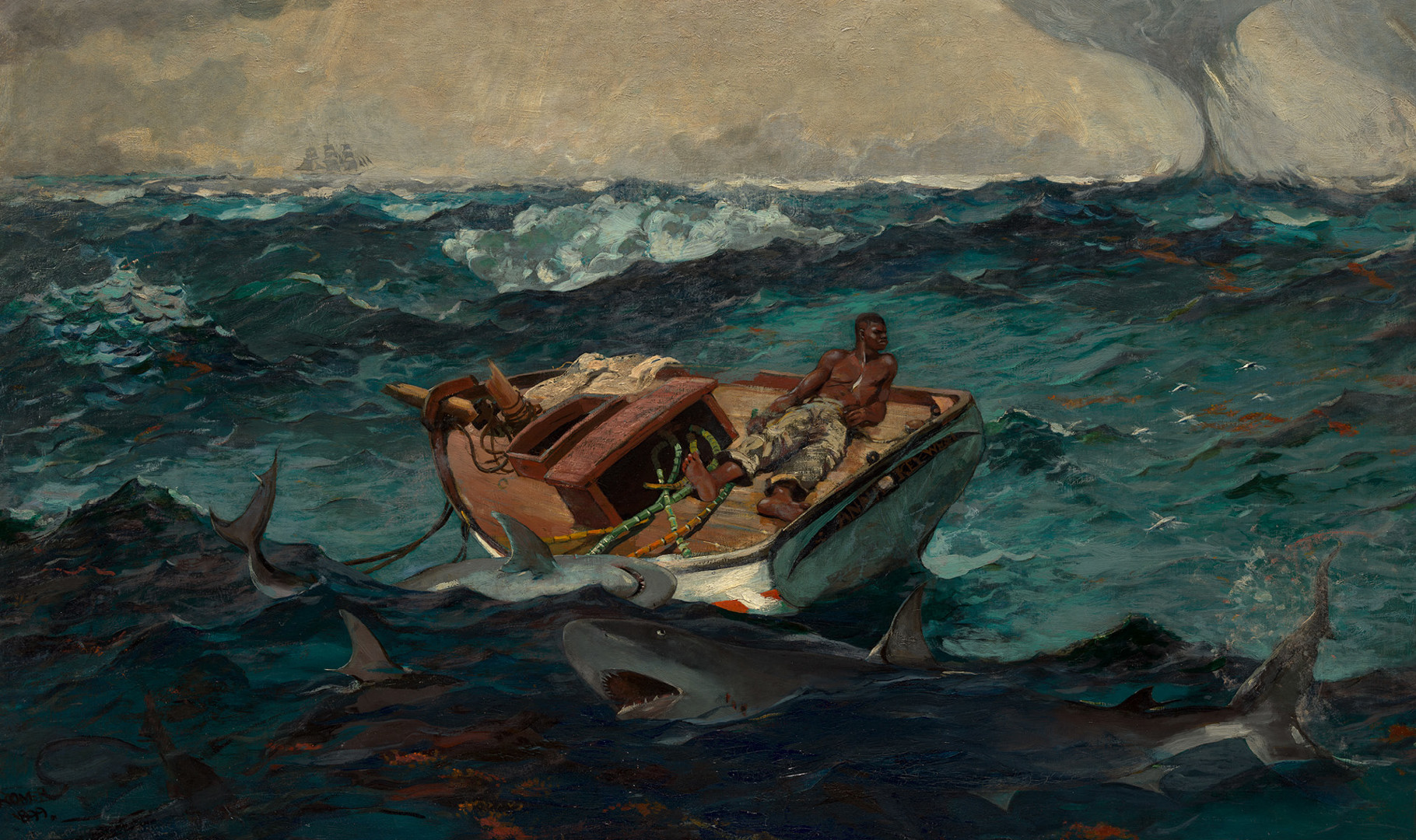 Winslow Homer: Force of Nature will show how the artist's capacity to distil complex situations to the most powerful, yet simple, compositions led to many of his paintings and dazzling watercolours becoming emblematic of post-Civil War American life. Largely self-taught, having begun his career as a commercial illustrator for US publications such as 'Harper's Weekly', Homer was adept at graphic art and visitors will see how he skilfully captured moments charged with historical significance and emotive power, without creating overtly political statements.
When working for 'Harper's', Homer realised that what he was witnessing could be the subject of a modern American painting. Highlights of the exhibition include his paintings from the front lines of the American Civil War (1861–1865), where he sketched battle scenes and camp life, the quiet moments as well as more violent ones. The Civil War, during which the Union States in the North and the Confederate States in the South fought - mainly on the question of slavery and its abolition - is the subject of one of his most famous paintings from this period, Prisoners from the Front (1866, The Metropolitan Museum of Art, New York), shown at the beginning of the exhibition. Inspired by an actual scene from the war, it depicts a Union general confronting several captured Confederate soldiers, including a fellow officer and Homer seems to focus on their common humanity. This painting was subsequently shown at the Universal Exhibition in 1867 in Paris, where Homer spent nearly a year in 1866-67. 'Prisoners' will be displayed with other Civil War-era pictures such as 'Defiance, Inviting a Shot before Petersburg' (1864, Detroit Institute of Arts, Detroit).
A section of the exhibition will be devoted to Homer's return to the United States when he continued to be interested in the lives of African Americans after the end of slavery in a period known as Reconstruction (1865–1877). Homer's 'A Visit from the Old Mistress' (1876, Smithsonian American Art Museum, Washington DC), depicting an encounter between a group of newly emancipated women and their former mistress conveys the silent tension between them as they confront a new future. 'The Cotton Pickers' (1876, Los Angeles County Museum of Art), features two Black women silhouetted against troubled skies while working in the cotton fields. Not large, it is nonetheless monumental in conception. This ambitious painting was acquired in New York in 1877 by a British cotton merchant who exhibited the painting at the Summer Exhibition of the Royal Academy of Arts, London, in 1878, marking Homer's British debut. Both paintings will be included alongside 'Dressing for the Carnival' (1877, The Metropolitan Museum of Art, New York).
The exhibition will also focus on Homer's time in England.  In 1881, he docked at Liverpool before heading to London where he visited the museums, studying ancient Greek and Roman antiquities at the British Museum and British painting at the National Gallery, including Constable's landscapes and Turner's oils and watercolours of peaceful seascapes and tumultuous scenes of storms and shipwrecks alike. From London, Homer headed to Cullercoats, a small fishing community on the North Sea near Newcastle-upon-Tyne, which provided him with poignant and inspirational motifs of the dangers and hardships of maritime life and of the unbridled power of the ocean. The exhibition will include paintings from this period such as 'Inside the Bar' (1883, The Metropolitan Museum of Art, New York) and 'The Gale' (1883-1893, Worcester Art Museum, Worcester). The latter picture envisions an astonishing scene in which the figures of a young Cullercoats mother and her child, alone and vulnerable against the dramatic onslaught of the elements, become allegorical statuesque figures of quiet determination and resilience. In 'The Life Line' (1884, Philadelphia Museum of Art, Philadelphia), one of Homer's masterpieces, painted upon his return to the United States, he seemed to simplify his art and to concentrate on the epic heroism of modern life.
Between 1884 and 1909, Homer travelled to the Bahamas, Cuba, Florida, and Bermuda where he created many watercolours which suited the subjects of transparent turquoise waters, lush vegetation, humid climate and dazzling tropical light. Homer considered these works as integral and important parts of his art and legacy. If on the surface they seemed cheerful and vivid travel pictures, they nonetheless addressed more serious social, cultural, and environmental issues. A few examples of these dazzling watercolours will be shown in the exhibition including 'A Garden in Nassau' (1885, Terra Foundation for American Art, Chicago), 'Hurricane, Bahamas' (1898, The Metropolitan Museum of Art, New York) and 'Natural Bridge, Bermuda' (1901, The Metropolitan Museum of Art, New York).  Homer would later use some of these Caribbean watercolours as preparatory sketches for important oil paintings.
His fascination with the Caribbean increased alongside his life-long engagement with the charged subjects of racial prejudice, geopolitics and ecology. This culminated with his landmark tropical painting: 'The Gulf Stream' (1899, reworked by 1906, The Metropolitan Museum of Art, New York). It was developed over many years from the first sketches made during his travels to the Bahamas in 1884 and 1898 to its purchase by the Met in 1906, one of the first paintings by the artist to enter the Met's collection.
'The Gulf Stream' depicts a lone Black man on board a small fishing boat which has lost its mast, adrift on a roiling sea, surrounded by sharks, with only a few stalks of sugar cane to sustain him and oblivious to a ship in the distance which Homer later added to the composition as a hopeful sign of rescue. The painting has been interpreted in turn as a reflection of the artist's sense of isolation after the death of his father, as a meditation on mortality and on the uneasy relationship between humans and the natural world. With its focus on an endangered Black man, it also references intricate social, political, and historical issues of the era, from the legacies of slavery to the imperialist ambitions of the United States in the aftermath of the Spanish-Cuban-American War. This highlight painting will be shown together with two preparatory studies: 'Distressed Boat (Sketch for 'The Gulf Stream')' (1885, The Metropolitan Museum of Art, New York) and 'Study for 'The Gulf Stream'' (1898-99, Cooper-Hewitt, National Design Museum, New York).
The exhibition will chart the final years of Homer's life when he increasingly retreated from large urban centres, living in nature on the rugged coast in Maine, where he painted scenes in which the human presence almost disappears, and which become symbolic reflections on mortality. Paintings such as 'Driftwood' (1909, Museum of Fine Arts, Boston) and 'Right and Left' (1909, National Gallery of Art, Washington DC) will be on show.
As well as being a formidable introduction to the art of Homer, 'Force of Nature' will build on the National Gallery's continuing successful strategy over the last 10 years of introducing British audiences to American art and follows exhibitions on George Bellows and the Ashcan painters, Frederic Church and Thomas Cole.
Christopher Riopelle, the National Gallery's Neil Westreich Curator of Post-1800 Paintings, says 'The opportunity to introduce the gamut of Homer's achievement to a British audience with many of his most ambitious paintings, and to underline the importance in that career of the two years he spent here at Cullercoats, carries the National Gallery's commitment to the display and study of American art to a new level.'
National Gallery Director, Dr Gabriele Finaldi, says 'Little known in Britain, Winslow Homer's paintings explore the power, grandeur and beauty of nature as well as the dangers it poses to human life. Conflict in human relations, the struggle for survival, and personal isolation are among his themes, treated both poetically and with dazzling technical bravura. The National Gallery is delighted to be sharing this exhibition with The Metropolitan Museum of Art in New York.'
Exhibition organised by the National Gallery, London, and The Metropolitan Museum of Art, New York.
The exhibition is curated by Christopher Riopelle, The Neil Westreich Curator of Post-1800 Painting at the National Gallery in collaboration with Stephanie Herdrich, Associate Curator of American Painting and Sculpture, and Sylvia Yount, Lawrence A. Fleischman Curator in Charge of The American Wing at The Met.
The Metropolitan Museum of Art exhibition, Winslow Homer: Crosscurrents, is on view until 31 July 2022.
For more information, visit nationalgallery.org.uk
Twitter @nationalgallery
Facebook @thenationalgallery
Instagram #nationalgallery
YouTube The National Gallery
Exhibition sponsored by

Supported by


Gregory Annenberg Weingarten

Dr Lee MacCormick Edwards Charitable Foundation
Notes to editors
Press view: Thursday 8 September 2022
Image credits
X11344
Winslow Homer
'The Gulf Stream', 1899 (reworked by 1906)
Oil on canvas
71.4 x 124.8 cm
The Metropolitan Museum of Art, New York
Catharine Lorillard Wolfe Collection, Wolfe Fund, 1906 (06.1234)
© The Metropolitan Museum of Art, New York
Priority booking opens to Members in July. Tickets will go on general sale later this summer. Members go free.
https://www.nationalgallery.org.uk/exhibitions/winslow-homer-force-of-nature
About the National Gallery
The National Gallery houses one of the greatest collections of European paintings in the world, which is free to visit and open 361 days of the year. The collection consists of over 2,300 paintings from the Middle Ages to the early 20th century.  All major traditions of Western European painting are represented, with artists including Titian, Monet, Velázquez, Rembrandt and Van Gogh. The Gallery is a world centre of excellence for the scientific study, art historical research and care of European paintings from the 13th to the early 20th century. More at nationalgallery.org.uk 
About White & Case
White & Case is a leading global law firm with lawyers in 45 offices across 31 countries. Among the first US-based law firms to establish a truly global presence, we provide counsel and representation in virtually every area of law that affects cross-border business. Our clients value both the breadth of our global network and the depth of our US, English and local law capabilities in each of our regions and rely on us for their complex cross-border transactions, as well as their representation in arbitration and litigation proceedings. To learn more about the Firm, our work on behalf of clients, and points of view from around the world please take a look at our Services and Our Thinking pages.
About the Terra Foundation for American Art
The Terra Foundation for American Art supports individuals, organizations, and communities to advance expansive understandings of American art. Established in 1978 and headquartered in Chicago, with an office in Paris, the Terra Foundation is committed to fostering cross-cultural dialogues on American art locally, nationally, and internationally, through its grant program, collection, and initiatives.
Press enquiries and images
Email National Gallery Press Office at press.external@nationalgallery.org.uk
Publicity images can be obtained from https://press.nationalgallery.org.uk/