The National Gallery's Patron HRH The Prince of Wales visits 'The Credit Suisse Exhibition: Dürer's Journeys: Travels of a Renaissance Artist' and 'Kehinde Wiley at the National Gallery: The Prelude'
Issued February 2022
The National Gallery had the honour today (Wednesday 9 February 2022) of welcoming its Royal Patron, HRH The Prince of Wales, to see its latest exhibitions 'The Credit Suisse Exhibition: Dürer's Journeys: Travels of a Renaissance Artist' and 'Kehinde Wiley at the National Gallery: The Prelude'.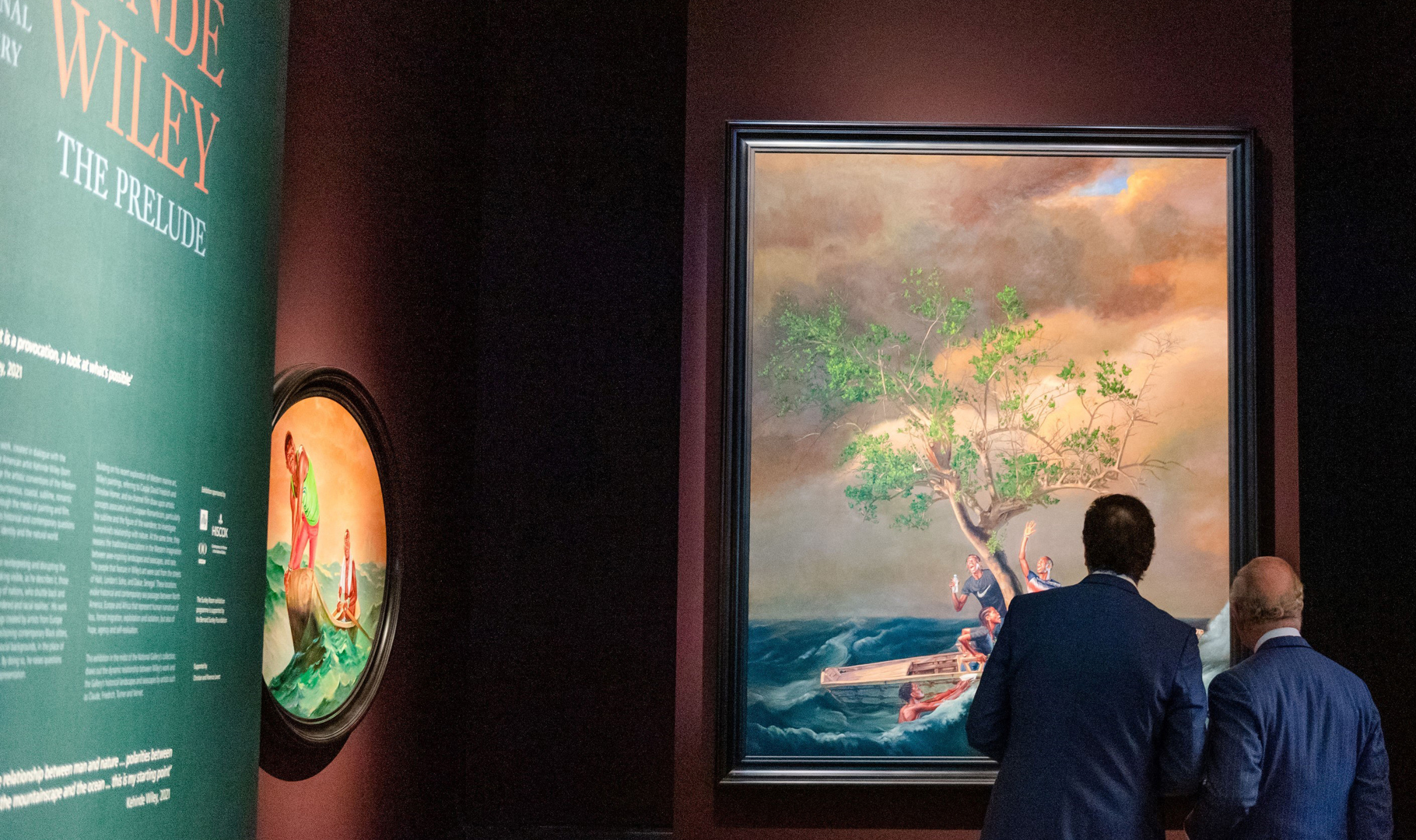 During his visit, The Prince of Wales toured the two exhibitions with the National Gallery Director, Dr Gabriele Finaldi and Chair of Trustees, John Booth, before meeting members of staff and other invited guests in the recently opened One Gallery Accommodation Hub.
The Hub has been created in an empty courtyard inside the National Gallery, formerly used for plant and parking bicycles, which has now been transformed into a superb office suite for more than 250 staff members.
The Prince of Wales and the National Gallery have enjoyed a long and beneficial association. The Royal Patronage was announced in 2016, and The Prince of Wales was previously a Trustee of the National Gallery from 1986 to 1993.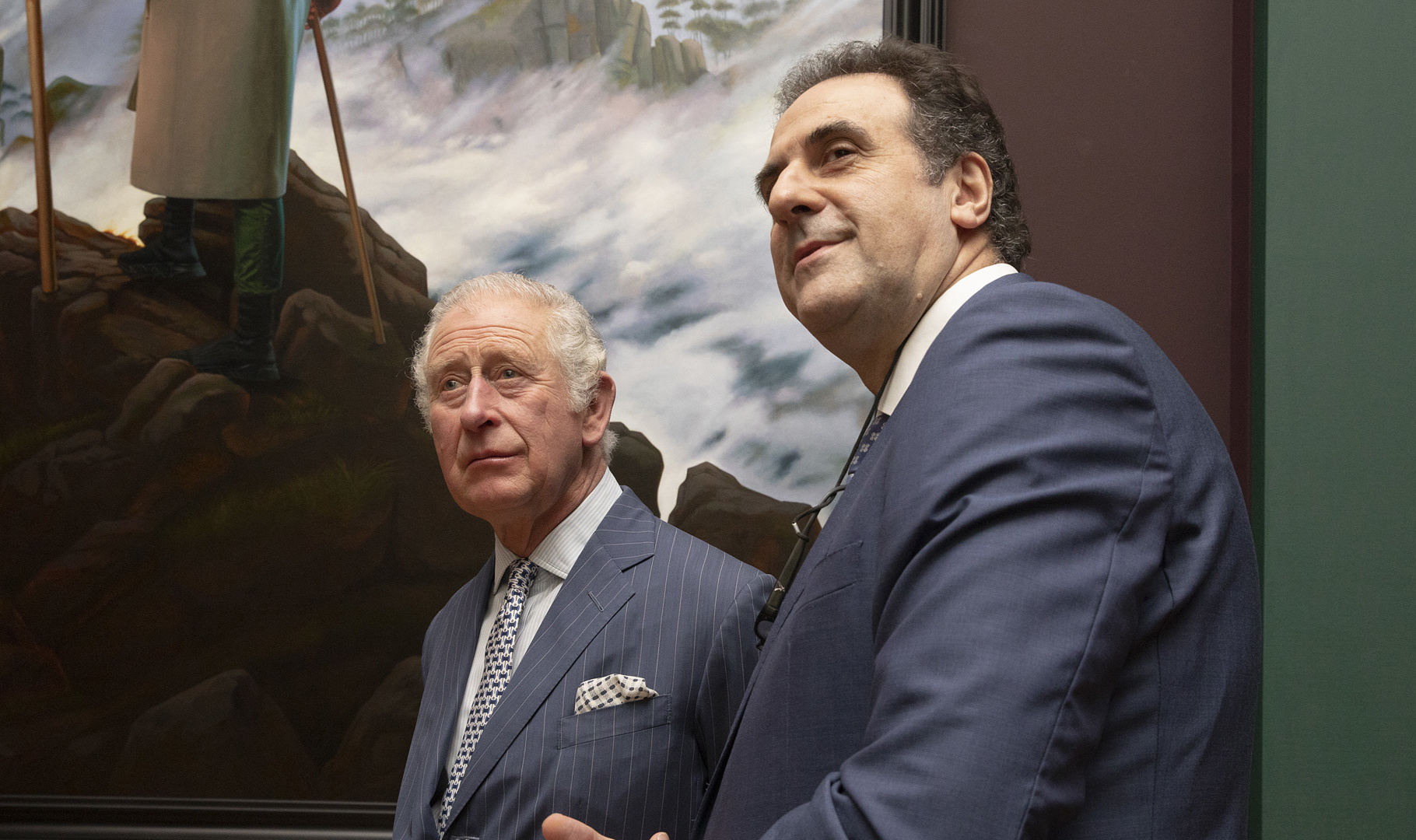 Commenting on the occasion of the Royal visit, John Booth, Chair of the National Gallery Trustees, said "We are delighted that our Patron, The Prince of Wales, has chosen to visit these significant exhibitions— the first major UK exhibition of German Renaissance artist Albrecht Dürer in nearly 20 years and the first UK national museum show for Kehinde Wiley, celebrated American artist and official portrait painter of President Barack Obama."
The National Gallery Director, Dr Gabriele Finaldi, added: "The Prince of Wales's friendship with the National Gallery is longstanding and we are very grateful for his ongoing support as we approach the Gallery's Bicentenary in 2024, as we care for the nation's pictures and exhibit great works of art for all."
Notes to editors
The National Gallery is one of the greatest art galleries in the world. Founded by Parliament in 1824, the Gallery houses the nation's collection of paintings in the Western European tradition from the late 13th to the early 20th century. The collection includes works by Bellini, Cézanne, Degas, Leonardo, Monet, Raphael, Rembrandt, Renoir, Rubens, Titian, Turner, Van Dyck, Van Gogh and Velázquez. The Gallery's key objectives are to enhance the collection, care for the collection and provide the best possible access to visitors.
Admission free.
More at nationalgallery.org.uk
Twitter @nationalgallery
Facebook @thenationalgallery
Instagram #nationalgallery
YouTube The National Gallery
For further information and images please contact the National Gallery Press Office on 020 7747 2865 or press@ng-london.org.uk.