The National Gallery and Art Fund foster new museum talent
2019-21 Curatorial Traineeships supported by Art Fund with the assistance of the Vivmar Foundation
Issued May 2020
The National Gallery and Art Fund are pleased to announce Southampton City Art Gallery and Museums Sheffield as their partners for two fully funded curatorial traineeships, supported by Art Fund with the assistance of the Vivmar Foundation.
Two new trainees, Jemma Craig and Corinna Henderson, have now finished six months of on-the-job curatorial training at the National Gallery, London, and are currently working from home on secondment for the partner organisations.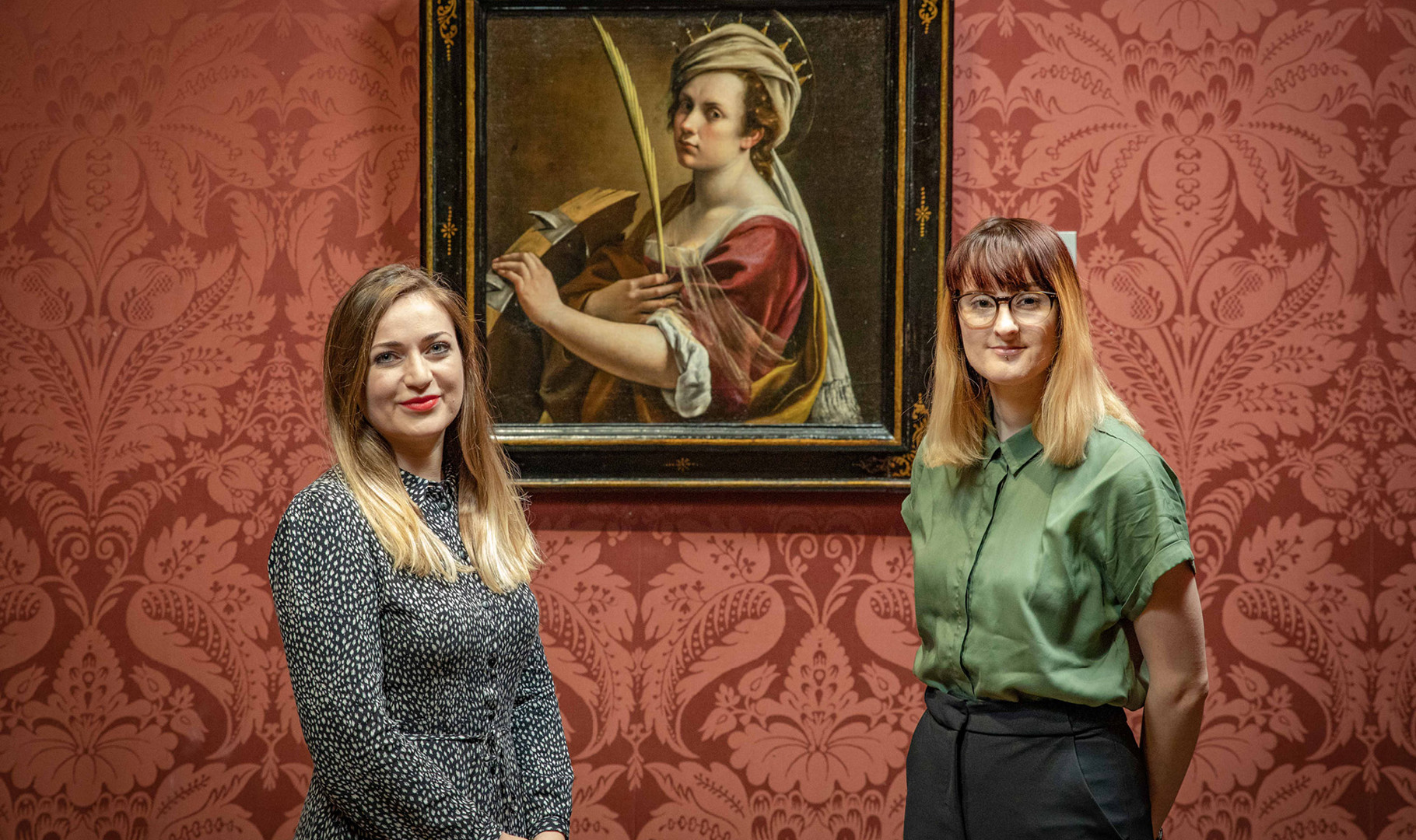 Jemma Craig is working with Southampton City Art Gallery, building on its longstanding relationship with the National Gallery. She is researching the history of Southampton and the emergence of the City Art Gallery. Her placement will result in an exhibition that will bring fresh perspectives to key European paintings in the Southampton collection.
Jemma has a BA in English from the University of Westminster, and MA in 20th- and 21st-century Literature from the University of Southampton. She has a keen interest in historic European paintings, and over the last four years has worked as a museum and gallery attendant, assisting with exhibitions research and installation at Southampton City Art Gallery including exhibitions such as 'George Shaw: My Back to Nature' (which originated at the National Gallery), 'British Art Show 8', and 'Leonardo Da Vinci: A Life in Drawing'.
Councillor Satvir Kaur, Cabinet Member for Homes and Culture, Southampton City Council, says: 'We are thrilled to be part of this fantastic national programme and even more delighted that Jemma, as a local resident, was successful in securing one of only two trainee positions. We appreciate that this is a difficult time for everyone, and it is important that people have access to the essentials and take care of their physical and mental health. For many, culture plays a valuable role in this and their daily lives. Jemma is going to be very much part of helping us to shape our long-term approach for the benefit of local, national and international audiences, and to bring us together in new and imaginative ways.'
Corinna Henderson is seconded to Museums Sheffield to research the city's collection of 18th- and 19th-century paintings, focusing on the reinterpretation of conventional narratives. Her work will result in a series of interventions in the Graves Gallery, accompanied by digital outputs including new film content.
Corinna has a BA in History of Art and Film from Manchester Metropolitan University and is currently studying for her MA History of Art part-time at Birkbeck, University of London. She has gained experience in a number of museums and galleries and earlier this year was awarded a Venice Biennale Research Fellowship from the British Council in partnership with Birkbeck.
Liz Waring, Curator of Visual Art at Museums Sheffield, says: 'We are delighted to be working with the National Gallery and grateful to Art Fund and the Vivmar Foundation for their generous support. This traineeship provides a fantastic opportunity to enhance our current work around exploring fresh perspectives on Sheffield's collections and offering new insights for our audiences today.'
Launched in 2011, the Curatorial Traineeship Programme was jointly established by the National Gallery and Art Fund as an important curatorial training programme for the UK museums sector. It plays a key role in addressing the need to maintain and develop collections expertise, in particular in relation to historic European paintings. Previous trainees have been placed at Manchester Art Gallery, Laing Art Gallery, Newcastle, Birmingham Museum & Art Gallery, York Art Gallery, Ferens Art Gallery, Hull, and Auckland Castle.
Dr Gabriele Finaldi, Director of the National Gallery says: 'We are grateful to Art Fund and the Vivmar Foundation for their continued support and very pleased with the success of the Curatorial Traineeship Programme, with all previous trainees well established in curatorial roles. The National Gallery is delighted to be able to make outstanding curatorial training more accessible to talented individuals with a passion for historic European paintings. We look forward to working with Southampton City Art Gallery and Museums Sheffield on supporting our new trainees in developing their expertise and showcasing highlights from our partners' collections.'
Jenny Waldman, Director of Art Fund, says: 'We are delighted to continue our long-standing partnership with the National Gallery, supporting their continuing collaboration with museums and galleries across the UK and developing the expertise of two talented young curators. I look forward to seeing Jemma and Corinna's contributions to Southampton City Art Gallery and Museums Sheffield when their doors reopen.'
For further press information please contact: The National Gallery press office on 020 7747 2865 or email: press@ng-london.org.uk  or for Art Fund Lucy Hawes on 020 7225 4804 or at LHawes@artfund.org or Rachel Mapplebeck on 020 7225 4820 or at RMapplebeck@artfund.org
Notes to Editors
Image caption: Corinna Henderson and Jemma Craig in front of Artemisia Gentileschi's 'Self Portrait as Saint Catherine of Alexandria', acquired with assistance from Art Fund, at the National Gallery in 2019 © The National Gallery, London
The Programme
The National Gallery's Curatorial Traineeship Programme, supported by Art Fund with the assistance of the Vivmar Foundation, was initiated in 2011. The Programme provides the opportunity to undertake six months of curatorial skills training at the National Gallery in London, followed by a placement of a further 16 months at a regional partner museum or gallery to work on a project that sheds new light on historic European paintings, with clearly defined public outcomes. Art Fund and the National Gallery are committed to increasing access to a curatorial career for people currently underrepresented in the museum and gallery workforce.
Southampton City Art Gallery
Currently in its 81st year, Southampton City Art Gallery holds one of the finest collections of art in the south of England, holding Designated status from Arts Council England. Currently comprising over 5,000 works and spanning eight centuries, the collection is an outstanding educational resource that can trace the history of European art from the Renaissance to the present day. The core of the collection is British 20th century and contemporary art with work by over 30 Turner Prize artists. The Gallery runs a series of contemporary art and historic exhibitions which is complemented by a vibrant programme of learning activity. It is part of Southampton City Council's Cultural Services that is responsible for two other museums, the archive, libraries, archaeology, heritage assets, events and tourism.
See more at www.southamptoncityartgallery.com 
Museums Sheffield
Museums Sheffield is the charity that runs the Millennium Gallery, Graves Gallery and Weston Park Museum, and cares for the city's collection of art, human history and natural science. Established in 1998, it strives to provide inspirational museums and galleries where people can reflect upon the past, question the present and imagine the future, connecting visitors with each other and the wider world.
Millennium Gallery:
The Millennium Gallery is one of modern Sheffield's landmark public spaces. As well as being home to the city's unique Ruskin and Metalwork collections, it hosts a varied programme of temporary exhibitions bringing nationally and internationally significant work to the city, showcasing Sheffield's collections and shining a spotlight on the work of local artists and makers.
Graves Gallery:
The Graves Gallery is a celebration of the city's historic fine art collection and presents contemporary art of every description through a diverse temporary exhibition programme. It takes its name from JG Graves, the businessman who funded the building of the gallery and donated many of the city's artworks.
Weston Park Museum:
Weston Park Museum tells the story of Sheffield from prehistory to the present day. A major redevelopment in 2016 has helped us enable visitors to dig deeper into the city's collections, while a vibrant changing exhibition programme continues to offer visitors further reasons to return. The museum features collections spanning visual art to natural science and is also home to one of the oldest weather stations in the country.
About the National Gallery
The National Gallery houses one of the greatest collections of European paintings in the world, which is free to visit and open 361 days of the year. The Collection consists of over 2,300 paintings from the Middle Ages to the early 20th century. All major traditions of Western European painting are represented, with artists including Titian, Monet, Velázquez, Rembrandt and Van Gogh. The Gallery is a world centre of excellence for the scientific study, art historical research and care of European paintings from the 13th to the early 20th century. More at www.nationalgallery.org.uk
About Art Fund
Art Fund is the national fundraising charity for art. It provides millions of pounds every year to help museums to acquire and share works of art across the UK, further the professional development of their curators, and inspire more people to visit and enjoy their public programmes. Art Fund is independently funded, supported by the 159,000 members who buy the National Art Pass, who enjoy free entry to over 240 museums, galleries and historic places, 50% off major exhibitions, and receive Art Quarterly magazine. Art Fund also supports museums through its annual prize, Art Fund Museum of the Year, which was won by St Fagans National Museum of History, Cardiff, in 2019, and through a range of digital platforms. www.artfund.org