The National Gallery and Art Fund announce museum partners in Birmingham and Bristol in search for new curator talent
2022-23 Curatorial Traineeships supported by Art Fund with the assistance of the Vivmar Foundation
Issued October 20201
The National Gallery has announced two regional museum partners to help train the next generation of curators.
The Barber Institute of Fine Arts, Birmingham, and Bristol Museum & Art Gallery will join the National Gallery in offering the 2022-23 Curatorial Traineeships, supported by Art Fund with the assistance of the Vivmar Foundation.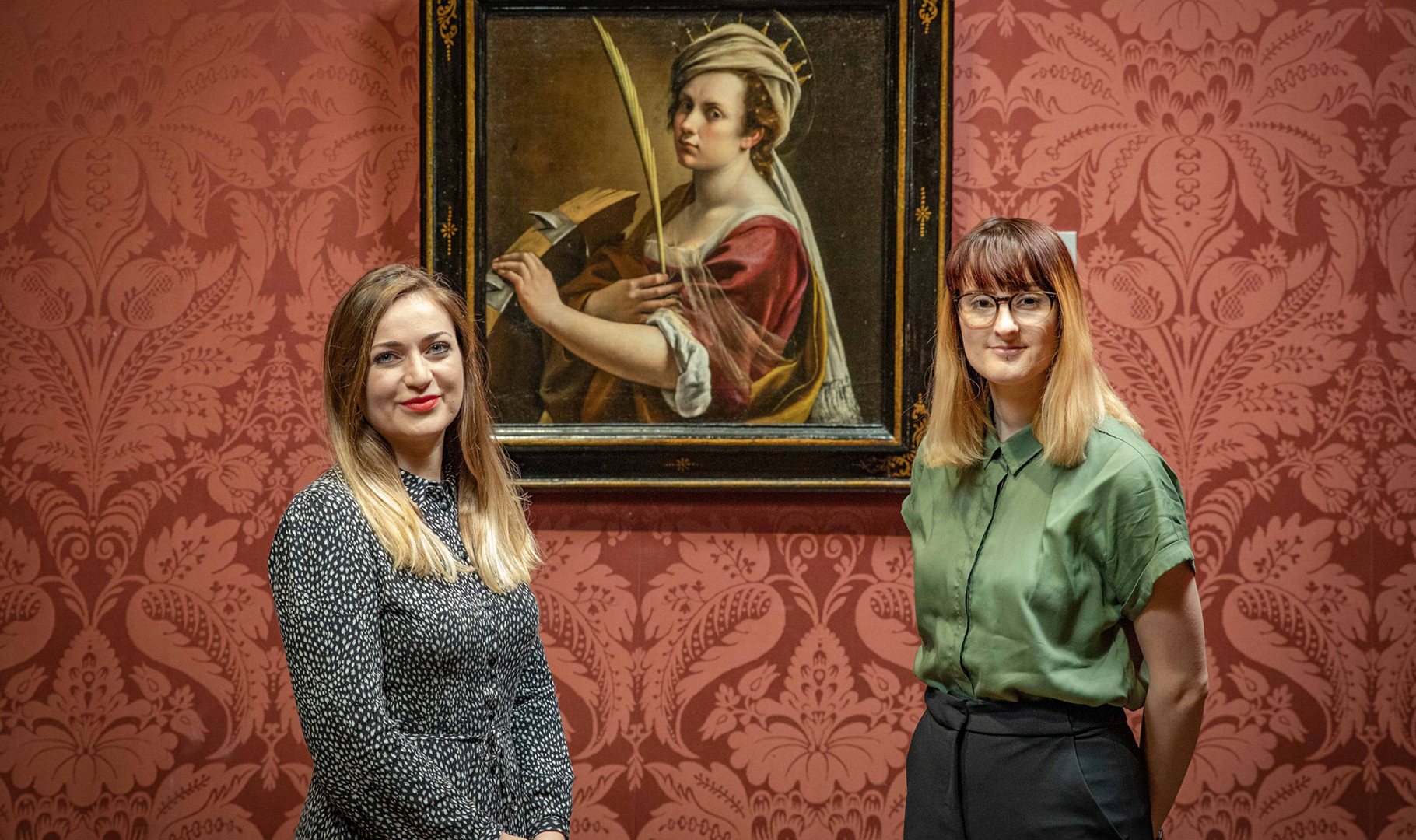 The fully funded Curatorial Traineeships will run for 22 months from February 2022 to December 2023.
Since 2011, the National Gallery has offered a training programme for future curators in partnership with regional museums and galleries. Previous Trainees are now well established in the sector, fulfilling roles ranging from Assistant Curator to Assistant Keeper.
Supported by the National Gallery, the two partner museums each provide one Curatorial Trainee with the opportunity to work at their site for 16 months. During this time the Trainees will develop a project that sheds new light on the paintings within the partner museum's collection. In the case of one of the current trainees, Jemma Craig, this initiative has contributed to Creating a National Collection: The Partnership between Southampton City Art Gallery and the National Gallery, culminating in an exhibition and publication.
The Curatorial Traineeship Programme intends to create new pathways into a curatorial career for those currently underrepresented in the museum workforce. Museum applicants will propose a project based around European paintings (before 1900) in their collections. This may include new interpretation, a (re-) display or exhibition, a publication, digital content, a public programme, a new event, a workshop with a particular community group, or a combination of some or all of these activities. Proposals linking historic and contemporary art are also welcome.
The National Gallery will employ two Curatorial Trainees on 22-month fixed-term contracts and provide initial 6-month training, covering curatorial skills, research methodology, provenance research, language training and involvement in a wide range of relevant Gallery activities.
Applications can be downloaded from: https://www.nationalgallery.org.uk/about-us/jobs/working-at-the-gallery
Application forms should be submitted by 11.59pm on Sunday 31 October 2021. For an informal conversation and to discuss any questions before submitting your application please contact: Anna Murray, National Partnerships Programmer anna.murray@ng-london.org.uk
For further press information please contact: The National Gallery press office on 020 7747 2865 or email: press@ng-london.org.uk  or for Art Fund, Ruth Findlay, Head of Press, Art Fund on rfindlay@artfund.org
Notes to editors
Image caption: Corinna Henderson and Jemma Craig in front of Artemisia Gentileschi's 'Self Portrait as Saint Catherine of Alexandria', acquired with assistance from Art Fund, at the National Gallery in 2019 © The National Gallery, London
The Programme
The National Gallery's Curatorial Traineeship Programme, supported by Art Fund with the assistance of the Vivmar Foundation, was initiated in 2011. The Programme provides the opportunity to undertake six months of curatorial skills training at the National Gallery in London, followed by a placement of a further 16 months at a regional partner museum or gallery to work on a project that sheds new light on historic European paintings, with clearly defined public outcomes. Art Fund and the National Gallery are committed to increasing access to a curatorial career for people currently underrepresented in the museum and gallery workforce.
About the National Gallery
The National Gallery houses one of the greatest collections of European paintings in the world, which is free to visit and open 361 days of the year. The collection consists of over 2,300 paintings from the Middle Ages to the early 20th century. All major traditions of Western European painting are represented, with artists including Titian, Monet, Velázquez, Rembrandt and Van Gogh. The Gallery is a world centre of excellence for the scientific study, art historical research and care of European paintings from the 13th to the early 20th century. More at www.nationalgallery.org.uk
About Art Fund
Art Fund is the national fundraising charity for art. It provides millions of pounds every year to help museums to acquire and share works of art across the UK, further the professional development of their curators, and inspire more people to visit and enjoy their public programmes. In response to Covid-19 Art Fund made £3.6 million in urgent funding available to support museums through reopening and beyond, including Respond and Reimagine grants to help meet immediate need and reimagine future ways of working. A further £2 million has been made available in 2021 for Reimagine projects. Art Fund is independently funded, supported by the 131,000 members who buy the National Art Pass, who enjoy free entry to over 240 museums, galleries and historic places, 50% off major exhibitions, and receive Art Quarterly magazine. Art Fund also supports museums through its annual prize, Art Fund Museum of the Year. The winner of Art Fund Museum of the Year 2021 is Firstsite in Colchester. www.artfund.org
About the Barber Institute of Fine Arts
The Barber Institute of Fine Arts is the art gallery, principal art collection and original concert hall for the University of Birmingham. It was founded in 1932 'for the study and encouragement of art and music' by Lady Barber, who stipulated the acquisition of works 'of that standard of quality required by the National Gallery and the Wallace Collection'.
Housed in Birmingham's most significant Art Deco building, designed by Robert Atkinson and recently assigned a Grade I listing, the Barber Institute is home to a National Designated Collection, exclusively acquired and owned by the Henry Barber Trust and with holdings that now include some 160 paintings, dating from the early Renaissance through to the late 20th century, more than 800 works on paper, as well as sculpture, decorative arts and one of the most important caches of Roman, Byzantine and medieval coins in the world.
The collection features key works by Simone Martini, Bellini, Rubens, Gainsborough, Reynolds, Turner, Whistler, Rossetti, Monet, Manet, Degas, Renoir, Rodin, Gauguin, Van Gogh, Bellows, Magritte and Auerbach. More at www.barber.org.uk, on Twitter @BarberInstitute, Instagram @barberinstitute and Facebook 'The Barber Institute of Fine Arts'
About Bristol Museum & Art Gallery
Bristol Museum & Art Gallery is part of Bristol Culture & Creative Industries, a local authority service made up of 5 accredited museums and the Bristol Archives together attracting over a million visitors every year. Bristol Museum & Art Gallery is home to diverse collections from art to archaeology, history to industry, the natural and the wider world. The fine art collection at Bristol Museum & Art Gallery comprises approximately 23,000 paintings, drawings and watercolours, prints and sculptures. It covers a wide field of both the British and European Schools from the early Renaissance to the contemporary. It is particularly strong in French 19th-century painting, including works by Gustave Courbet and Alfred Sisley, and British 19th- and 20th-century art. Contemporary artists in the collection include Ai Weiwei and Banksy. Bristol also has a significant collection of Old Masters, which encompasses Italian, French, German, English and Netherlandish paintings and works on paper, with key works by Taddeo Gaddi, Giovanni Bellini, Lucas Cranach, Claude Corneille de Lyon, Jacob van Ruisdael, Willem van de Velde, Bernardo Bellotto and many others. Contrary to Hubert von Herkomer's recommendation on the opening of Bristol Art Gallery in 1905 to 'keep the collection British', the art gallery began acquiring these pictures almost from the outset, but particularly by way of gift and bequest in the 1930s and 1940s.
More at www.bristolmuseums.org.uk, Instagram @bristolmuseums, Twitter @bristolmuseum and Facebook 'Bristol Museum & Art Gallery'.