Take One Picture: An Exhibition of Work by Primary Schools inspired by Rubens's 'View of Het Steen in the Early Morning'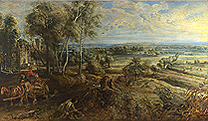 Issued April 2008
28 April - 13 July 2008
Room 1
Admission free
Since 1995 the National Gallery has challenged primary schools from across the UK to use paintings in the classroom as a focus for cross-curricular teaching and learning. Hundreds of schools have taken up this challenge and many of these submit work to the annual Take One Picture exhibition.
Each year a different painting from the collection is chosen to provide a starting point in exploring subjects across the National Curriculum. This year's exhibition shows some of the work produced and shares creative ways of responding to the featured National Gallery painting An Autumn Landscape with a View of Het Steen in the Early Morning by Peter Paul Rubens.
Work from ten schools has been selected to demonstrate the wide range of skills, knowledge and understanding that can be gained from taking just one picture as a stimulus.
The exhibiting schools are:
Castlecroft Primary School, Wolverhampton
Enborne CE Primary School, Newbury, Berkshire
Esher Church School, Surrey
Maun Infant & Nursery School, New Ollerton, Nottinghamshire
Ruskin Junior School, Swindon, Wiltshire
Southam Primary School, Warwickshire
St Mary's CE VC Primary School, Bridport, Dorset
St Nicholas CE Primary School, Radstock, Bath
Takeley Primary School, Bishops Stortford, Hertfordshire
Wheeler Primary School, Hull
While some of these schools are new to the Take One Picture scheme, others have embedded this way of working into their yearly planning.
Highlights of this year's exhibition are:
Puppet theatres made by children of different ages working together
A collage animation by 5- and 6-year-olds exploring the effects of pollution on the environment
A model of the imagined interior of Rubens's house made by every pupil from one school
Examples of how field trips to farms and rural activity centres can promote art-making, science work and writing
The approach promoted by the scheme has been so successful that now some regional museums and galleries are offering similar programmes. A network of locally and nationally supported opportunities for Initial Teacher Education students has been building since 2003 in partnership with the National Gallery; the Ashmolean Museum, Oxford; the Walker Art Gallery, Liverpool; Nottingham Castle; and Oxford Brookes, Edge Hill and Nottingham Trent Universities.
This work is supported by the Department of Culture, Media and Sport and the Department for Children, Schools and Families.