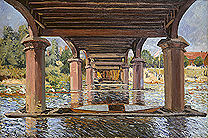 Issued August 2008
12 November 2008 - 15 February 2009
Sunley Room
Admission free
Alfred Sisley (1839–1899) was one of the greatest landscape painters of the 19th century and a leading figure in the Impressionist movement. Yet Sisley, the only 'Englishman' among the French Impressionists, remains a relatively unknown figure to many.
The National Gallery celebrates the artist and his work with 'Sisley in England and Wales', an exhibition focused entirely on his depiction of British landscapes, bringing to the public a rare opportunity to see the unique qualities of the British landscape rendered in an Impressionistic style.
Born in Paris to English parents, Sisley always remained a British subject and the United Kingdom is the only country he visited outside France. However, Sisley undertook painting campaigns in the UK only twice: in 1874 and in 1897.
Executed almost a quarter of a century apart, they reveal Sisley at two of the most creative moments of his life. This exhibition will bring these two groups of paintings together for the first time, with loans from private collections and museums in the UK, Europe and the USA.
In the summer of 1874, Sisley came to England for his first painting campaign. The pictures resulting from this trip were a particularly strong and vibrant group of works that have long been among the artist's most popular.
The exhibition will explore the Thames as the focal point of Sisley's 1874 English experience, both as a working river and as a pleasure ground. This radiant series of paintings bear witness to his fascination with the busy life of the river. The river scene 'View of the Thames: Charing Cross Bridge' (private collection, on loan to the National Gallery, London) is the only canvas Sisley painted when in London at this time.
The rest of his subjects were found at Hampton Court and along the west of the Thames in the nearby riverside village of East Molesey. In these vivid and luminous works, Sisley captured the river in colourful scenes of suburban sociability: boating parties, swimming, and strolling under sunshine. Some of these scenes can be seen in 'Regatta at Hampton Court' (private collection, Switzerland) and 'Molesey Weir, Hampton Court, Morning' (The National Gallery of Scotland, Edinburgh).
'Sisley in England and Wales' also features some of the only known seascapes the artist ever produced. In the summer of 1897, Sisley embarked on a final visit to Britain, when he came to marry his long-term partner Eugénie Lescouzec in Wales.
After a brief stay in London and Cornwall, the couple took lodgings at Penarth, a seaside resort near Cardiff, and at Langland Bay near Swansea. Here, at the very end of his life, Sisley portrayed with remarkable maturity and bravura skill the ruggedly beautiful coast of Wales.
Enthralled by windy cliffs, Sisley captured the distinctive light effects on the sea and the tidal ranges in the Bristol Channel, as in 'Lady's Cove, Langland Bay, Morning' (Amgueddfa Cymru – National Museum Wales).
Other freely painted coastal views portray waves crashing against a mighty rock known as Storr's Rock, among them 'Storr's Rock, Lady's Cove, Evening' (Amgueddfa Cymru – National Museum Wales) or 'Storr's Rock, Rotherslade Bay from below the Osborne Hotel' (Amgueddfa Cymru – National Museum Wales). The Welsh landscapes were to be among his last paintings.
For further press information please contact:
Natalia Yañez Exner on 020 7747 2532 or e-mail natalia.yanezexner@ng-london.org.uk
Notes to editors
'Sisley in England and Wales' is open from 12 November 2008 to 15 February 2009, every day (except 24–26 December and 1 January). Admission to the exhibition is free.
Organisation
Sisley in England and Wales is organised jointly by the National Gallery, London, and Amgueddfa Cymru, National Museum Wales, Cardiff, where the exhibition will follow from 7 March to 14 June 2009. The exhibition is curated by Christopher Riopelle, Curator of Post-1800 Paintings at the National Gallery, London.
Dates and Opening Hours
Press View: 11 November 2008, 10.30am–1.30pm
Open to public: 12 November 2008 – 15 February 2009
Daily 10am–6pm, Wednesdays until 9pm
Last admission 5.15pm (8.15pm Wednesdays)
Closed 24–26 December, 1 January
Images
Publicity images for Sisley in England and Wales can be obtained from http://press.ng-london.org.uk.
To obtain a username please contact the National Gallery Press Office, telephone 020 7747 2865 or e-mail press@ng-london.org.uk
Booklet
An accompanying booklet, 'Sisley in England and Wales', written by exhibition curator Christopher Riopelle, with the assistance of Ann Summer, will be published by the National Gallery Company in November 2008, price £7.95.
ISBN: 9781857094138. 56 pages, Paperback. Available from the National Gallery Shops (telephone +44 (0)207 747 2870, e-mail mailorder@nationalgallery.co.uk or online at www.nationalgallery.co.uk) as well as from other bookshops throughout the UK