5 March 2014
The National Gallery was the UK's second most popular visitor attraction in 2013, with over 6 million visitors for the first time in its history.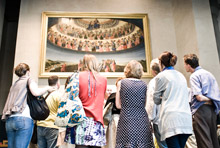 Figures released today by the Association of Leading Visitor Attractions (ALVA) show the National Gallery had 6,031,574 visitors in 2013, an increase of 14% on the previous year.
The Gallery was second only to the British Museum, which had 6,701,036 visitors. In third place was the Natural History Museum with 5,356,884 visitors, followed by the Tate Modern with 4,884,939 visitors. 
Overall figures for ALVA members saw an average increase of 6% on 2012 visitor numbers. London attractions had a 12% increase, while both England and Scotland had a 5% increase. The glorious summer had an effect on outdoor attractions, which showed an 8% improvement.
Susan Foister, Director of Public Engagement said:
"We were delighted to welcome so many visitors to the National Gallery in 2013. The extremes of weather last year proved to be no barrier to enjoyment of the Gallery, and we continue to see significant increases in our overseas visitors. With its world-renowned collection of paintings and its location in Trafalgar Square, the National Gallery continues to be an extremely popular London destination and we look forward to welcoming more visitors in summer 2014."
About ALVA
ALVA's 56 members are the UK's most popular, iconic and important museums, galleries, palaces, castles, cathedrals, zoos, historic houses, heritage sites, gardens and leisure attractions. They comprise over 2000 tourist sites, hosting over 100 million domestic and overseas visitors each year - around 25% of the visits made annually in the UK.