Issued January 2021
9 October 2021 – 3 January 2022
Ground Floor Galleries
Admission charge
A landmark exhibition of works by Nicolas Poussin (1594–1665) – the first ever to focus on his pictures of dancers and revellers – will open at the National Gallery in autumn 2021.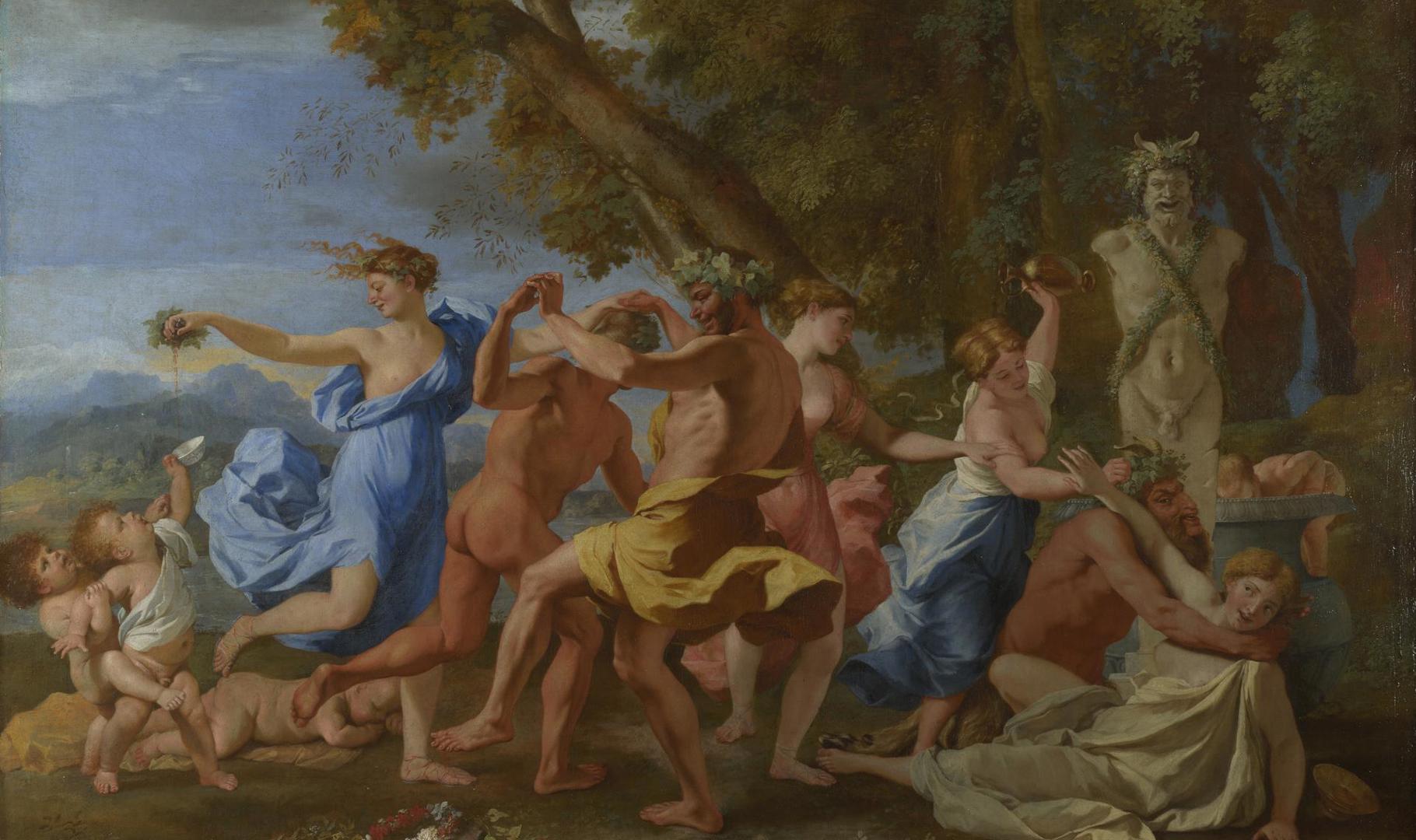 Nicolas Poussin is an artist's artist. For centuries, his works have been hugely influential, inspiring artists as diverse as David and Cézanne, Picasso and Bacon. Yet Poussin is sometimes overlooked by the public who often find his paintings cold, difficult or overly erudite. Art historians have tended to characterise him as a philosopher, rather than a painter, and his pictures are rarely presented in a warm or approachable way. 'Poussin and the Dance' intends to challenge this perception, exploring a part of the artist's production that has never been examined before: his depictions of dance.
'Poussin and the Dance' will include wild, raucous and surprisingly joyous scenes, showing whirling, cavorting figures who are either half-naked or too drunk to hold themselves up. It will cast the French classical artist in a completely new light, showing how he grappled with the challenges of arresting movement and capturing the expressive potential of the body.  
Around twenty paintings and drawings from public and private collections around the world will be shown for the first time alongside some of the celebrated Classical antiquities that inspired them. These works are being seen together for the first time in a generation and will allow visitors to trace Poussin's influences and the sophisticated translations he made between marble, paint and paper.
The exhibition focuses on Poussin's early Roman career, from his arrival in the city in 1624 until about 1640 when he was called back to France to serve as First Painter to the King under Louis XIII
As a young man, Poussin was desperate to get to Rome. Finally arriving in the city on his third attempt – having had two thwarted journeys take him as far as Florence and Lyon – he threw himself into the Classical world he saw around him, drawing inspiration from antique sculptures and bas reliefs as well as the works of artists such as Titian and Raphael. Many of the most celebrated antiquities he knew depicted dancers, and soon Poussin himself took on the challenge of capturing dance on paper, in paint, and even in clay.
When choreographing his compositions, he created wax figurines which he arranged in a kind of model theatre (or 'grande machine'). Key to bringing Poussin and his working methods to life in the exhibition will be not only the juxtaposition of antiquities, drawings and paintings, but also a reconstruction of some of these wax figurines.
This exhibition offers visitors the opportunity to rediscover Poussin in a fresh, new, exciting light, to appreciate the paradox between his diligent working process and the joyful, carefree scenes he created, as well as the ingenious solutions he found to bring the dances and riotous movement of the ancient world to life.
Exhibition organised by the National Gallery, London and the Getty Museum, Los Angeles.
NOTES TO EDITORS
Nicolas Poussin was born at Les Andelys in Normandy and first trained in Rouen. From 1612 he lived in Paris and in 1624 travelled via Venice to Rome, where he stayed for most of his life.
His sensuous early canvases such as The Nurture of Bacchus reflect 16th-century Venetian art, especially that of Titian. He studied antique remains and his art reflects both this and an appreciation of Raphael.
Poussin read ancient writers such as Ovid and attempted to recreate ancient myth and history in his works.
Poussin mainly painted easel paintings for private patrons. His larger works for Louis XIII, made from 1640 to 1642 on his return to Paris, were less successful. His scholarly patrons in Rome and Paris included the antiquarian Cassiano dal Pozzo and the notable art collector, Cardinal Richelieu.
Poussin sketched in the Campagna, the countryside around Rome, with Claude, and from the late 1630s began to paint landscapes. He brought a powerful discipline to the composition of his paintings, which enhanced the solemnity of their subjects. In his later years he developed an intensely personal style in his religious and allegorical works.
IMAGES
NG62, Nicolas Poussin, A Bacchanalian Revel before a Term, 1632–3 © The National Gallery, London
FOR MORE INFORMATION AND IMAGES
E-mail National Gallery Press Office at press@ng-london.org.uk
Publicity images can be obtained from https://press.nationalgallery.org.uk/