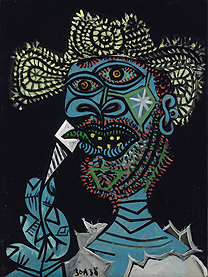 Issued December 2008
25 February - 7 June 2009
Room 1
Admission free
The National Gallery's first exhibition dedicated to Pablo Picasso reveals how the greatest artist of the 20th century pitted himself against the great European painting tradition.
Disciples be damned... It's only the masters that matter.
Those who create... (Pablo Picasso)
Seizing on the signature themes, techniques and artistic concerns of painters such as Velázquez, Rembrandt and Cézanne, Picasso transformed the art of the past into 'something else entirely', creating audacious paintings of his own. Sometimes his 'quotations' from the past were direct, at other times more allusive and, occasionally, full of parody and irreverence.
'Picasso: Challenging the Past' features over 60 of the artist's seminal works and focuses on the enduring themes of European art history and his own career, with sections on the self portrait, characters and types, the nude, still life, models and muses and the artist's later 'Variations'. Every major period of Picasso's oeuvre is represented with loans from among the leading public and private collections of Europe and North America.
Picasso's complex self portraits attest to his deep fascination with a genre tackled by many of the artists he admired most. In 'Self Portrait with a Wig', 1897 (Museu Picasso, Barcelona), the sixteen-year-old depicts himself as an 18th-century gentleman, manipulating his appearance, challenging the Old Masters but also paying tribute to Goya and Rembrandt. Later in life, 'The Artist in front of his Canvas', 1938 (Musée National Picasso, Paris) shows the fifty-seven-year-old as the embodiment of the modern master, with palette and brushes in hand.
The artist's close examination of portraits and genre paintings inspired a startling community of traditional male characters and 'types' in his work. In his 'Portrait of Jaime Sabartés', 1939 (Museu Picasso, Barcelona) Picasso recasts his long-serving secretary, who had followed him from Barcelona, in the guise of a Spanish nobleman of the 16th century. In sharp contrast, the icon-like 'Child with a Dove', 1901 (on loan to the National Gallery from a private collection), harks back to traditional images of the Christ child, but in style it echoes Gauguin and Van Gogh.
An extraordinary painter of women, Picasso continually celebrated female beauty through the representation of the nude. The artist adapted the conventions of this well established genre to his own vocabulary and successive styles. Like Ingres, Picasso looked back to the purity and monumentality of the antique, but exaggerated and transformed it, as seen in his masterly 'Large Bather' of 1921 (Musée de l'Orangerie, Paris).
His late bold reclining nudes, such as 'Nu couché', 1969 (private collection) radically challenged a tradition which is strongly represented in the National Gallery by masterpieces such as Velázquez's 'The Rokeby Venus', 1647–51.
Meanwhile, the monumental 'Women at their Toilette', 1956 (Musée National Picasso, Paris) attests to the remarkable influence of Degas's bathers, such as the National Gallery's 'Combing the Hair' of 1896.
A section on the artist's arresting still lifes, including 'Skull with Jug', 1953 (Nahmad Collection, Switzerland), reveals a highly informed dialogue with artists like Chardin, Goya and Delacroix, as well as more contemporary figures, notably Van Gogh, Gauguin and Cézanne. In the cubist 'Still Life with Glass and Lemon', 1910 (Cincinnati Art Museum), Picasso fragments form into a riot of intersecting planes, without ever losing sight of the tradition of still-life painting from which it is drawn.
The final room of the exhibition shows the climax of Picasso's increasing obsession with art history. Late in life, he conceived a series of bold 'Variations' after masterpieces of the 17th and 19th centuries. The young artist first saw Velázquez's 'Las Meninas' when he was fourteen. Over 75 years later, he completed a series of deeply personal interpretations of the same painting - three of which are to be displayed in London – including 'The Infanta Margarita', 1957 (Museu Picasso, Barcelona). Picasso's most powerful tribute to Velázquez's genius, 'Las Meninas' (after Velázquez), 1957 (Museu Picasso, Barcelona) depicts the 17th-century Spanish artist towering over an astonishingly complex scene, with the authority of the ultimate master.
A group of four 'Variations' after Manet's 'Le Déjeuner sur l'Herbe', painted between 1960 and 1961 (Musée National Picasso, Paris) provides another highlight of the exhibition. Now admired as a masterpiece, Manet's original canvas outraged the 19th-century establishment. In transforming the painting for the modern age, Picasso shatters conventions once more.
The exhibition makes subtle reference back and forth between the works of Picasso and the National Gallery's own incomparable collection of Old Master paintings, which is on display in the main rooms of the Gallery upstairs. Visitors to the exhibition will be invited to re examine the National Gallery's collection, as it were, through the eyes of Picasso.
Images
Publicity images for 'Picasso: Challenging the Past' can be obtained from http://press.ng-london.org.uk
To obtain a username please contact the National Gallery Press Office on 020 7747 2865 or
e-mail press@ng-london.org.uk
For press information please contact Thomas Almeroth-Williams at thomas.almerothwilliams@ng-london.org.uk or 020 7747 2512.
For public information, please contact 020 7747 2885 or information@ng-london.org.uk
The National Gallery, Trafalgar Square, London WC2N 5DN
Additional Information
Organisation
'Picasso: Challenging the Past' has been organised jointly by the National Gallery, London and the Réunion des Musées Nationaux, Paris; with special support from the Musée National Picasso, Paris; in conjunction with the Picasso et les maîtres exhibition in Paris, organised by the Réunion des Musées Nationaux, the Musée National Picasso, the Musée du Louvre and the Musée d'Orsay.
Publication
'Picasso: Challenging the Past'
The exhibition is accompanied by a fully illustrated book examining the supreme modernist master and his relationship with the Western European art tradition.
Renowned experts on Picasso and the National Gallery's collection analyse his fascination and enduring affinity with artists such as Velázquez, Delacroix and Manet. Essays by: Elizabeth Cowling, Professor Emeritus of History of Art at Edinburgh University; Neil Cox, Professor of Art and Theory at the University of Essex; Simonetta Fraquelli, independent art historian; Susan Grace Galassi, Curator at the Frick Collection, New York. Christopher Riopelle, Curator of Post-1800 Painting and Anne Robbins, Assistant Curator of Post-1800 Painting at the National Gallery, London.
Published by the National Gallery Company, London. Distributed by Yale University Press. £12.95 paperback, £19.95 hardback (prices subject to change)
Dates and opening hours
Press view: 24 February 2009, 10.30am–1.30pm
Open to public: 25 February–7 June 2009
Daily 10am–6pm, Friday until 9pm, Saturday until 8pm. Last admission 5.15pm (8.15pm Friday, 7:15 Saturday)
Admission
Enter by the Sainsbury Wing Entrance.
Full price £12
Concession / senior £11
Tuesday pm offer £6
Art Fund / students / unemployed £6
Under-12s free
Family ticket
(2 adults & up to 4 children aged 12–18) £24
Season tickets
Full price £30
Concessions £28
Art Fund / students / unemployed £15
Tickets
Buy advance tickets to 'Picasso: Challenging the Past' online or call 0844 2091778 (booking fee). You can also book tickets by post and in person from the Gallery.
Images
Publicity images for 'Picasso: Challenging the Past' can be obtained from http://press.ng-london.org.uk
To obtain a username please contact the National Gallery Press Office on 020 7747 2865 or e-mail press@nglondon.org.uk