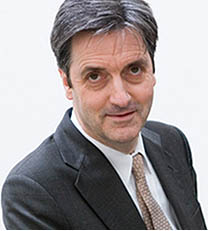 Issued December 2007
The Prime Minister has now approved the appointment by the Board of Trustees of Dr Nicholas Penny as the new Director of the National Gallery. Nicholas Penny has been at the National Gallery of Art in Washington since 2000 and is currently Senior Curator of Sculpture there.
Peter Scott, Chairman of the Trustees of the National Gallery, said:
The Board is delighted to be able to appoint Dr Nicholas Penny as the next Director of The National Gallery. A distinguished scholar, he will provide focused and inspirational leadership and will communicate passionately his vision for the Gallery and its great collection.
James Purnell, Secretary of State for the Department of Culture Media and Sport, said:
I am really pleased that Nicholas Penny is to become the new Director of The National Gallery. He brings a fine mixture of innovation, professionalism and scholastic integrity and that, together with his close relationship with the Gallery, make him ideally qualified to lead them on to further and bigger success in the future.
Nicholas Penny said:
It is an honour to be invited by the Trustees to return to the National Gallery as its Director. Few institutions enjoy such popular affection within Britain or such esteem abroad.

I consider it a duty to maintain that affection and esteem but hope to extend and deepen the ways in which the Gallery serves its public and the great art within its care. I am looking forward to working with the staff of the Gallery and its Board of Trustees to achieve this.
The Gallery hopes that Dr Penny will be able to take up his appointment in February 2008.
Notes to Editors
Nicholas Penny (born 21 December 1949) was Clore Curator of Renaissance Painting at the National Gallery between 1990 and 2000.
He returns to Trafalgar Square from the National Gallery of Art in Washington where he was Andrew W. Mellon Professor at the Center for Advanced Study in the Visual Arts and, from 2002, Senior Curator of Sculpture and Decorative Arts.
After obtaining his doctorate from the Courtauld Institute, Nicholas Penny began his career as a lecturer in art history at the University of Manchester. His first museum position was that of Keeper of the Department of Western Art at the Ashmolean Museum in Oxford.
He is the author of many books and articles on both painting and sculpture and the history of collecting and of taste, including scholarly catalogues, introductory texts for the student, and critical reviews for the general reader.
For further press information and images please contact:
Thomas Almeroth-Williams on 020 7747 2512 or e-mail thomas.almerothwilliams@ng-london.org.uk