National Gallery reveals images of 'abandoned' angel and Christ underneath The Virgin of the Rocks, ahead of ground-breaking new Leonardo experience this autumn
Issued August 2019
New scientific research by the National Gallery into Leonardo da Vinci's The Virgin of the Rocks (about 1491/2-9 and 1506-8) has expanded our knowledge of the composition he began before abandoning it for the version we see today. The drawings, underneath one of the Gallery's most popular paintings, have been revealed ahead of a new immersive experience featuring the work – created by 59 Productions – that will open later this year.
An earlier discovery in 2004/05 revealed that the Virgin's pose had been changed, but there were only hints of the other figures that were assumed to have been part of that first effort. Following months of cutting-edge research using the latest imaging techniques, more information has been revealed regarding the first and second compositions underneath the painting. Now for the first time Leonardo's initial designs for the angel and the Infant Christ can be seen, showing significant differences to how they look in the finished painting.
In the abandoned composition both figures are positioned higher up, while the angel, facing out, is looking down on the Infant Christ with what appears to be a much tighter embrace. These new images were found because the drawings were made in a material that contained some zinc, so it could be seen in the macro x-ray fluorescence (MA-XRF) maps showing where this chemical element was present, and also through new infrared and hyperspectral imaging.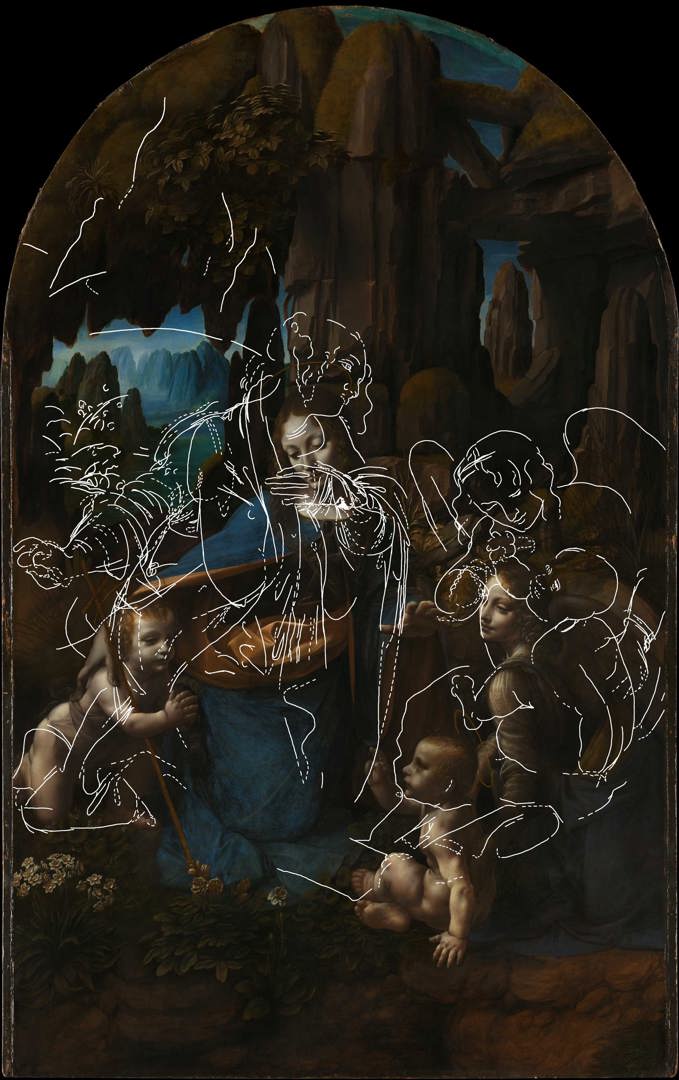 Why Leonardo abandoned this first composition still remains a mystery. The new research has shown how the second underdrawing, while aligning much more closely to the finished version, nonetheless displays his characteristic elaborations and adjustments from drawing to painting. For instance, the angle of the Infant Christ's head was changed so that he was seen in profile, while some parts of the angel's curly hair have been removed. Handprints resulting from patting down the priming on the panel to create an even layer of more or less uniform thickness can also be seen, probably the work of an assistant - but perhaps even by Leonardo himself.  
500 years after his death, Leonardo remains one of the world's most popular artists and the National Gallery's Leonardo: Experience a Masterpiece will provide an immersive exploration of his genius as a painter, focussing on 'The Virgin of the Rocks'. From 9 November 2019 the ground floor galleries will be completely transformed into a space that investigates this painting and the inventive mind that created it.
A wide range of multi-sensory experiences will be presented across four separate rooms. Visitors will be able to step inside a similar chapel setting and see what art historical research suggests the painting's setting may have looked like. They will be able to explore Leonardo's own research, which informed the specific compositions in the painting. In addition they will see how Leonardo used his scientific studies to create strong effects of light and shadow in his painting. The modern process of discovery in a conservation studio, where the mysteries and secrets of a painting are uncovered, will also be brought to life with visitors being able to engage in detail with the latest findings underneath 'The Virgin of the Rocks'.
The experience has been created by 59 Productions, the multi award-winning company of artists, architects, designers and technologists behind the video design of the Opening Ceremony of the London 2012 Olympic Games. Exhibitions and installations feature prominently in the company's recent roster of commissions, including; the design and creative direction of 'David Bowie is', the record-breaking V&A exhibition seen by more than 1.8 million people on its international 10-stop tour; twentieth anniversary celebrations for Guggenheim Museum Bilbao; 'Array', a City of London Culture Mile and Barbican commission that saw Beech Street tunnel transformed by a vast projected artwork set to Esa-Pekka Salonen's 'Karawane'; and most recently, transforming the Washington Monument into a full scale Saturn V rocket for the Smithsonian's National Air and Space Museum's celebration of Apollo 11, witnessed by 500,000 people on the National Mall.
Dr Gabriele Finaldi, Director of the National Gallery, said: "This exhibition represents a fascinating new venture for the National Gallery, combining the most recent technical research on the Virgin of the Rocks with an immersive, enveloping experience, giving visitors the opportunity to explore Leonardo da Vinci's creative process in making this masterpiece."
Dr Caroline Campbell, Director of Collections and Research, said: "By its very nature, much of the research we do at the National Gallery takes place in closed studios, laboratories and libraries. This is an exciting opportunity to not only share our innovative findings, but also to invite the public to explore and engage with what we have found."
Richard Slaney, Managing Director of 59 Productions, said: "59 Productions are thrilled to create the first digital-led experience for the National Gallery, that will allow visitors to explore the fascinating layers of this iconic masterwork in an immersive way. We work at the nexus between technology and art, and are passionate about applying the latest cutting-edge technologies in the pursuit of incredible storytelling - something that seems to align well with Leonardo's broad view of the world. By focusing on this single artwork, the experience will introduce visitors to this great painting through the bold techniques and innovative approach of Leonardo making it feel reinvigorated and newly relevant for contemporary audiences."
Moretti Fine Art Ltd
NOTES TO EDITORS
Leonardo: Experience a Masterpiece
Commissioned and Produced by the National Gallery, London. Created by 59 Productions
Open to public: Saturday 9 November 2019 – 12 January 2020
Press view: Wednesday 6 November 2019
ADMISSION CHARGE
Gallery opening hours
Daily 10am–6pm (last admission 5pm)
Fridays 10am–9pm (last admission 8.15pm)
For more information please visit: www.nationalgallery.org.uk/Leonardo
59 Productions
Created in 2006 and led by directors Leo Warner, Mark Grimmer, Lysander Ashton, Richard Slaney and Anna Jameson, 59 Productions offers world-leading expertise in design for stage and live events. They are the go-to team for generating creative and technical ideas to realise ambitious artistic projects across a range of disciplines: from architectural projection-mapping to exhibition design, VR experiences to events, theatrical design to technical consultancy.
Website:         59productions.co.uk
Twitter:           @59productions
Instagram:     @59_productions
National Gallery Press Office on 020 7747 2865 or email press@ng-london.org.uk
Publicity images can be obtained from https://press.nationalgallery.org.uk/