National Gallery painting goes on display at Lincoln food bank as part of 'Jan van Huysum Visits' (21-26 june 2021)
Issued June 2021
A Dutch masterpiece from the National Gallery, Jan van Huysum's Flowers in a Terracotta Vase (1736–7), will go on display at the Bridge Food bank in Lincoln from today (21 June) as part of Jan van Huysum Visits. It will be on view until 26 June 2021. Community craft sessions will be running concurrently throughout the week for visitors to enjoy.
The food bank in the south of the city was chosen as a 'hub of the community' venue for its outstanding work in providing essential support and food parcels to families and individuals throughout the Covid-19 crisis. The Bridge Community Hub includes a foodbank, a library service and a number of other opportunities for community engagement. The organization aims to make a positive impact in the local community, supporting people in vulnerable situations.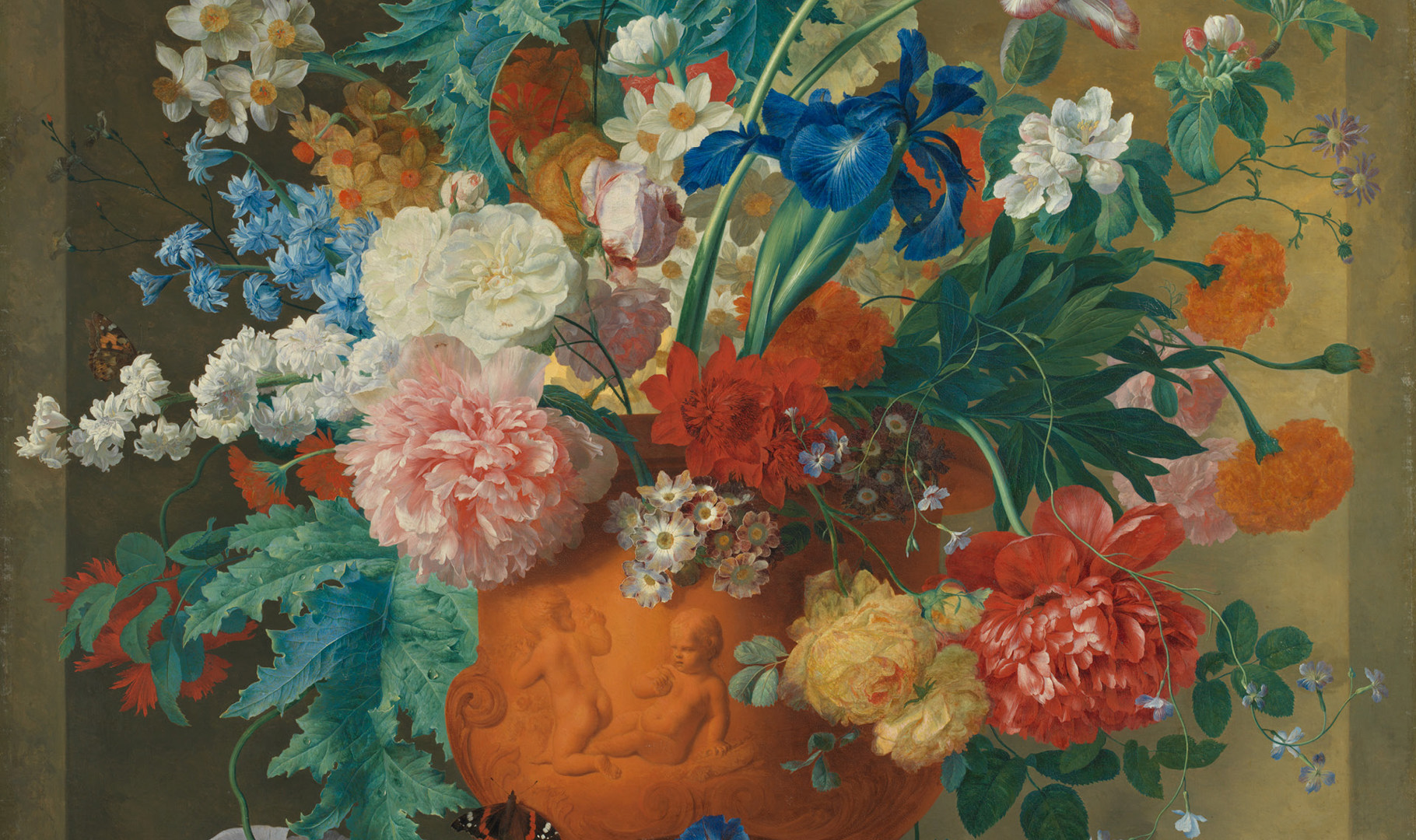 Each display in the Jan van Huysum Visits tour explores one of the six 'Ways to Wellbeing': Connect, Be Active, Take Notice, Keep Learning, Give, and Care (for the planet). The theme for the Lincoln display is 'Give'.
The Collection Museum, Lincoln has been working with local food banks to distribute creative packs and to engage with the community through arts activities. A specially themed pack will be available both at the Bridge food bank in Lincoln and other food banks in the area. These kits will contain materials to craft two felted flowers – one intended for the maker and the other as a gift for a friend. A literary and poetry resource related to the display has been created to engage with two primary schools located near the food bank.
Following the East Midlands, the painting will visit Scotland and Northern Ireland, having previously toured Barnsley, Cornwall and Norfolk. In each region, the painting will pop up in an unusual or unexpected non-museum venue; in Lincoln it will appear at the Bridge Foodbank. Other locations include a community library, a former department store, a market and community centres. The tour promotes ways in which art and culture can support wellbeing and reach audiences who have been disproportionately affected by Covid-19 and the UK lockdown.
At the heart of 'Jan van Huysum Visits' is engagement with local communities. In each setting the Gallery is working closely with the venue as well as a local museum or gallery to ensure that as many people as possible can engage with the painting, and make it come alive in new and different ways. 'Jan van Huysum Visits' is one of the Gallery's national partnerships which aim to share paintings across the UK, creating a range of ways for the widest possible audience to explore and be inspired by the collection.
National Gallery Director, Dr Gabriele Finaldi, says, 'This astounding, large flower painting will make an unexpected appearance in unexpected venues across the country. I hope it will make people think about art and the beauty of nature, encourage their own creativity and inspire them to visit their own local museum or art collection.'
Cllr Lindsey Cawrey, executive member for culture at Lincolnshire County Council, adds: 'Art is such an enabler – for conversations, for inspiration and for learning. Covid has been hard for so many, so I know this pop-up exhibition will go a long way in connecting with new audiences – making a real difference to mental health and wellbeing. I'm delighted we could help make it happen!'
Mike Fowler, Team Leader at Bridge Community Hub, said, 'We are delighted to welcome the National Gallery and to be hosting this amazing artwork on behalf of food banks across Lincoln. We can't wait for our food bank guests to see the painting and for people who love art to maybe see their first food bank up close.'

This project is supported by Art Explora - Académie des Beaux-Arts Award
Insurance has been gifted by Blackwall Green
Supported by The John S Cohen Foundation
Notes to editors
Image caption
Jan van Huysum
'Flowers in a Terracotta Vase'
1736–7
Oil on canvas
133.5 x 91.5 cm
© The National Gallery, London
About Jan van Huysum and Flowers in a Terracotta Vase
Jan van Huysum (1682–1749) was a native of Amsterdam and the last of the distinguished still-life painters active in the Northern Netherlands in the 17th and early 18th centuries, an internationally celebrated artist in his lifetime. His spectacular 'Flowers in a Terracotta Vase' – which shows over 30 species of flowers and plants in bloom, unfurling in exquisite detail – is no shy, hide-in-a-corner painting. It's meant to dazzle and it does. Van Huysum is after, and achieves, excess: a celebration of nature, an entertaining puzzle and a display of wealth, culture and fashion.
The National Gallery is one of the greatest art galleries in the world. Founded by Parliament in 1824, the Gallery houses the nation's collection of paintings in the Western European tradition from the late 13th to the early 20th century. The collection includes works by Bellini, Cézanne, Degas, Leonardo, Monet, Raphael, Rembrandt, Renoir, Rubens, Titian, Turner, Van Dyck, Van Gogh and Velázquez. The Gallery's key objectives are to enhance the collection, care for the collection and provide the best possible access to visitors. Admission free. More at www.nationalgallery.org.uk
More information and book tickets for online events at nationalgallery.org.uk
Twitter @nationalgallery
Facebook @thenationalgallery
Instagram #nationalgallery
YouTube The National Gallery
Features and film are at nationalgallery.org.uk/stories
National Gallery Membership is the best way to support the work of the Gallery. Not only does each Member enjoy access to all the Gallery has to offer, but also year-long free entry to exhibitions, priority booking and exclusive events online and in-Gallery. www.nationalgallery.org.uk/membership
Art Explora
Aware that culture has the power to initiate dialogue, bring people together and make us stronger, French entrepreneur and patron Frédéric Jousset created Art Explora in November 2019, a philanthropic foundation with an international, roving and digital ambition. Renewing the promise of making culture more accessible, Art Explora aims to bridge the cultural divide, notably by broadcasting digital content and engaging in innovative projects available to all and thereby creating new meetings between works and a broad and diverse audience, all the while supporting creation, cultural actors and their initiatives.  https://artexplora.org/en/
PRESS ENQUIRIES
National Gallery Press Office on 020 7747 2865 or email press@ng-london.org.uk
Publicity images can be obtained from https://press.nationalgallery.org.uk/