The National Gallery has assisted the Ferens Art Gallery in Hull with its acquisition of a rare early Renaissance painting by Pietro Lorenzetti which is considered to be of outstanding aesthetic and scholarly importance.
'Christ between Saints Paul and Peter', which is dated around 1320, is a panel painting which possibly formed part of a larger altarpiece commissioned by Lorenzetti's home city of Siena. Although somewhat obscured by layers of discoloured varnish and old retouchings, the painting  appears to be in good condition for a painting of its date, particularly one which has not remained in its original setting. Painted in tempera with a gold background, it is Pietro's only fully autograph work in the UK; the other six paintings associated with his name have all been attributed in part to members of his workshop.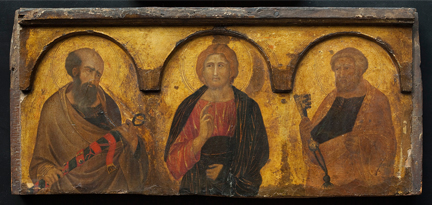 The painting will undergo conservation treatment at the National Gallery as part of its remit to support regional organisations with the acquisition and care of their paintings. The conservation is expected to take about a year and will include cleaning, retouching and any necessary structural work. It will then be displayed permanently at the Ferens Art Gallery where it will be the focus of an extensive linked public engagement programme made possible by the Heritage Lottery fund grant.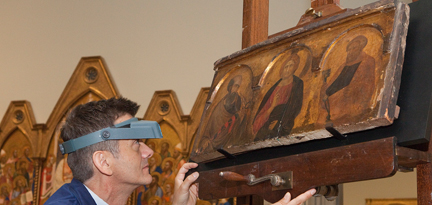 Commenting on the acquisition Dr Caroline Campbell, National Gallery Curator of Italian Paintings before 1500, said: "Pietro Lorenzetti was an artist ahead of his time. He creates a sense of emotional engagement and connection between figures, as in the Ferens picture, which is unparalleled in fourteenth-century Italian art. We are delighted that this painting is going on display in a UK public collection and that the National Gallery has been able to play a role in helping make this happen."
The acquisition of the Lorenzetti is hugely significant for the Ferens Gallery. It was acquired using the Ferens Art Gallery's Endowment Fund and the John Bradshaw Bequest, together with funds from the Heritage Lottery Fund and the Art Fund.
Find out more:
Heritage Lottery Fund [External link]
Art Fund [External link]
The Ferens Art Gallery [External link]