Issued: November 2010
Today, Thursday 25 November, Peder Balke's Tempest (about 1862) goes on display at the National Gallery, London, in Room 44. This is the first painting by a Norwegian artist to enter the Gallery's collection.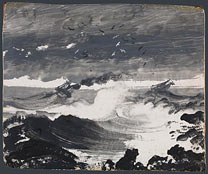 The work has been generously presented to the National Gallery by Danny and Gry Katz.
This is the first time that The Tempest has been publicly exhibited.
 
Peder Balke (1804–1887) is one of the most original painters of 19th-century Scandinavia. Born on the Norwegian island of Helgøya, he attended art school in Christiania (now Oslo), before studying at the academies of Stockholm and Dresden. In 1832 he visited rugged, isolated northern Norway, an experience of primal nature that would affect his entire artistic career – and later travelled to London and Paris. Despite an important commission of 30 paintings for King Louis-Philippe, by the time of his death in 1887 Balke was entirely forgotten as an artist. It took more than a century for his work to be rediscovered and identified as highly significant for the history of 19th-century landscape painting.
'The Tempest', at just 12 x 16.5 cms, is no larger than an envelope; yet it stands out because of its monumental quality. Lost on a dramatic, storm-tossed sea, two ships are in imminent danger of keeling over in the waves behind a line of jagged, threatening rocks. Nature is shown here at its most violent and tempestuous, in line with the romantic tradition with which Balke is often associated.
The painting's informality and compositional inventiveness are typical of his mature years. Rapidly executed, with remarkable freedom in the manipulation of paint, its palette is limited to a close range of white, grey and black tones. Arresting in its monochromatic simplicity, it looks as much like a lithographic stone, or a photographic plate, as an oil painting.
Christopher Riopelle, National Gallery Curator of Post-1800 Paintings said:
"This is an astonishing work, which relates directly to the National Gallery's holdings of 19th-century European landscape paintings…At the same time, it is highly unconventional in its conception and execution…It also responds to new impetuses, and looks ahead to the anguished Northern Expressionism which is going to flourish a few decades later."
National Gallery Director, Dr Nicholas Penny, said:
"This is an exciting addition to the National Gallery's collection. We are most grateful to Danny and Gry Katz for this opportunity to enhance and enliven our permanent collection in an area that we wish to expand.
"Peder Balke is an artist whose work is in the course of being rediscovered, which makes his representation in the Gallery especially significant. Although very small, this painting has immense power. And it is good to include Norway among the European nationals represented in a great collection of European painting.'
The acquisition of Balke's 'Tempest' comes just months before the National Gallery stages a new exhibition:Forest, Rocks, Torrents: Norwegian and Swiss Landscapes from the Lunde Collection (22 June – 18 September 2011, Sunley Room, admission free).
This landmark exhibition of 45 works will display what is arguably one of the most complete collections of 19th-century Norwegian and Swiss landscape paintings outside their respective nations. The show will introduce a British audience to skilled and innovative practitioners of landscape who enjoyed great reputation in Europe.
 
For further press information please contact Eloise Maxwell in the National Gallery Press Office on 020 7747 2420 or eloise.maxwell@ng-london.org.uk